Horny Beast and Demon Dominatrix Costume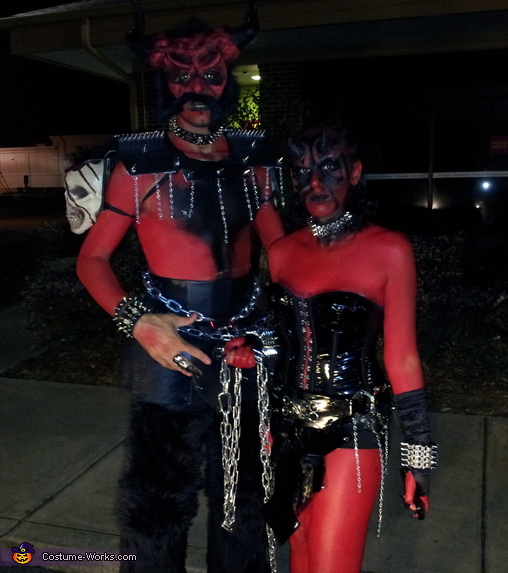 PARTY NIGHT
More views:
(click to enlarge)
A word from Louie, the 'Horny Beast and Demon Dominatrix' costume creator:
LOUIE AND GISELLE(BF/GF) WEARING COSTUME, IDEA FOR MALE HEAD CAME FROM THE CHARACTER IN LEGEND, HORNS=HORNY...HAIRY LEGS,CHEST AND FACE=BEAST, SHES MY 'DEMON' COMPLIMENT DOMINATING ME=DOMINATRIX....COSTUME CONSISTS OF CARDBOARD, FAUX TWO YARDS OF FAUX PATENT LEATHER AND LEATHER, PLASTIC SPIKES CUT FROM BRACELETS LIKE THE ONES WORN BY MS DOMINATRIX, FUR LEGS MADE FROM 4 FUR LEG WARMERS AND 2PIECES OF BLACK CRAFT FUR FROM JOANS, AIRBRUSHED BODIES WITH CREATEX AND SPECTRA RED AND BLACK PAINTS, LATEX FACE APPLICATIONS FROM REAL F/X CUT AND PAINTED BY MYSELF,HAIR ON MALE FACE WAS ALSO CRAFT FUR FROM JOANS CUT AND STAPLED TO LATEX, CHAINS PURCHASED AND CUT AT LOWES, PLATFORM HOOVE WANNABEES MADE FROM 2 FOAM SANDALS AND A PAIR OF WORK BOOTS DRILLED TOGEHTER AND STRAPPED TOGETHER WITH NUTS BOLTS WASHERS AND SOME TIE STRAPS FROM MY MOTORCYCLE. TOTAL COST WAS ABOUT $250-$300.
SHOULDER PADS MADE FROM SCRATCH WITH TWO DAMAGED COSTUME SKULLS FROM HALLOWEEN DREAMZ, CARDBOARD, SPIKES FROM LEFTOVER BRACELET, AND SMALL CHAINS FROM LOWES. HER LOIN CLOTH WAS OF SAME MATERIAL, BUT HELD TOGEHTER BY THWO PAIRS OF HANDCUFFS PURCHASED FROM PARTY CITY.