Homemade Mummy Costume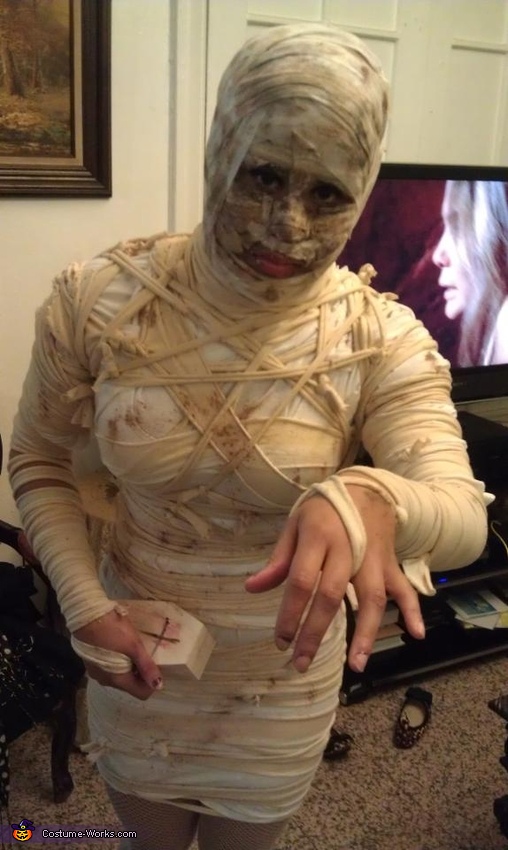 Homemade Mummy Costume
More views:
(click to enlarge)
A word from Michelle, the 'Homemade Mummy' costume creator:
I am wearing a mummy costume. This was a last-minute idea. I was web-surfing homemade costumes and came across with Martha Stewart's Mummy costume. The costume consisted of old 4 old shirts, 4 rolls of gauze, flesh latex, coffee, paper towel, Halloween Spirit's Zombie Dirt or earth-tone powder, flour, brown and black makeup, corn syrup, water.

My make-up consisted of flour, corn syrup, brown makeup, and 2 tablespoons of water.
1. Mix the flour, corn syrup, brown makeup, and water together until it becomes a brown paste.
2. Spread the paste around face.
3. Place paper towel around the face. (if does not stick, apply flesh latex)
4. Use enough gauze to cover face, head, neck, and ears. I applied brown and black makeup on gauze (feel free to sprinkle zombie dirt or earth-tone powder to make the illusion of an ancient mummy)
5. I used flesh latex to glue end of gauze so it can stick to my face.

Costume:
1. Pour cold coffee and water into a bucket big enough to soak strips.
2. Soak strips until they are brown. (if you want strips darker leave for a longer time)
3. Allow strips to dry.
4. Please make sure you wear something white under (i wore an oversized t-shirt). Have someone help you wrap the t-shirts around your body (i followed the design of the t-shirt and made a dress)
5. Make sure to cover arms and neck.
6. Sprinkle zombie dirt/earth-toned powder around costume.