Homemade Sugar Cookie Costumes
In the words of Mrs. J:

These two call each other Sugar and Cookie. So together they are SUGAR COOKIE.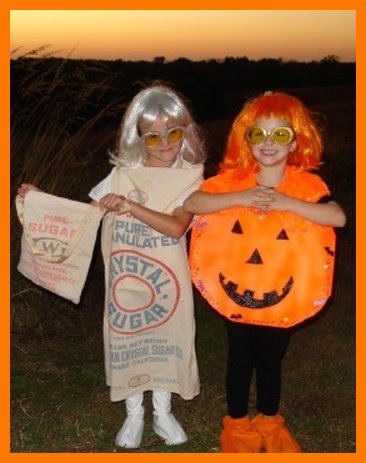 It was a very easy costume to create. Sugar is really wearing a vintage 100# sugar sack and carries a vintage 10# sugar sack for her treats. The cookie is spray painted foam with foam stickers for sprinkles. We matched wigs and sunglasses with gloves (not shown) and the cookie is carrying a cookie jar for treats.
As Always Mrs. J.
Thanks for sharing these GREAT costumes with us! Ü



View other Creative Homemade Costumes for Girls:
If you have a couple of little cuties (like above) who want to spend Halloween together and want to, sort of, appear like they have matching Costumes (and obviously aren't quite as CREATIVE as the two above ;-) ...and again... you've run out of time to CREATE anything. You CAN still purchase some very cute little costumes that "go-together"... and at a reasonable price.

Back to Homemade Halloween Costumes Main Page