Hello Kitty Costume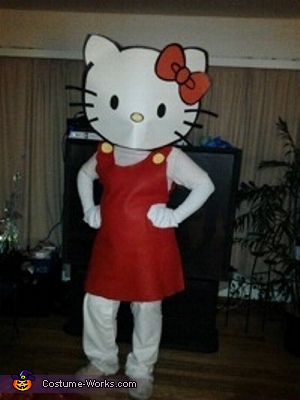 Hello Kitty
A word from Vanessa, the 'Hello Kitty' costume creator:
I made this costume as a last minute idea for a family Halloween party. I am wearing the costume. I bought a yard of red felt for the dress, a yard of white fleece for the legs and hands, a white turtle neck, and white and black sheets of poster board for the head.
For the head i used 2 sheets of poster board and cut out the head shape and stapled both sides, leaving the bottom flaps unattached so i could put my head inside. out line the white poster board head with black marker and cut out a red bow and glued that to one of the ears.
Its a very simple to make costume, but is a bit time consuming. I had a lot of fun in this costume and the kids loved it!