Headless Bride Costume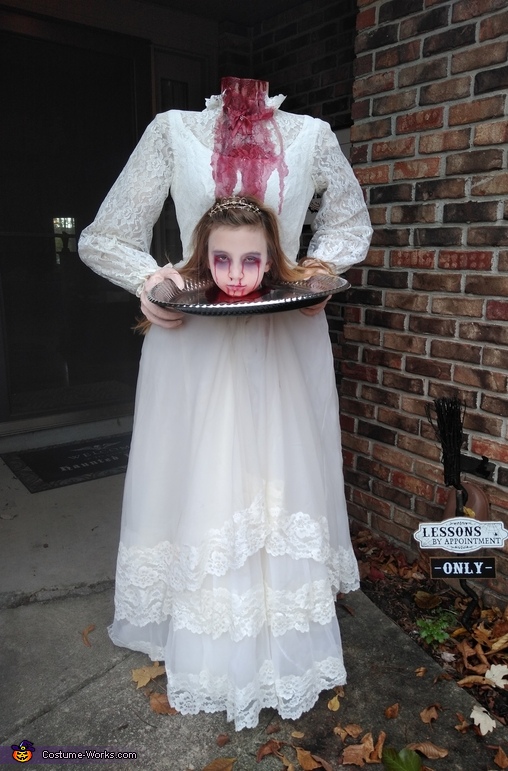 Til Death Do We Part
More views:
(click to enlarge)
A word from Adena, the 'Headless Bride' costume creator:
Months in advance if Halloween, 8-year-old Brylee had the idea to be a headless bride. We found the dress at Goodwill for $15. Underneath the dress, I constructed a PVC frame, attached to a backpack, with a 4x24 inch cardboard tube running down the middle. I used foam pipe insulation around the tube, and a glued flesh colored mock turtleneck to the inside of the dress, to be keep the lace from being a problem. I painted styrofoam hands and glued them to the inside of the sleeves as well.
The original plan was to have the hands positioned around Brylee's head, but they were too large. So we decided to go with a tray, and I cut a semicircle to fit her neck. I then used Velcro strips to attached the tray to the hands. Makeup and plenty of blood finished off the headless bride costume.
On Halloween night, Brylee had so many compliments while trick or treating. People kept stopping to take her picture. Best off all, to collect her candy, all she had to do was lean forward for people to put candy down the neck hole, and it landed safely in her backpack!
Total cost of $35.