Harry Potter Costume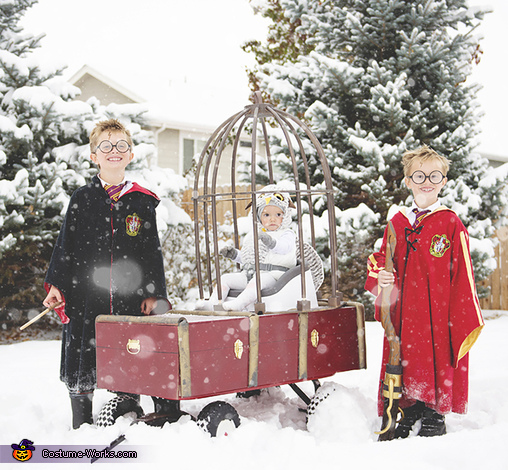 Mischief Managed- Colorado Snow Meets Halloween
More views:
(click to enlarge)
A word from Kathryn, the 'Harry Potter' costume creator:
I grew up having to patiently wait for each Harry Potter to be released. I've always wanted to share the magic with my kids but my husband and I agreed we would wait until our oldest son was 8 before we started the novels. He turned 8 this past August and there has been no looking back. When I recommended they be Harry Potter for Halloween the only argument was who was going to be Harry Potter. We settled with 2 Harry's. One Harry in school robes and one Harry playing quiditch. I feel the moment Harry arrives on platform 9 3/4 is a turning point in his life. I wanted to include our daughter and what better way then Hedwig riding on Harry's school trunk.

I made the robes from flannel purchased at a local sewing shop. Each day during nap time I pulled out the sewing machine and got to work. I added grommets and ties to the quiditch robe and a button clasp to Harry's school robe. I purchased Gryffindor patches from Amazon and ironed them on. Each robe has a secret pocket to stash your wand. For the trunk I purchased MDF board and made a "box" that slid over our radio flyer wagon. I then added details including latches, handles, and pool noodles painted gold. The bird cage is made form PCV pipe. It required heating the pipe to bend it into shape. And don't worry we added a booster seat that latched to the wagon for Hedwig's safety. Hedwig was a store bought owl. The entire project cost about $250.

The costume was a huge hit at our local trunk-or-treat. Our kids posed for pictures all evening and got tons of compliments. I knew I needed a great photo of the set up, but it was too dark. Living in Colorado the weather went form 70 degrees on Saturday to 15 degrees on Monday. We had a 2hr school delay, so we took the opportunity to take photos in the snow. After all how often is there 5in of snow on Halloween. I hope my kids continue to enjoy the magic Harry Potter brings and will look back at these photos and always remember Halloween 2019.