Harry Potter Costume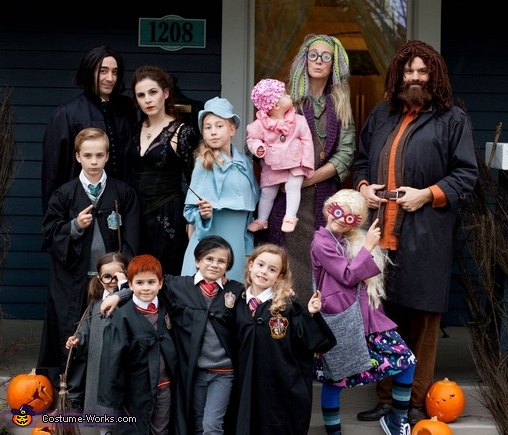 The whole Harry Potter crew.
More views:
(click to enlarge)
A word from Kathy, the 'Harry Potter' costume creator:
This is our 10th year doing homemade themed costumes for our two families, and our kids have been asking to do Harry Potter as our theme for a while, so we went for it. All the costumes are either borrowed, thrifted, altered, or sewn. We love going to our favorite thrift store on it's 50% off days to snag all the things we need. We lucked out with finding graduation robes (altered into Hogwarts robes), the perfect pink tweed jacket(adult sized but altered into the perfect toddler Umbridge ensemble), and basically Hagrid's whole outfit, minus the hair. Hagrid grew out his beard all year and the hair was made by cutting a ton of super thin strips of fleece that were then attached to a fleece beanie. Bellatrix's outfit is a combination of a dress worn backwards, sleeves cut and altered from another shirt, layers of tulle and fabric added, silver paint pen, and altered leather vest turned faux corset. I even made a bird skull out of fimo clay and painted it for her necklace. All in all, we probably spent about $10/costume on average. Our two families love the tradition of dressing up together. The Webster family is Drew as Hagrid, Lindsay as Professor Trelawney, Bentley as Fleur Delacour, Emery as Luna Lovegood, Layne as Hermione, and Maren as Dolores Umbridge. The Macheras family is Alex as Snape, Kathy as Bellatrix Lestrange, Brady as Draco, Kellen as Harry Potter, Gavin as Ron, and Zoe as Moaning Myrtle. We hope you enjoy!