Harley Quinn Costume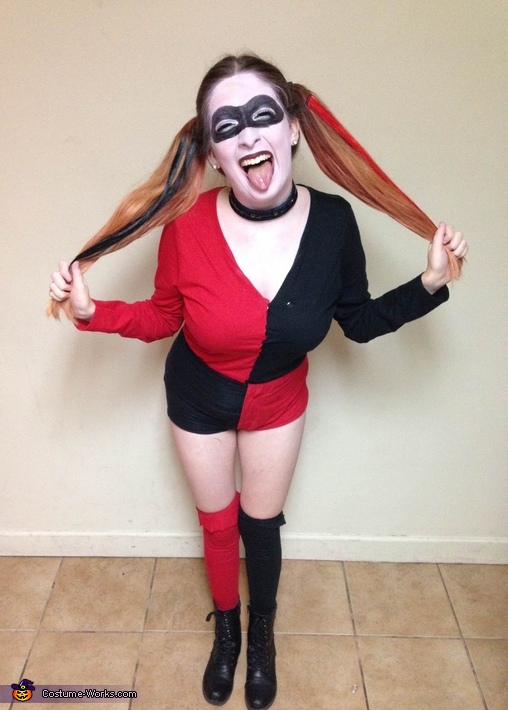 Harley Quinn Long Shot
More views:
(click to enlarge)
A word from Monica, the 'Harley Quinn' costume creator:
I am wearing the Harley Quinn costume. I love her as a character because she is crazy and fun. With the suicide squad movie coming out next year, I dressed as her to show my excitement! However I chose a look more similar to the comics than to the movie.

For someone who doesn't know how to sew, I am quite proud of how I made this costume without even picking up a needle. I bought two long sleeve t-shirts, one red and one black. I cut them in half horizontally and vertically. I reversed the colors on the bottom half so they alternate with the top. Then, I flipped the top half inside out and pinned the seams with safety pins. Once that was done, I reversed it back and put it on. I pulled black spanks over top of my shirt and tucked in some extra red t shirt fabric and secured it with some safety pins. I cut the sleeves off of the unused halves of the shirts and used them as high-knee socks. They kept falling down so I rolled ponytails above my knee and tucked the top of the sock over the ponytail. I bought red and black hair streak extensions and clipped them in my ponytails. To finish up the costume, I applied a base of pale makeup, and a mask of black makeup.