Gumball Machine Costume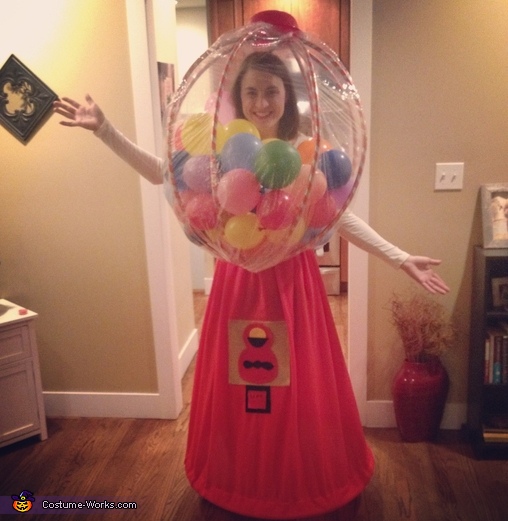 Gumball Machine!
More views:
(click to enlarge)
A word from Brooke, the 'Gumball Machine' costume creator:
I came up with the idea for this fun, playful costume by looking at everyday objects, and imagining which ones would be fun to come to life. I am wearing the costume in the pictures. The costume was very easy to make, with many house-hold items. Supplies include: 5 hula-hoops (4 for the sphere, 1 for the hem of the skirt), cellophane, red fabric, felt squares, balloons, a small red bowl, clear tape, and twine. The overall cost was around $20.

I began by attaching the four hula-hoops together with twine, and then wrapping with cellophane. I blew up the gumball balloons, and placed inside the enclosed sphere. Next, I began sewing the remaining hula-hoop into the red fabric, as the hem of the skirt. I sewed a basic red skirt, and gathered the waist. Next, I made the slot of the machine out of the felt squares, and attached to the skirt. Voila!

Wearing the gumball machine around all night was so much fun! A costume that everyone can relate to and enjoy!