Gumball Machine Costume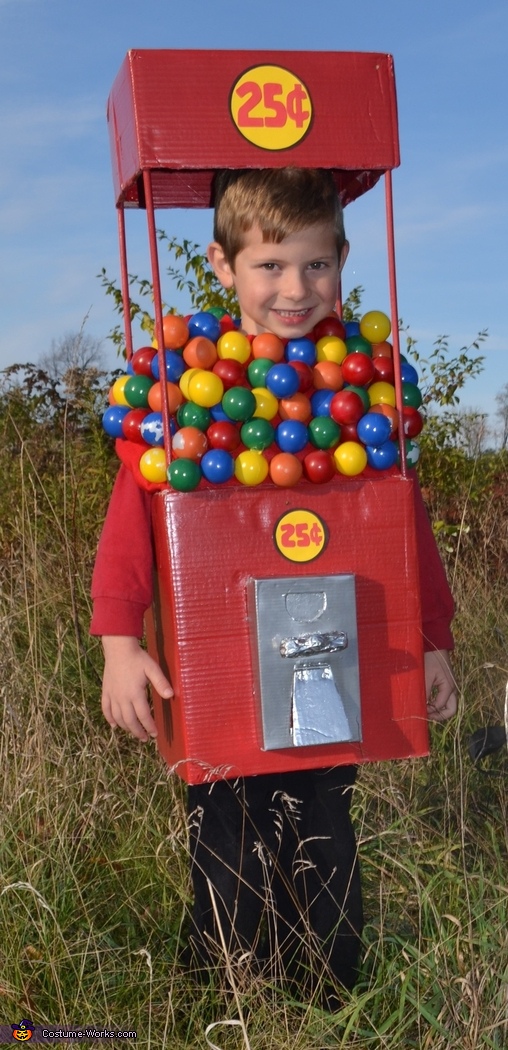 Gumball Machine
More views:
(click to enlarge)
A word from Lindsay, the 'Gumball Machine' costume creator:
I always look forward to making Halloween costumes for my kids, and this year my son thought it would be fun to dress up as a gumball machine. This was a great opportunity to re-purpose a cardboard box we had on hand, plus it's a great match for my skill set because I can't sew, but I am pretty handy with spray paint and hot glue!
The gumball machine is made from a cardboard box with the top few inches cut off. We painted both parts of the box and then glued elastic straps inside the box so my son can wear the costume over his shoulders. We glued some felt inside the box to cover his body, and then glue painted ping pong balls to the felt to look like gumballs. The dowels are glued into the corners of the boxes to attach the top and bottom portion of the gumball machine. The dispenser portion of the gumball machine is made from the lid of a shoe box. I cut a slot in the lid for the place where you would insert your quarter, and at the bottom I cut a hole for the opening where the gumball dispenses. The cover on the dispensing hole is attached with a hinge so that it actually opens. The handle is made out of tinfoil crushed and shaped appropriately. I glued a long screw to the back of the handle and put it through the dispenser portion of the machine, securing it with a nut. The handle actually turns, just like a real gumball machine. This turning handle is a feature that children and adults alike seem to find irresistible. Once complete I glued the whole shoe box lid to the rest of the gumball machine. Then I made the 25 cent signs out of colored paper and glued them to the machine. This is a super fun, unique, and eye-catching costume that my son enjoyed showing off to friends and family.