The Grinch and Cindy Lou Who Costumes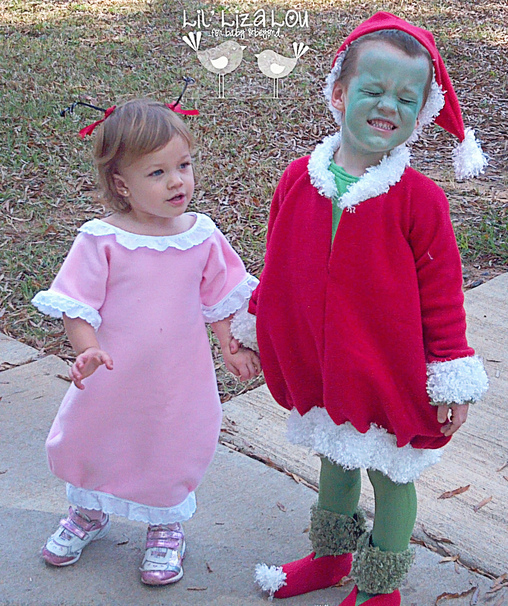 MEAN Grinch face...
More views:
(click to enlarge)
A word from Evelyn, the 'Grinch & Cindy Lou Who' costume creator:
My son LOVES Dr. Seuss. His favorite character is the Grinch. He begged and begged to be the Grinch, but not just any Grinch, he wanted to be the "Santa Grinch". Much like in the book, I took a piece of fleece, and put it against him and cut it out. I hand dyed a pair of microfiber leggings, and strips of acrylic fur. I added snaps to the fur so they were cuffs and could come off easily. I took and made his shoes, but just cutting, and sewing... adding a little puff of fur. I hand stitched the white fur to the costume, and, that's all for the Grinch. Cindy Lou Whoo I made by putting fleece against her and cutting. I cut out a whole for her neck, added scalloped trim, took some barrettes and added ribbon and then attached the wire to that and added more ribbon to disguise the wire bottom that was held up with hot glue. Both costumes only took two days, and it wasn't too hard.