Grim Reaper Costume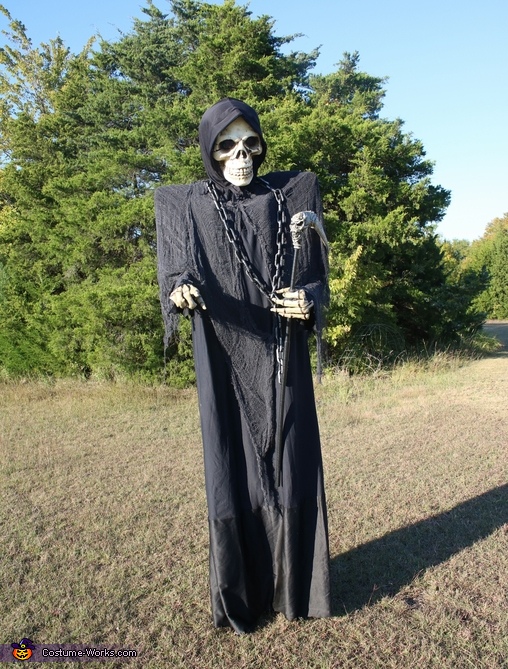 Grim Reaper Costume
More views:
(click to enlarge)
A word from Rylan, the 'Grim Reaper' costume creator:
This almost 9' grim reaper costume was worn by my 8 year old son. The idea for his costume was all his own, and he had help with the design and build from his parents, grandparents, and brothers. We love Halloween and look forward to creating their costumes together every year.
Our first step was creating the pvc base to fit over his shoulders and down his chest and back. Then we added the pvc to create the grim reaper's body, neck, shoulders, and arms. We wanted his right arm to be able to raise and point a finger. After experimenting some with different methods, we decided on the easiest. It involved bolting a piece of pvc onto his upper arm piece so that it would move freely and function like an elbow. We then attached a rope to the lower arm, ran it up and over the shoulder, and tied it to the base next to where my son's arm would rest. This resulted in an easy way to raise his arm, as all my son had to do was pull the rope downward.
After finishing the base, we moved onto the head. We bought a large Styrofoam decorative skeleton head to use for his costume. We originally planned to just use a mask, but they all looked too small for such a huge body. We drilled a hole in the bottom of the skeleton head and attached it to the pvc neck. My son was really wanting the reaper to have light up eyes, so I removed the lights from fade in, fade out phantom glasses and glued them in place. I spliced longer speaker wires in to allow the control box to be placed on the base next to my son's hand.
Next, we stuffed latex skeleton hands we purchased with packing paper, and attached them to the pvc base. We used upholstery thread to stitch his hands in the positions we wanted, with the left hand holding a scythe, and the right hand pointing.
Finally, we dressed him in a black robe we purchased. We cut out a hole where my son's face was, and stitched in black see through material that we removed from a phantom mask. We had to add a couple feet of black material at the bottom of the robe to reach the ground. To finish, we draped him in gray creepy cloth and a plastic chain.
My son was absolutely thrilled with the final result. Everyone wanted pictures with him, and they could not believe it was an 8 year old inside. Our family really enjoys the time we spend every year creating new Halloween costumes!