Green Man & the Faun Costume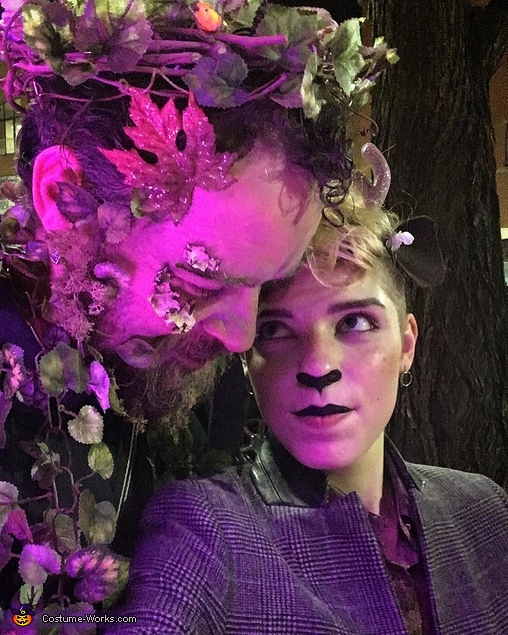 Green Man & the Faun Costume
More views:
(click to enlarge)
A word from Liz, the 'Green Man & the Faun' costume creator:
This couple's costume was a DELIGHT to put together, and involved lots of foraging!

The first stop for costume components was Michael's - I spent over an hour wandering the aisles looking for the perfect plants that Mark (my partner) might let me glue to his face. I was able to find packages of real moss, lichen, and other beautiful plant bits for the occasion!

To secure the plant matter to Mark's face, I used eyelash glue - the brand DUO is really good for keeping it secure, while still being face-friendly. When applying, I tried to accent Mark's facial hair since it already shapes his face really well - adding bits of moss and lichen to his eyebrows was particularly fun, and added to the "wise ancient god" effect.

I also picked up the base for a wreath, which we transformed into a crown for him with lots of leaves, plant bits, and (my favourite) dozens of tiny foam birds (another treasure found at Michael's). Finally, I picked up some Celtic knot beads from the jewelry section and made earrings from them to bring Mark's look home (he has about a dozen piercing holes in his ears, and graciously let me take advantage of this).

For my faun ears, I picked up some brown and black felt and found a rounded design online to cut out as my pattern. I recommend trying this first with PAPER until you get the perfect, successful shape, and practice using bobby pins to secure them to your head - only when you know your shape will work should you use that paper as a stencil for the felt.

I also found tiny ear antlers on a hairband in H&M, cut them off of the hairband, and stuck them into my hair with the ears - and LOTS of bobby pins.

The outfits that Mark and I wore were from our own wardrobe - a deep green wool button-up with grey trousers for him, and a sheer, glimmery earth tone button-up with high-waisted "Prince" trousers for me.

Finally, as a finishing touch, I found a rose bush on my way home from work full of tiny beautiful pink/orange roses and picked two for us to put behind our ears.

Mark and I both LOVE nature, and LOVE spending time together outdoors, so this costume was a lovely way to represent that love!