Goofy Costume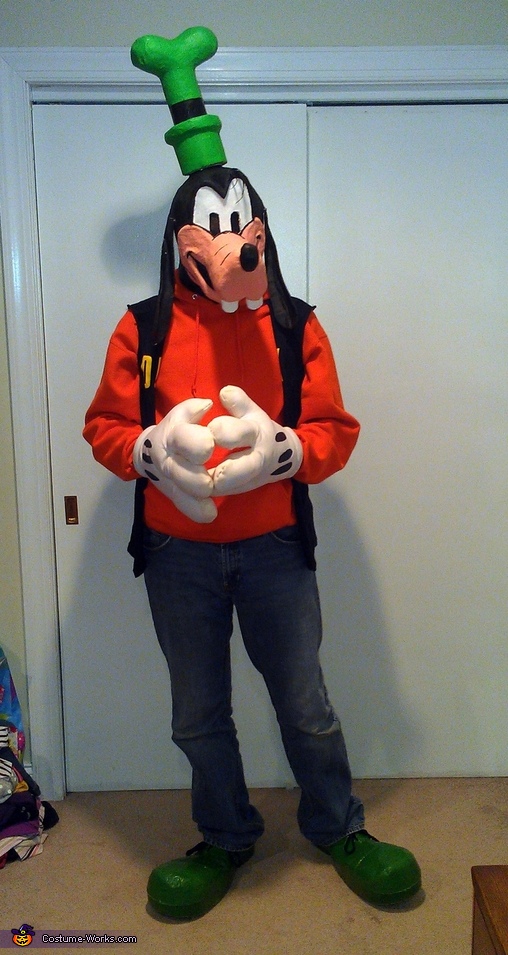 Goofy Modeling
More views:
(click to enlarge)
A word from Bruce, the 'Goofy' costume creator:
I am a huge fan of all things Disney, and Goofy has always been my favorite Disney character. After my family and I had taken a trip to Disneyworld in August my kids commented how the Goofy at the park does not look much like the Goofy from the cartoons, and I had to agree. I had been playing around with the idea of a Disney Halloween costume for quite awhile, but unfortunately no one sells any Disney character costumes, other than the princesses of course. I even looked online for a good Goofy or Mickey costume, and the only thing I found were some cheap, horrible looking mascot costumes being sold from China. So I decided to try and make my own Goofy mask out of paper mache, and in doing so to make a costume that was much truer to the original cartoon character.

I started by making a mold of my head with aluminum foil, and duct tape; which I then paper mache'd so I had a hard surface to work with. I then used card board, duct tape, masking tape, and computer paper to make Goofy's head and face on top of my mold. I used the same materials, plus a Pringles can to make Goofy's hat. Once the mold was exactly the way that I wanted it to look, I paper mache'd the whole thing using only newspaper, and a paste of flour and water. I repeated this step about 4 times in alternating patterns to make a nice hard usable mask. When everything was completely dry I cut the mold in half in order to remove the insides, and then paper mache'd the mask back together with a slit in the back so it would fit over my head. I sanded it all very lightly with a block of drywall sandpaper, and then painted it with acrylic paints.

The gloves are "cartoon gloves" which I bought from a Halloween costume store in the area, and then drew the black ovals, that are on all Disney character's gloves, with a black Sharpie. The shoes are clown shoes that I was lucky enough to find at a local flea market. The black vest is just a t-shirt that I cut the sleeves off of and then cut down the middle. The orange hoodie I picked up from Walmart, and the jeans were already mine.

I knew that people would like this costume, but I did not expect the reaction that it got. While I was walking my kids around the neighborhood trick or treating I kept getting stopped by children yelling out, "Goofy, Goofy!" In the hour or so that we were out I received countless waves, hugs, and high 5's from both kids, and adults. I was stopped at least a dozen times by parents asking if I would take a picture with their children. I even had several teenagers and adults take pictures with me that night. When we got back to our house I stood outside with my wife handing out candy, and a crowd actually started to gather. I stood at the end of our driveway the rest of the night taking pictures, and greeting everyone that wanted to see Goofy. I even had 2 requests in the two hours or so that I was wearing the costume. One guy asked if he could buy the costume from me, and another couple asked if I would be interested in doing birthday parties.