Good Witch / Misunderstood Witch Costume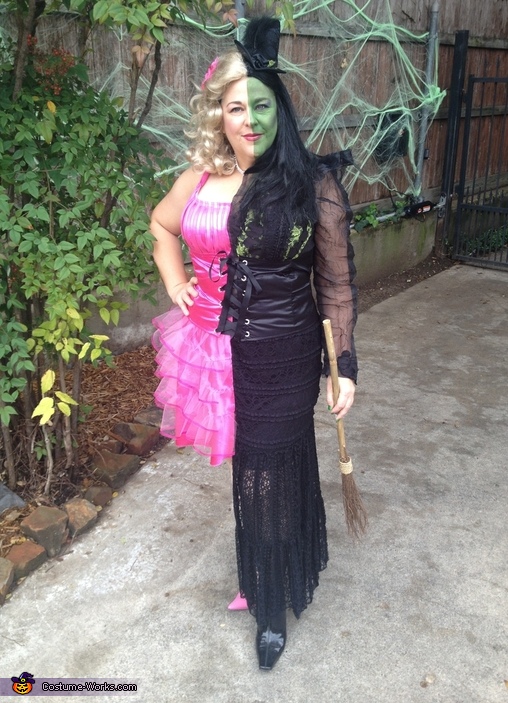 Good Witch / Misunderstood Witch
More views:
(click to enlarge)
A word from Kelly, the 'Good Witch / Misunderstood Witch' costume creator:
This costume idea came about years ago when I dressed up as Glinda the good witch and all my friends laughed and said I was equally bad. lol So this year, my niece had a Wicked themed Halloween party and I took the opportunity to make the costume I've been thinking about for 6 years! I made it all..even the wig!
I'm not a designer or costume maker but I sew fairly well and I'm really crafty so I began pouring through tons of online photos from the set of Wicked. Once I decided which Glinda outfit I wanted to copy, I started sketching my designs and making the patterns. Yes, I made the patterns myself on my dress form! I found the black skirt in Target (the only garment piece I did not make) and that became the basis and inspiration for the rest of the costume which is three pieces.. the skirt, the bodice and the corset. Elphaba's bodice is hard to see in the photos but it's made from a sheer polyester crinkle fabric and covered front and back in hand stitched lace applique's in black and green, ribbons and other assorted trims. Galinda's bodice is made from a bright pink satin and finished with about 6 yards of light pink ribbon hand sewn on as well. The bodice is a pull over, no zippers, and I added a 'shirt tail' in cotton shirting (matching the pink and black) from the waist down so that it would stay put more easily than all that satin fabric sliding around on each other.
Glinda's skirt is a simple circle skirt that I made from following on line instructions (EASY!) and then sewing on 10 yards of 4" gathered pink tulle which is trimmed in a darker pink tulle ribbon. I cut the black skirt in half but left the elastic waist band in tact. The black skirt also has a stretchy underskirt so I matched that on the other side with a pink stretchy fabric so that the stretchiness of the black skirt wouldn't pull the full pink skirt out of alignment. Then I attached the pink circle skirt to the waistband and hand tacked the front and back seams to the black skirt in a few place so that it would be secured but still look 'flowy'.
The corset I made by also following very simple on line instructions using my own measurements. Seriously, it's so much easier than the three patterns I tried first! lol I have about 10 hours in failed corsets alone and the final one in the photo took me one hour to draft, cut and sew. My shoes.. the black boots are mine and have seen many incarnations in my Halloween costumes. The pink shoe was part of a black pair I found at a thrift store for $3. I gave it several coats of pink acrylic craft paint, a light spray of crystal glitter, and then adorned the toe with rhinestones. The hat was a basic witch hat headband which I did up with feathers, ribbon, velvet and a little bling. I found a plastic/rhinestone trim that I used for a choker that would hold the black bodice up and sewed a claw clasp to the back.
THE WIG. I knew that in order to make this costume really work, the wig had to be perfect. I tried piecing a few really cheap $7 wigs together but they all just fell apart. At my wits end I thought I'd try to make one from scratch.. how hard can that be? lol I nixed that idea. In the end, I tried one more time to cut two $20 Party City wigs in half and hand sew them back together and FINALLY it worked and only took about an hour. You have to be VERY careful and there are a few great on line tutorials on how to do it right. Don't just start cutting. lol After sewing the wig I cut and styled it, added a pink flower to Glinda's hair and viola!
The make-up I did by also following a youtube tutorial and used that $1 green paint in a tube. I added a tiny bit of yellow to get the 'pea green' color as opposed to Green Bay Packer green. It took about 3 coats of green to get the color right and I set it with a big fluffy brush and a light but thorough dusting of corn starch. The contours and eye makeup were done in a very dark purple, not black. I tried black and it just looked dirty. The purple was softer and gave more 'depth'.
And there you have it!! Most labor intensive costume I've ever made.. probably 30-40 hours total.. but I'll wear it again!