Goldilocks and the Three Bears Costume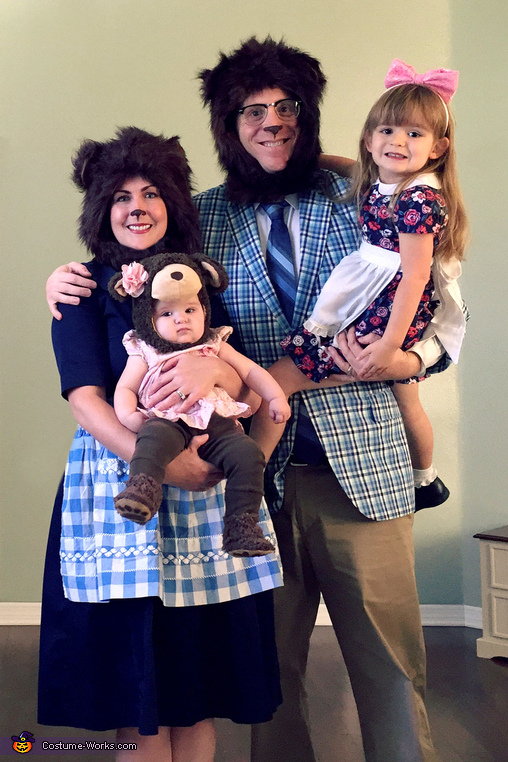 Goldilocks and the Three Bears
More views:
(click to enlarge)
A word from Stephanie, the 'Goldilocks and the Three Bears' costume creator:
My 6-month-old daughter is affectionately known as "Baby Bear", so a Goldilocks and the Three Bears theme seemed perfect for our first Halloween as a family of four. I knew transforming our older daughter into Goldilocks would be easy, since she already had the cute floral dress and long blond hair. The bears were more of a challenge. Most of the bear costumes I found in stores were heavy plush that would be too hot for Halloween in Florida. And rather than a cartoonish, stuffed bear look I wanted to create a more whimsical storybook feel. I thought a vintage, mid-century look would be perfect.

The base of all four costumes started with clothes we already owned or purchased inexpensively. I found my A-line dress for $4 at a thrift store, and my husband snagged his killer plaid sports coat on an 80% off clearance rack. Next up were some fun accessories. I borrowed a chunky beaded necklace from my daughter's dress up trunk, and purchased Papa's horn-rimmed glasses and Goldilocks' fabulous pink bow. Both aprons were handmade: crisp white and eyelet for Goldilocks, and blue gingham for me. I crafted Baby Bear's little booties using soft faux fur, felt and a glue gun. Then to transform us into the Bear Family, I customized store bought hats. I found Baby Bear's at a children's consignment store and spruced it up with a fabric flower. The parents' hats originally included an attached fur scarf and mitten paws. I cropped and stitched these to better suit our outfits.

We had a blast at all of our Halloween festivities, and I think our costumes turned out juuuust right!