Girl sitting on Toilet Costume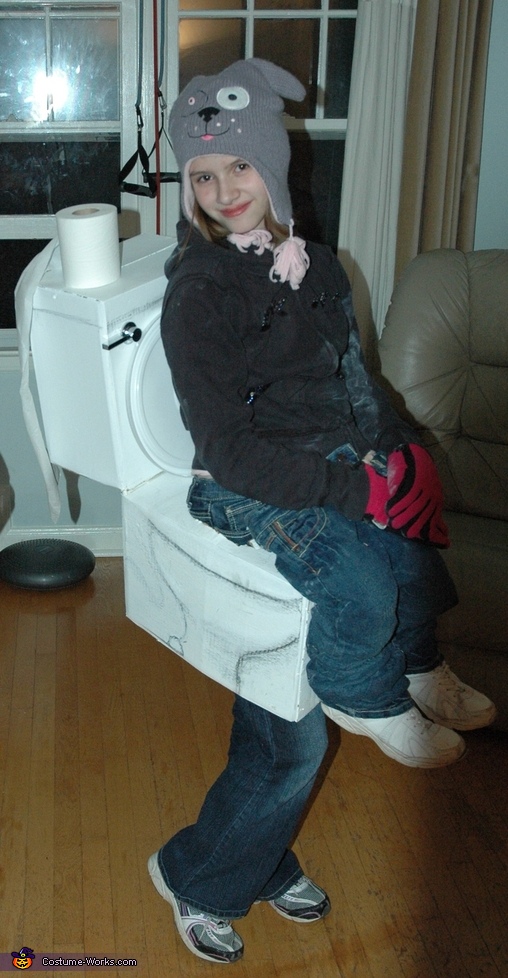 FLUSSSSSSHHHHHHHHHH!
A word from Stefanie, the 'Girl sitting on Toilet' costume creator:
We were looking for costume ideas and saw someone as a toilet but we thought it would be neat to put someone sitting on a toilet. My daughter asked if we could do it and I was not sure if we could pull it off but, we did! I had cardboard boxes and I applied primer on them. Supported most of it with other thicker pieces of cardboard that were hot glued in layers. Then I stuffed a pair of white thick tights and put pantyhose over that so it looked like there was some skin showing with the pants down. The stuffed legs were then hot glued to the box. The shoes are reinforced with screws going through the box with a wood shim on the opposite side so the screwheads will not just come through the box...and of course....more hot glue. I bought the handle from Home Depot for around 3 bucks or so, drew with Conte Crayons to add more detail in the lid and sides, and hot glued in the center of the toilet paper roll on top. And the lid is just a 5 gallon bucket lid hot glued behind her to look like a toilet lid. Basically, everything I used I had lying around the house except for the handle.