Giant Scarecrow Swamp Monster Costume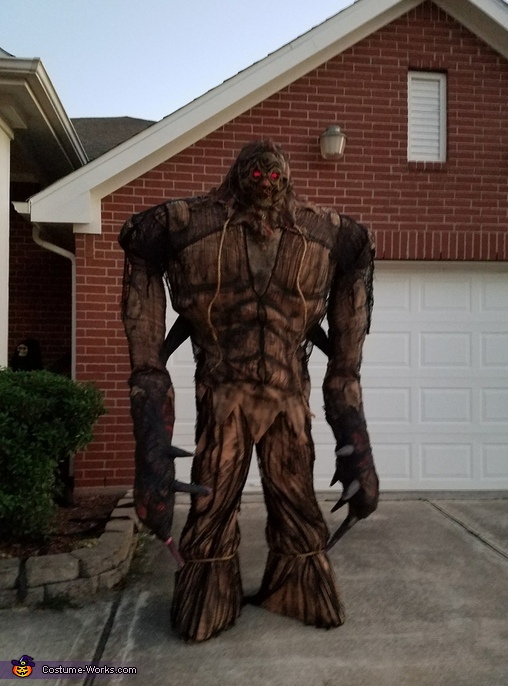 In front of my house; daytime.
More views:
(click to enlarge)
A word from Manuel, the 'Giant Scarecrow Swamp Monster' costume creator:
I "Manny" am the wearer of this for-the-most-part home-made "Giant Scarecrow / Swamp Monster" creation. It is a costume with two major pieces: the bottom legs, and the top which includes the torso, head, and arms. In the making of this costume, I took into account the "bigness" of it because I like to use it to scare the living daylights out of unsuspecting trick-or-treaters that stop by our house. When I am wearing it, it makes me over 8 feet tall. This is because for the bottom of the legs I used 5 gallon paint buckets as stilts with bolted sneakers. For the top, my head is actually in the chest of the costume, but I am still able to see through the material I used to cover it. Underneath the torso, is a pool-noodle and sponge (from old sofa cushions) "skeleton" frame covered in a lot of bubble wrap which I taped together over the discarded pool noodles to form the shoulders and arms. The bubble wrap was then covered in soft stretchy brown cloth that I bought which got hand-sewn tight to form its shape. A hole was carefully cut in the chest of the costume and a piece of matching burlap material was sewn for the purpose of visibility. The head of the costume was a store bought mask of a creepy scarecrow that I padded and attached to the top of the torso via hand stitching. I also purchased several sheets of that black creepy cloth material which I hand-stitched all around the cloth surface area of the costume to give it that raggedy old look. After that, used black spray paint to add some defining lines, shading, and to give the costume a "dingy-dirty-weathered" look. The final touch was a red glow-stick inside the eyes of the mask for effect.