Giant Nose Costume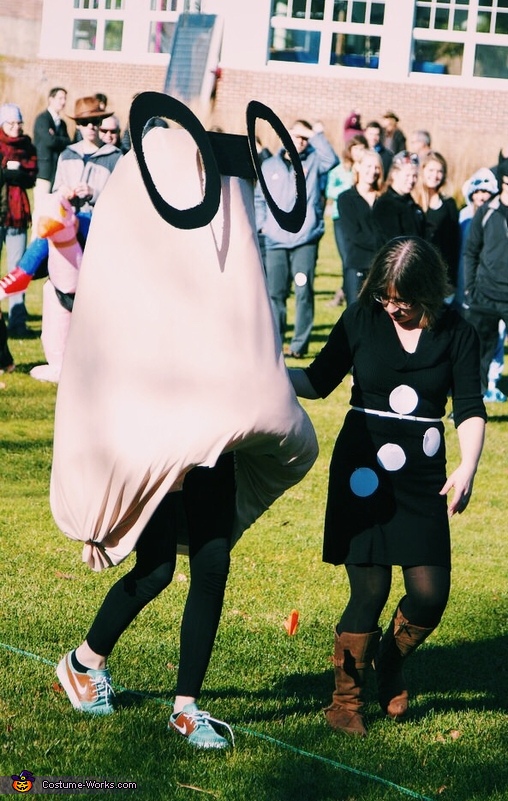 I had to be escorted down the Halloween Parade runway at school, as I became a little confused of my whereabouts!
More views:
(click to enlarge)
A word from Emu, the 'Giant Nose' costume creator:
The idea was born when sitting at iHop with my family one morning. While enjoying our pancakes, all of the sudden, I looked at my mother's face and the idea of being a giant nose for Halloween popped into my head. I knew that that's what I wanted to be.

So we headed over to Joanne's Fabric store to get three simple supplies; skin-color material, quilt padding, and skin-color thread. We also found chicken fencing, cardboard, and paint around the house. The bottom layer of the costume was the cardboard back and fencing, which we cut, bent, and shaped for hours until it gave a nose-ish form. Then we padded the top of the fencing with quilt padding to make the nose softer looking and to provide additional shaping, especially around the nostril ridges. Finally, the skin was draped over and sewn on the back. Two small circles were cut where the nostrils are and black-painted cardboard glasses, were sewn on top.

The experience of walking around all day as a giant nose was very entertaining. I don't know what was funnier, saying "AH-Choo!" and throwing a green t-shirt out of my nostrils, or barging in on people's conversations saying, "Sorry, I'm just so nosy". Overall it was a fun Halloween full of the sniffles, laughter, and dangerously cheesy puns!