Ghostbusters Family Costume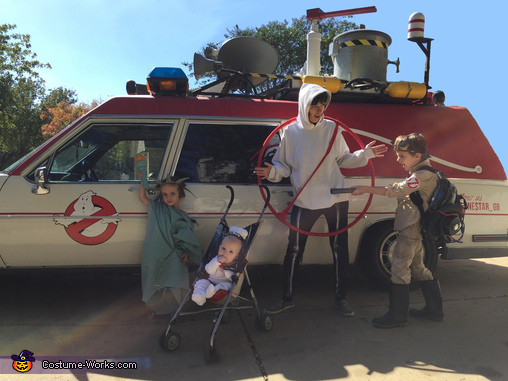 Ghostbusters Family Costume
More views:
(click to enlarge)
A word from Eliza, the 'Ghostbusters' costume creator:
My 3 sons and me are pictured: Ghostbuster: Django, Statue of Liberty: Roosevelt, Stay Puft Marshmallow Man: Fargo and Ghostbuster Logo: Me. Believe it or not the idea came to us because the kids and I have witnessed quite profoundly what we believe is a ghost in our house on numerous occasions. My sons first saw the original Ghostbusters and the first sequel over the summer and loved it. Whether out of their excitement for the flick or the idea of protecting our house from its ghost the 2016 Halloween costumes were decided. Roosevelt is also obsessed with all things United States. His name probably had something to do with it. When he saw the Statue of Liberty star in the second film he could think of nothing else for about a month. And on Halloween night he walked ridiculously slow, just as the Statue did through NYC. He never said Trick or Treat, but insisted that the Statue of Liverty (as he said it) doesn't talk.
For the Ghostpack I used a clear vinyl backpack. I cut off the hose to an old vacuum and began twisting it throughout. As a musician I always have cables lying around and even had a packing box from a sound mixer. I cut it up and sewed it on, poking holes into the images of the input jacks and inserting the cables into it. I then used a black bowl and an upside down tea candle for the motor. Next I broke up an old Rubix Cube and glued the pieces on to look like buttons. As a finishing touch I inserted an iPod that played various video of sound waves. For the Ghostbuster costume I printed out the patches and a name tag and laminated them with packing tape. For the Stay Puft Marshmallow Man I began with a chubby baby with faint eyebrows. He didn't need much of a makeover! I cut the arms off of a pj top of mine and sewed them together at the armpits. These were the pants. They were very soft and oversized. I was able to emphasize the rolls but securing them with baby socks. For the suit I cut up an old t-shirt, sewed a collar and sewed in white ribbon for trim. I added the red ribbon and stitched it onto a onesie. I topped it off with this awesome little cap! With a remaining piece of my pj top I folded and sewed it into a little bag. No photo could capture this process and it took several tries and random runs through the sewing machine, but once I created a pocket I lightly stuffed it with innards from an old pillow. Next I sewed up the end of the pocket so the stuffing wouldn't come out. I then recreated the text in photoshop, printed and cut it out on photo paper. I bent the paper into a circle and secured it with tape. Then, using Tacky Glue I squeezed a circle onto the pillow pocket ball I made and stuck it in. For extra hold I stitched the paper onto the pillow in three places. Next I cut a strip of the navy t-shirt into the top ribbon shape and stitched it onto the top of the pillow. To finish the hat and keep it on, I took an elastic from a birthday cone hat and pinned it inside so I could adjust the size. Since he can't walk yet I didn't want his costume to be spoiled by a baby designed stroller so I first covered the image with some vinyl upholstery scraps I had from an earlier project and stitched it over the original material. I then printed out images of city buildings and attached them to the stroller so it looked like he was towering over the buildings. To finish it off he carried around toy people as teethers! For the statue of liberty I began with the robe. This is simply a dyed sheet. But I assure you, getting this exact color was quite a challenge. Next was a lot of random folding and pinning subject to the exact physique of the modeler – much the way I imagine they did at a fancy toga tailer's shop in ancient Rome. Call it fate, I bought the torch at the American Adventure in Disneyland 20 years ago and it still works! But I assure you I would've come up with some convoluted way to make one otherwise. Ah, would have been a lot easier had I bought that Ghostbuster backpack in 1986 at the Haunted Mansion... just kidding. For the crown, which took a few tries, I measured a piece of gold elastic (I believe I had it from a sheet set I bought a while back) to his head. I then cut out long triangles of craft foam. Then I mixed acrylic paint (grey, green, white & yellow) to the perfect tint and painted it. Then, much like the marshmallow cap, I glued it to the elastic using Tacky Glue. Then for extra bond I stitched the bottoms onto the elastic. I finished it off with his nautical sandals. Lastly I needed a "No" sign for my costume as the Ghostbuster logo. I stitched red t-shirt material around a hula-hoop and then sewed it tight across. You may have noticed the amazing car we are standing in front of. This is not our car, but another amazing coincidence. A woman who saw our costumes told us about her neighbor's car. Turns out he was just a couple of streets down from us and gladly let us take pictures in front of it.