Vinz Clortho, Keymaster of Gozer Costume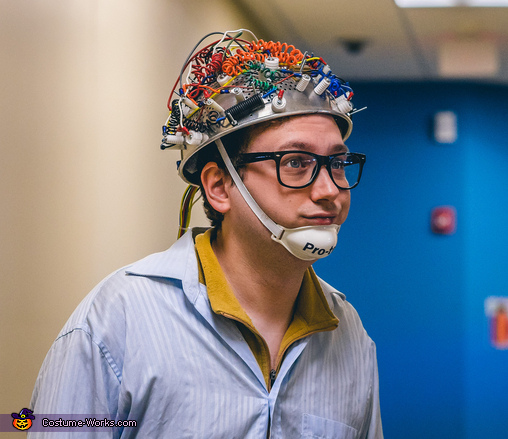 Vinz Clortho, Keymaster of Gozer, from Ghostbusters
More views:
(click to enlarge)
A word from Kevin, the 'Ghostbusters: Vinz Clortho, Keymaster of Gozer' costume creator:
My costume this year is Vinz Clortho, keymaster of Gozer, as portrayed by Rick Moranis in the original Ghostbusters film. In the film, Louis Tully is an accountant who is possessed by the demon dog Vinz Clortho. He is taken to the Ghostbusters' headquarters, where a brain-scanning helmet is placed on his head to verify that he is in fact no longer human. This "helmet" is the key piece of my costume. I am the one wearing the costume in the provided photos.

My costume was made from many different components. The helmet piece is a vintage "seven star" strainer with the handles removed. To this, I've fastened nylon spacers, some of which are wrapped in split loom tubing to resemble the original porcelain insulators that were used in the movie. There are also a handful of large resistors. The resistors and spacers are connected using a LOT of colored wire, some heatshrink, and spade connectors. The coiled wires were all coiled by hand by wrapping them around pencils and heating them with a hair dryer. It was a lot of work, but I think I've managed to make a decent replica of the helmet from the film.

The chin strap is an important part of the helmet. I purchased a plastic chin cup, removed the plastic strap, and sewed some braided elastic to each side to make it better resemble the one in the film. I also used a vinyl cutter to reproduce the old "Pro-tec" logo as a decal for the chin cup.

The outfit is made up of:
- costume glasses
- a mustard pullover
- a blue metallic striped dress shirt
- vintage brown pants
- brown dress shoes

All of the clothing and accessories were purchased at thrift stores or on eBay. The strainer was purchased on Etsy. Most of the helmet components were purchased on Amazon. The resistors were surprisingly expensive; I think I spent about $30 on those. I probably spent about $100 total, but I have a lot of colored wire left for other projects.

Thanks for your consideration! I ain't afraid of no ghosts.