Ghostbusters Stay Puft Marshmallow Man Costume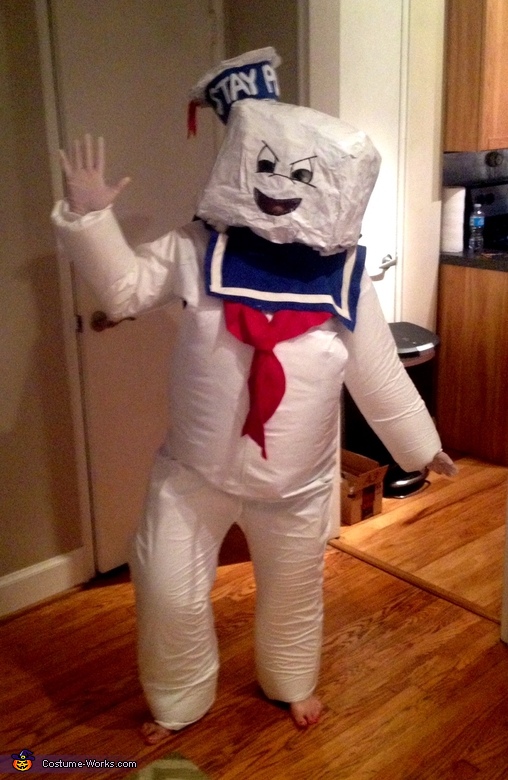 Full Body Shot
More views:
(click to enlarge)
A word from Lauren, the 'Ghostbusters Stay Puft Marshmallow Man' costume creator:
I have always been a fan of the Ghostbusters series. To begin creating the costume I started with the head first. I bought chicken wire and began cutting and bending to fit into shape. From there I paper mached the chicken wire with about 3 coats. Once that dried I then used white spray paint to coat the head.

Once the head took shape I hand drew and cut out the "Stay Puft" letters for the hat.

Next for the blue collar I hot glued white ribbon around the edges and hand cut the red bow.

I used wire cutters to cut out the shape of the eyes and mouth and drew on the face with a black marker. To make the head fit better I stuffed the inside with mattress pad.

For the body I went to Home Depot and purchased an XL painters suit. To create the stuffing for the stomach area I took two XL white t-shirts sued the bottom of each and stuffed with stuffing from Michaels.

To create the arm and leg fat look I used a cheap mattress pad from Walmart. I measured out the arm length and legs and then hand sewed the pieces to create circles. I then stuffed them into each leg/arm hole.

For the hands I used white surgical gloves.