Ghostbusters Family Costume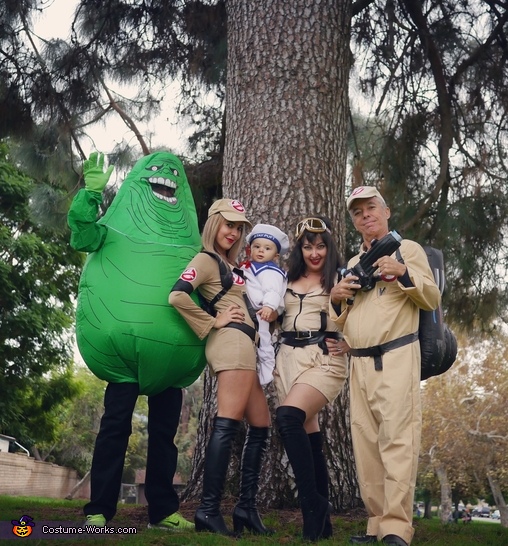 Who you gonna call...GHOSTBUSTERS!!!
More views:
(click to enlarge)
A word from Yvette, the 'Ghostbusters Family' costume creator:
"Who you gonna call...GHOSTBUSTERS!!!"
Ahhh, Halloween! Not only is it my favorite holiday, it's also our 3rd wedding anniversary! This year it's even more special because we have our little Sebastian to share it with! Our baby boy is 10 months old and it's his first Halloween. We live in Los Angeles, but our families live in Miami. My father and twin sister decided to join in the Halloween fun and fly to LA to celebrate with us! We are the Ghostbusters family! I came up with the idea because when Sebastian was around 3 months we used to put him to sleep in the Merlin's Magic Sleepsuit and we would always say he looked like the cutest Marshmallow Man! So we thought it would be perfect for Halloween and it was. So, Sebastian is the Stay Puft Marshmallow Man, my husband is Slimer, and me, my sister and dad are the Ghostbusters!!!
"I ain't afraid of no ghost!"