Ghostbusters 2 Vigo the Carpathian Costume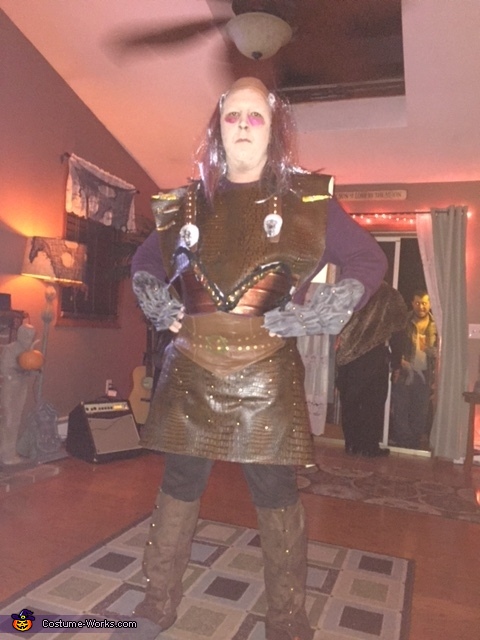 Ghostbusters 2 Vigo the Carpathian Costume
More views:
(click to enlarge)
A word from Mike, the 'Ghostbusters 2 Vigo the Carpathian' costume creator:
I decided I wanted another stab at a Ghostbusters character, so I took the reins of donning the look of the villain in the divisive sequel which personally I am a big fan of.

To achieve an older appearance, I wore a "Heroes in History" Ben Franklin wig. I applied tan makeup with purple eye gloss to accentuate and draw attention to the eyes. Over one of my maroon fall sweaters, I hit up Jo Ann Fabrics and used some textile material . The shoulder straps that look bolted to my outfit were actually cut off pieces of belt adhesived onto to my shoulders with thick thumbtacks inserted into them, supported by strips of cardboard in the back. The rubies were women's bracelets from Michael's Arts and Crafts I glued to two fabric strips.

The gauntlets were from Savers and the tunic-looking skirt/kilt was wrapped around my waist by a belt, covered by another belt accessory from Savers. To complete the look I used Pirate boot covers over my dress shoes.

The Sorrow of Moldavia was a really fun concept to do.