Ghost Rider Costume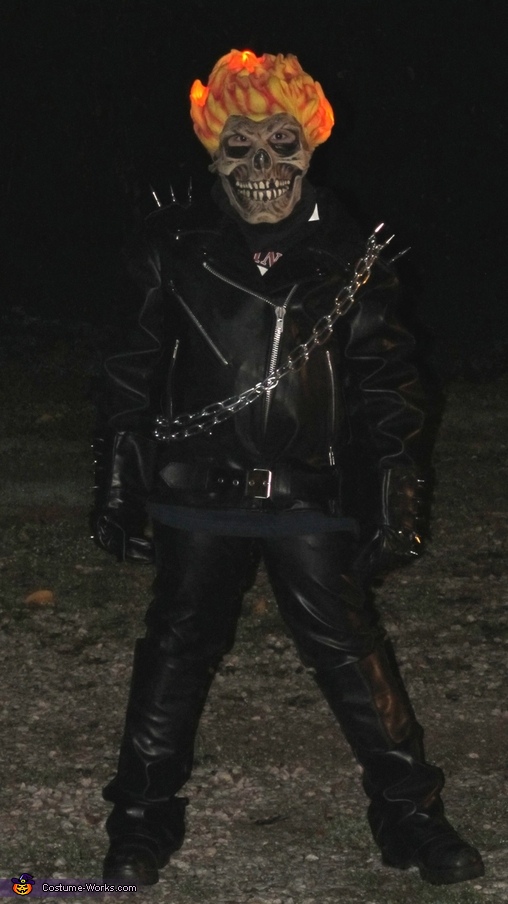 Complete Ghost Rider with flickering flames.
More views:
(click to enlarge)
A word from Gavin, the 'Ghost Rider' costume creator:
Gavin Kaegy, 8 years old, wanted to be Ghost Rider from the first Marvel Ghost Rider Movie. He has loved this character from comic books, but the movie made his mind up. He was going to be the Ghost Rider for Halloween! The costumes available for purchase were NOT movie accurate and did not complete the look of Ghost Rider to satisfy his costume needs. In order to look like the character to a T, the costume had to be made...down to the glowing flames on the skull. This was quite the task. My husband and myself knew that the materials needed for this costume would be expensive to buy new, so we shopped at resale stores for months in preparation for this costume. Every component of his costume was pieced together. The jacket is a real biker jacket, the studs were added to the shoulders and to the gloves. The pants are real leather,the chain is a real chain cut to fit, and the boots are real biker boots too. The mask was purchased as its own item, and the flame wig was taken from a premade costume (no longer made) and we pieced it together. The flickering flame effect of the flames was our creation...we figured out how to make it work! However, its a secret! :) There are NO other light up flames such as this, so we cant give it away!