Get your Head in the Game! Costume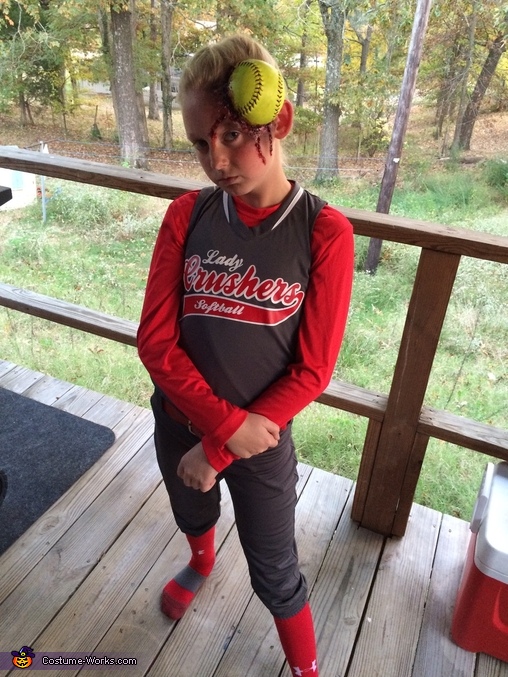 Taking one for the team!
More views:
(click to enlarge)
A word from Stephanie, the 'Get your Head in the Game!' costume creator:
My daughter Saiylor is a dedicated 10 year old travel softball player. Her team (Lady Crushers '04) are definately in favor of girls wearing facemasks on the field for protection and this is an example of why we enforce it. :) We found the idea at a softball competition where a girl had this effect except on her batting helmet so we brought it to life. We completely designed this from scratch removing the skin of a softball and placing it on a foam ball(from craft dept., had to trim it down a little) to make it a little easier to wear without the extra weight. On the face portion of the design(avoided the hairline) we mixed toilet tissue and elmers glue to line the crease of the softball/face (this helps ball to adhere to face) and let dry or speed up drying with hairdryer. I used some deep purple/black eyeshadow to dust around the area to mimic the bruising effect. Once the tissue/glue combo has completely dried you can use any type of theatrical makeup to mimic the gruesome blood/clotting. However I went a little unique and used some of my mothers homemade blackberry jam and it gave an amazing effect of blood clotting factors. It also holds well when dryed with a hairdryer. The supplies used are very reasonably priced and easily removed with some warm water, soap and or shampoo. Hope you guys enjoy it...definately got the most head turns around our trick or treating area.