Game of Thrones Group Costume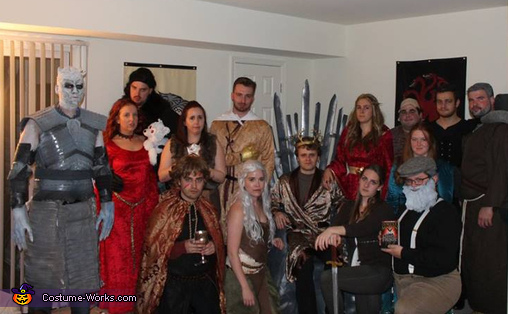 Game of Thrones Group Costume
More views:
(click to enlarge)
A word from Paul, the 'Game of Thrones Group' costume creator:
Our group costume consisted of 15 people. We got the idea after a lot of brainstorming. Our group has done a big group costume for the past four years so we wanted something with a lot of characters and a good variety. Plus, we are all fans of Game of Thrones. We normally start brainstorming the day after Halloween. Most costumes were made from clothing or raw fabric we had or bought, but all of it was sewn or tailored in some fashion. Some other items used are an old bed comforter, leather straps, fur trim, button clasps, etc...

The Night King's armor and the seat of the Iron Throne are all made of crafting foam and a lot of hot glue. The base of the Thone is a wheelchair, so that it could be moved around. The back of the throne is cut from wood and painted, as are Jon Snow's and Arya's swords.

This was a year in the making, and we are very proud of how it turned out.

Included is one large group photo, a picture of the Night King and Jon Snow fighting for a better view of Jon's hand carved sword and the Night King's foam armor, and a photo of Daenerys and Tyrion for a better view of the Iron Throne.

In the large group photo characters are as follows (left to right): Night King, Melisandre, Jon Snow and Ghost, Ygritte, Tyrion Lannister (bottom), Jaime Lannister, Daenerys Targaryen (bottom), Joffrey Baratheon, Cersie Lannister, Arya Stark (bottom), Varys, Sansa Stark (middle), George R.R. Martin (bottom), Robb Stark, and Hodor.