Costume Works Archive
Further down on this page you can find past years pictures. If you're looking for costume ideas or instructions on creating costumes, check out our Homemade Halloween Costumes page.
In this section I post pictures of your favorite Halloween Costumes. Anything goes (as long as it's legal ..Ü) ...whether it's a simple but striking Make-up job and old Raggedy ZOMBIE Clothing for your husband...or a more difficult Hand-stitched Animal Costume for your toddler. If it is a purchased costume that's fine too. It's all about FUN here so please join us!
If you are interested in participating, Please send your JPG Photo as an Attachment to Coletta [at] Costume-Works.com (don't forget the dash "-" after "costume"). Type "Costume Photo" in the Subject line. In the body of the letter please tell us your name and/or the name of person in the photo..OR what name you'd like us to put UNDER the photo on the Webpage. Feel free to include any info you'd like about the costume...or yourself for that matter. THANKS in advance!
~~~~~~~~~~~~~~~~~~~

Lullaby League
Sent in by Stephanie, These young ladies are from the
Greer Children's Theatre production of "The Wizard of OZ".
They ARE The Lullaby League, from left to right:
Gabby (5),Dakota (10), Tennison (7), Jenna Jade (4 )
Jenna is Stephanies daughter.

Thanks Stephanie! Ü


~~~~~~~~~~~~~~~
Zoltar
and Fortune Teller Booth
The above Photo shows a fantastic Make-up job and
really proves that if one pays attention to detail..it almost always pays us back Ü
However! Although what you SEE is wonderful enough,
what you DON'T see is what you WILL WANT to see.
I will leave it up to you to find out what you must.
By going to this page link (which is on this website)
you will find out everything really COOL about
Zoltar the Fortune Teller and his TRAVELING Booth.

~~~~~~~~~~~~~~~~~~~~~~~~~~~~

The picture here is from Philip of Ashburn, VA.
Sky Suit
If you'd like to see more pictures of this Sky Suit,
and the story surrounding it's creation...
Go here: Philip and the Sky Suit
(It IS a page here on this website)

I think that people who like this type of Costume
might also like to visit the website of it's builder.
You will find the link to that Website on above page also.

~~~~~~~~~~~~~~~~~~~~~~~~~~

The next 4 photos are from Austin, a young man in our Armed Forces, and also the first place winner in my
2008 Halloween Costume Contest
.
Austin helping another Costumer with her Face Make-up
and here's the Face Make-up girl helping another Costumer
Could it be? Nosferatu?
REALLY great Costumes !
Ut-oh...Someone late for dinner? Looking kinda desperate there guy.....
Well....I realize that this isn't a "costume"..but I like it a LOT as a Halloween decoration.
Somebody worked their butt off on this!
The statement under the picture (not THIS one! Ü) says
it is completely made out of styrofoam and PVC pipe.
Wow!
Thanks Austin... and Congrats on your win!!!!!

Above is Traci... a costumer of many faces and fashions. Ü
(as you will see below )

Traci makes a WICKED Chucky for Halloween '06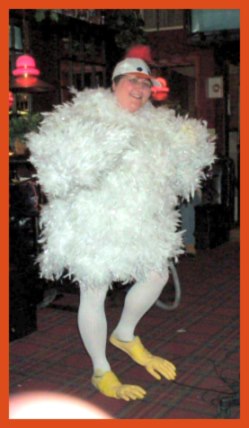 Here's Traci again as a Chicken!
This woman ENJOYS being in Costume ..Ü.
(the photo below actually belongs in the Pet Costumes area
However, I thought I would post her picture below her Mama,Traci. Ü)
This is Julia, A Halloween Fairy Dog Ü (I love it!)
Thank you Traci!

Above is a Star Wars Family.
GREAT Costumes made by Mrs.J in MO
Mrs J. makes LOTS of Costumes!
See my Homemade Costumes pages to check out
some of Mrs J. Costumes WITH instructions on making them!


This little Red Witch is Mrs.Js daughter Jes.

(Costume created by Mrs.J of course Ü)
Check out the BACKGROUND in this photo!
AWESOME house Witch Jes!
Another costume for Jes in 2006 by Mom, Mrs.J.
Jes is a Pink Flower Fairy Godmother.
(Now there's a mouthful Ü )
This is Steve, He's actually 12 yrs old.Ü
Costume was made by Steves Mom, Becky
who is an old pro at making COOL COSTUMES!
One of her sons, Nate, is in this years Costume Contest.
And above is Beckys son, John, at 18 months.
He is one CUTE COWPOKE!
Above: Halloween Party 2006


Above: Here's a set of REALLY cute cousins all dressed-up for Halloween 2006.

Below is a couple of angles of a Balloon Costume. My friend Bob (who has sent in a few other stunning costumes he created ,that are also posted below Ü) made the Balloon Costume for Halloween 2006 for his son Jacob who, I'm sure, wore it proudly. Sorry to say that I did not receive the photos until too late for the 2006 Costume Contest. But anyway..We can STILL admire them from here.

Thank you again Bob! Better late than not at all! Ü
See more from Bob below: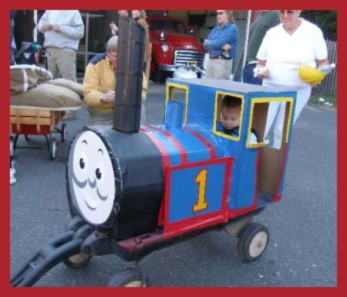 Thomas the Train
Jacob is the Engineer
Costume created by Bob in New Jersey
(see "How to Make Costumes" for some of Bobs design hints)
Joshua driving the Bulldozer & Zachary cruisin' in the General Lee
Costumes by Bob in New Jersey
(see "How to make Costumes" for some designing hints)
AND there are more pics from Bob further down this page.
Ashley the witch 2005
A witch who turned her little cousin into a baby chick.
a Cave Girl holding a baby-brother Pumpkin
a couple of Cave Guys
A CaveMom
Here are the Fro Bros! Halloween 2005
Dorothy frm the Wizard of Oz
check out those RUBY slippers!
Fairy Jasmine 2004
Full Fairy Jasmine 2004
Tim(my Nephew I'm happy to say :-) in Drag. 2005
Another design by our friend Bob in New Jersey.
I believe that would be Zachary as Pilot.
Yet another fine cardboard sculpture of a costume by Bob.
With son Joshua as Operator of the Tank.



One of my Grandaughters Costumed to be in the School Play "Hercules".
She absolutely shined. (and this is her Grandmother speaking Ü)

Hail the King!

Olivia, Harem girl 2004
Laural & Hardy 2003
Raggidy Ann 2005
Little Lady, 2004
Pink Fairy, 20o4
Herbal Wizard
He and She Switchroo
Royalty
Robin Hood 2005
Halloween group pic... ready to Trick or Treat! 2005
A Hippie and a Zombie, Halloween 2001

Britany anyone? Halloween 2005
19 month old Jenna Jade as an adorable Jade Fairy.
Please send in MORE Pictures! Old or New..doesn't matter! :-)
I am posting photos AS I recieve them...The most recent at the top. The pictures DO NOT have to be for "Halloween". They can be for ANY occasion that you and your family and/or friends don a costume.
Please don't be SHY!!!! It is all in fun and I promise that no matter WHAT... I will tell you that you look beautiful! :-)