2008
Halloween Costume
Contest
This year I was, very pleasantly, surprised at the amount of entries I got for my lil ole Halloween Costume Contest. It has become bigger than I ever imagined and I just hope that it will be an ongoing, growing, affair.
THAT said.... My judges wanted me to express to you that they had a VERY difficult time making the decisions of who should win...simply because ALL Of the Costumes were to the point of "AWESOME" and those that DID win..probably only did so by a slight margin. BeCAUSE there was such difficulty in decision making, I have had to adjust the Prizes to be given out. (None are "less" so don't worry ‹). I have "added" a couple of "win" positions. Two 4th places, and one "Honorable Mention" have been added. Hopefully there is no objection to this change.
(It goes without saying(but I'll say it anyway ‹) that if my wallet was a bit fatter you would ALL win 1st place! ‹ But... I guess then it wouldn't be called a "Contest" eh?)
The prizes will be sent via snail mail (U.S. Postal Service)(so if you are a winner and have not yet sent me your mailing address please do so soon ‹) as Money Orders. I will be putting the Prizes in the mail in the first week of December (if not sooner). ‹

By the way...if anyone is interested in instructions and/or helpful tips on MAKING some of the Homemade Costumes from this years Contest, Here is the link:
And Now.....
......without further foolin' around ‹ :

The Winners Are:
~~~~~~~~~~~~~~~~~~~

First Place
$100.00 Grand Prize
contestant 41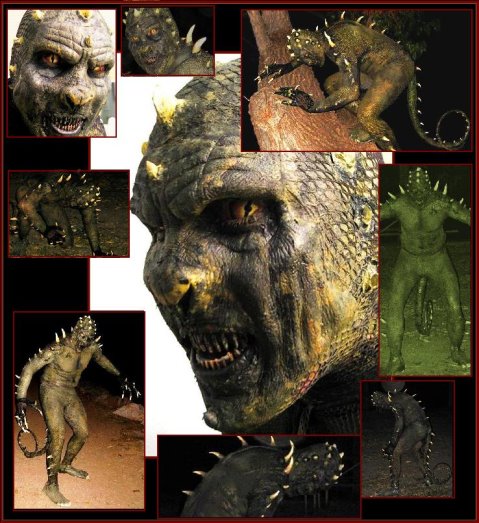 The Reptileman
Congrats Austin!!!!
WELL DONE!
~~~~~~~~~~~~~~~~~~~~~~~~~

Second Place
$50.00
contestant 65

A Little Privacy Please! ‹
A Hunter in an Outhouse
REALLY Creative!
Congrats to Colby
and Mom, Melissa


~~~~~~~~~~~~~~~~

Third Place
$30.00
Contestant 26

Headless Girl
(actually, I wouldn't call her Head"less"
after all she DID bring it with her! ‹)
Great Job Madison!!!

~~~~~~~~~~~~~~~~~~~~~~~~~~~~~

We have two 4th place winners:
In no particular order.....
~~~~~~~~~~~~~~~~~~~~~~

Fourth Place
$25.00
contestant 17
Red Bi-Plane and Pilot Josh


Good Goin' Josh
and Dad, Bob
~~~~~~~~~~~~~~~~~~~~~~~

(the 2nd, "4th" place winner ‹)
Fourth Place
$25.00
contestant 16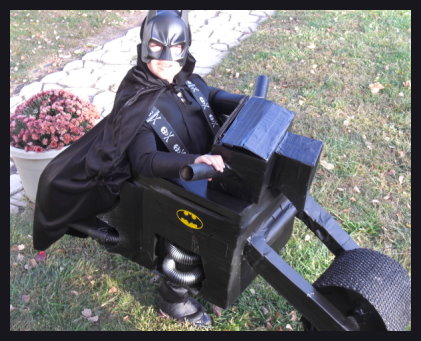 Jacob aka Batman with Batcycle
Congratulations Jacob
and his Dad, Bob
~~~~~~~~~~~~~~~~~~~~~~~

The next 6 winners are
5th place and/or "Honorable Mentions"
(They were just too good
to NOT "mention" at all. ‹)
These, also, are in no particular order.
~~~~~~~~~~~~~~~~~~~~~

Honorable Mention
$20.00
contestant 9

It's a Lily Monster! ‹
Great Costume Lily
and Mom, Angela
~~~~~~~~~~~~~~~~~~

Honorable Mention
$20.00
contestant 3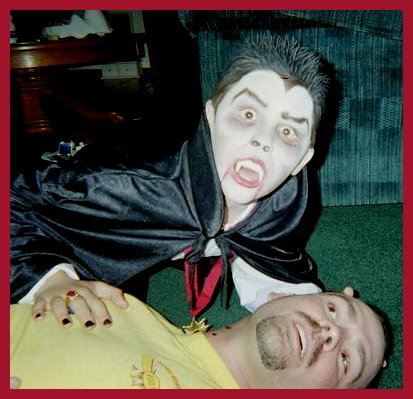 Count Garrett wins for his very dramatic Vampire!

Way to GO Kiddo!

~~~~~~~~~~~~~~~~~~~~~~
Honorable Mention
$20.00
contestant 27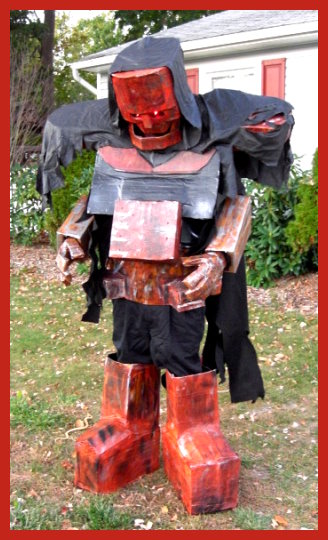 Bob as a Rusty Ole Robot
Bob you indeed have SKILLS!
‹ Congratulations !
~~~~~~~~~~~~~~~~~~~~~
Honorable Mention
$20.00
contestant 4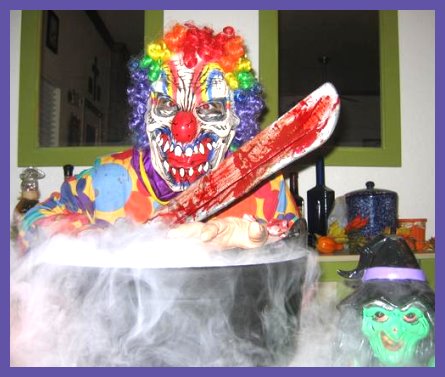 Here's young Blake as a Killer Klown!
SCARY Blake!
and a GOOD JOB too!


~~~~~~~~~~~~~~~~~~~~

Honorable Mention
$20.00
contestant 43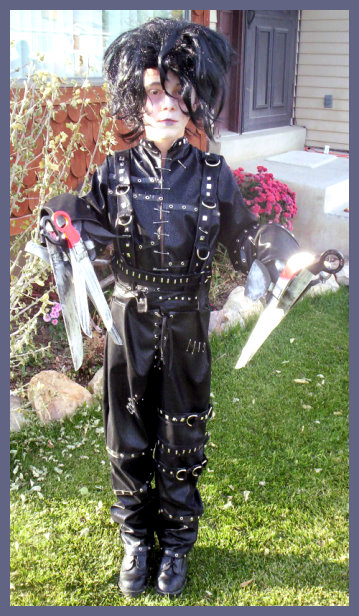 Tyler as Edward Scissorhands
Wonderful Costume Tyler
Mom, Sheri..fantastic job!
~~~~~~~~~~~~~~~~~~~~~~~~
Honorable Mention
$20.00
contestant 20

Jacque is a Witch carrying a pot
with a Frog in it .
Congrats Jacque
and Mom, Mrs.J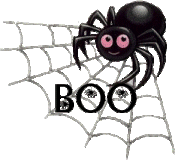 well...that's it everybody.
I hope every single person had fun
in the Contest
If you had FUN...
then you are a winner.
You won GOOD FEELINGS
and SMILES. ‹
Thanks for being here.
Your Hostess, Coletta
MMMMMMMMMMMM
Instructions BY THE CREATORS of many of this years HOMEMADE COSTUMES can be found here:
INSTRUCTIONS for HOMEMADE COSTUME CREATIONS
~~~~~~~~~~~~~~~~~~~~~
Below is the actual
2008 Halloween Costume Contest
~~"Note to contestants" ‹: If you send in a "Homemade Costume' with any instructions (however breif) on how you created the costume...I will post your costume, AND instructions, on my "Homemade Costumes" page once this Contest is over.
Oh...I have ONE MORE thing to tell you before I get on with it ...please bear with me ‹: If any Contestants are not happy with the way I present their Costumes...please just drop me a note and let me know what you would like me to change and I will get to it just as soon as possible.

Well Heck.....An issue has arisen that must be addressed so I will do my best to explain.:
Because some contestants have sent in more than ONE Costume....OR Moms have sent in more than one costume worn by the same child, I have had to try to arrange/group the costumes in a certain way and I will state a "rule" for all to go by so there will be no confusion.(or LESS confusion anyway ‹)
~~When one person is wearing more than one costume..I WILL enter all costumes (a reasonable amount that is ‹). HOWEVER...All Costumes worn by one person will be grouped under a single Contestant Number and only ONE Costume out of that group will be allowed to win a prize (so we can spread the wealth around a little ‹). If Mom has brothers and/or sisters of the above contestant... that child/person will be consider a seperate entry or contestant number of his/her own.
I am doing things this way in an attempt to be fair without having to limit the amount of Costumes entered in the Contest. I WILL rethink this for next year if interested parties do not find this new "rule" agreeable.
~~By the same token...when I recieve a GROUP picture of same topic, i.e. Superheros (See Contestants 1 for example).... I will post them as one entry UNLESS you send seperate photos for each costume AND specify that you would like each to be a seperate entry. (sometimes I forget to ASK so please be clear in your E-Mail. If I need to change any that I've already posted please let me know . It is easy enough to fix ‹)
NOW! Here we GO! .......OR NOT!? Gotcha! ‹
VERY last minute thought:
I thought it might be nice to post a picture of your JUDGES for this year:
(so you can throw darts at THEIR picture when it's all said and done! ‹)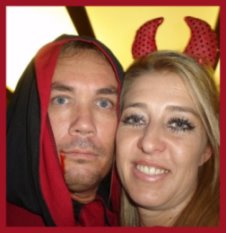 Count Randy and his She-Devil, Jasmine.
A team that I have no doubt will be honest and true in their judging.
Aren't you ready to begin yet? ‹ ‹
Without further STALLING..... ‹

The Contestants ARE:

~~~~~~~~~~~~~~~~~~~~~~~~~~~~~~

Contestants 1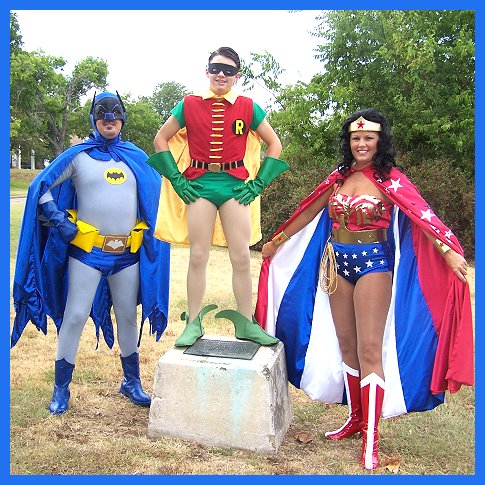 Entered by Crystal, aka Wonder Woman.
Above we also have Crystals brother Shane, as Batman, and her son Blake, as Robin.
These WONDERful Costumes are Homemade.
Below are some pictures of each Super-Hero doing what Super-Heros do best.
Ummmm..what IS that again? ‹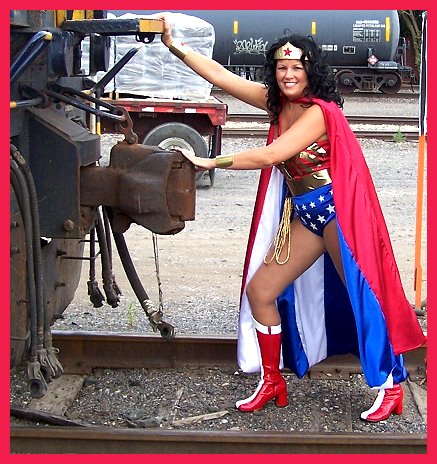 Crystal as Wonder Woman
Shane as Batman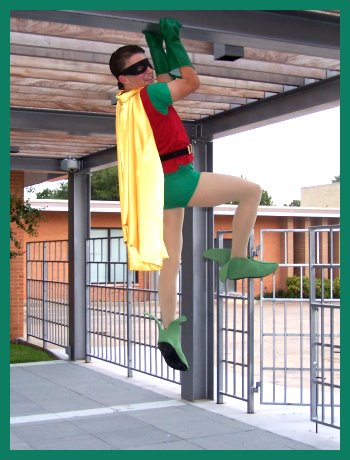 Blake as Robin
All of the above are to be considered "Contestant 1"
Thanks for the great entry Crystal ‹
~~~~~~~~~~~~~~~~~~~~~~~~~

Contestant 2


Drakan as an Army Man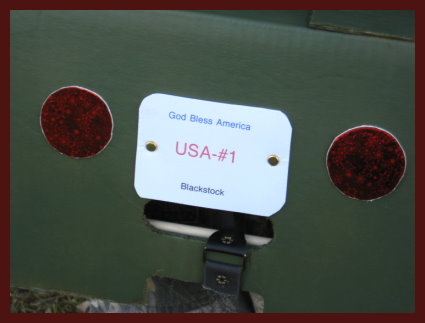 Drakan's other Army Equipment
(made from a banana box. COOL idea!)
Below is Drakan as a Viking!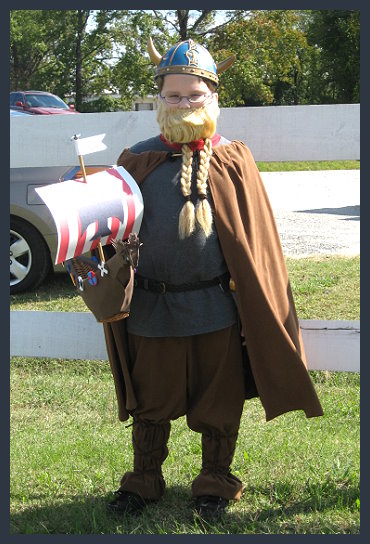 The Viking Costume comes equipped with a Viking Ship
that doubles as a Trick-or-Treat candy bag!
GREAT IDEA and very skillfully made!
Thank You for the entries Kim!
(you Crazy Cat Lady..
where IS your CAT Costume? ‹)
Your son looks GREAT in both Costumes!
~~~~~~~~~~~~~~~~~~~~~~~~~~~

Contestant 3

Garrett, 13, has sent in a few entries.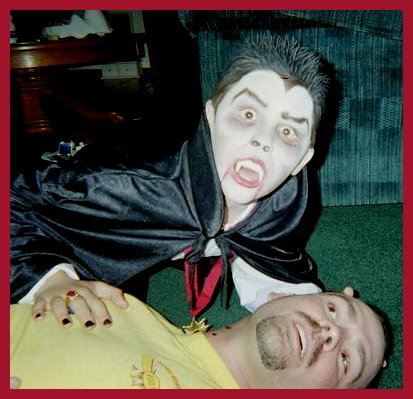 Check out Garrett as a Vampire.
I love the thought behind ther photos here.
(Note the bite marks on victims neck)
Here is Garrett again as gnarly ole Biker Dude.
Something right out of Texas Chainsaw Massacre
again from Garrett
and seen below cooking up Lunch ‹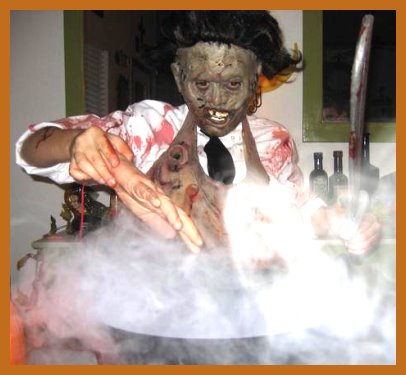 Thanks for your Entries Garrett
and Best of Luck to you.‹

~~~~~~~~~~~~~~~~~~~~~~~~~~


Contestant 4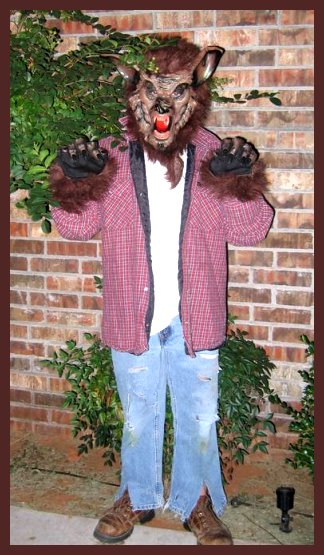 This is Blake...making a fierce Werewolf.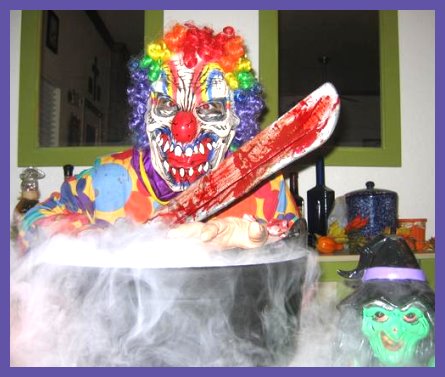 and here is Blake again as a REALLY SCARY
KILLER KLOWN!!
~~~~~~~~~~~~~~~~~~~~~~~~~~~
Contestant 5


Here is 3 yr. old Ean driving a VERY cool Homemade Tractor.
It's absolutely amazing what JOY can come out of 2 cardboard boxes a lil bit of paint and glue.

Many thanks to Eans Mom
for sharing this idea with us.

~~~~~~~~~~~~~~~~~~~~~~
Contestant 6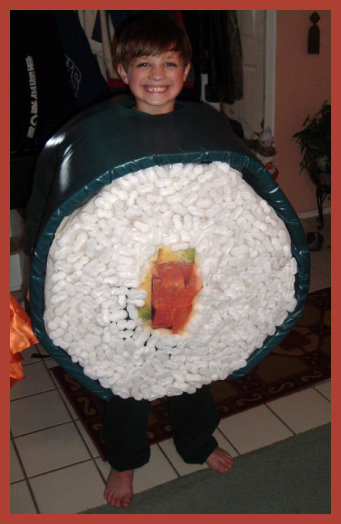 Sushi anyone?
Austin, at age 7, makes YUMMY looking Sushi.
(thanks to Mom Sherry's Costume making skills
and eye for detail ‹)


Another great Homemade Costume idea.
Thanks Sherry!
~~~~~~~~~~~~~~~~~~~~~
Contestant 7
Here is Rachel, beautiful in pink,
as The Tooth Fairy.
The Costumes are SO creative this year!
WOW! I am impressed! What FUN!!!!
My Thanks to Rachels Mom, Shannon.
~~~~~~~~~~~~~~~~~~~
Contestant 8
This is Ashley Lynn as Sleepover Barbie.
Just home from the Toy Store,
as you can see, she is still in her Box. ‹
Thanks for your Entry Ashley Lynn!
~~~~~~~~~~~~~~~~~~~~~~~~
Contestant 9
This is a Lily Monster
(so says Lily's Mom and costume creator, Angela. ‹)
And now that Miss Lily Monster is
awake and smiling....
She looks as ready as ever for Halloween
and this Costume Contest!
Thanks Angela... for another original Homemade Costume!
Angela Wilder and her family live in St.Louis, MO.
Angela would love to have a career in creating Costumes...
She just needs a nudge in the right direction ‹
Anyone looking for a passionate costume designer?
(Instructions for creating this costume will be posted in my "Homemade Costumes" pages.. after the festivities here are finished.)
~~~~~~~~~~~~~~~~~~~~~~~~~


Contestant 10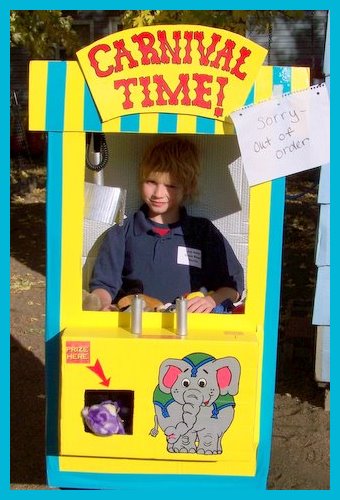 This is Jon as a Crane Machine Repairman.
The stuffed toy grabbing Crane Machine is OUT OF ORDER
and the only way to get 'er fixed is to get up close and personal.
Repairman Jon is ON THE JOB! ‹
Here are views from the side and the back.

Thanks for the entry Becky.
GREAT Costume as usual! ‹

~~~~~~~~~~~~~~~~~~~~~
Contestant 11
This is 9 year old Grace.
She is the "Main Course" of this goulish array of
delectable fine-dining at it's best!
She is serving up Fried Finger Fondue,
Sizzling Snakes marinated in Garlic Butter,
and Sauteed Spider in a Rum Sauce!
(Did I hear someone say "Yummy!!!"? ‹ )
Costume made by Grace's Mom, Crysta
Thanks for your entry! ‹
~~~~~~~~~~~~~~~~~~~~~~~~~

Contestant 12


Meet Bubby....errrrr young Michael Meyers
of "Halloween" fame.
THAT little boy was definately a "Killer Klown"!
Just below you'll meet his brother Tristen
~~~~~~~~~~~~


Contestant 12.5
If you are wondering aboiut the "half" number(12.5)
It is because I had made an error in this contestants entry.
Tristen and his brother Bubby look so much alike,
(and E-Mail can be so confusing (to me‹) sometimes
That I THOUGHT the two boys were only ONE boy.
so sorry....my bad.
SO! I did not give Tristen his own "Contestant Number"
I made him a "half" number in order NOT to
throw off all of the numbers below.
So! Is everyone as confused as I am now?
Good..then my job is DONE! ‹ ‹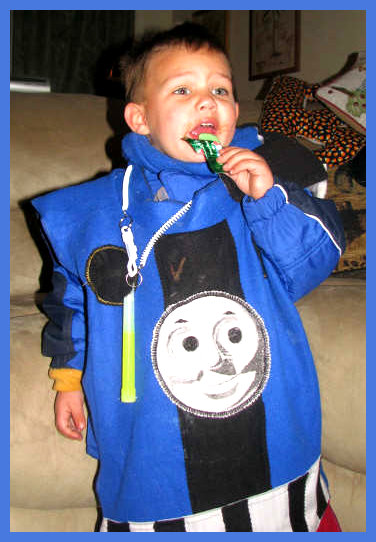 This young man, Tristen, almost 3 yrs. old
is Bubby's(contestant 12) brother.
Tristen, like many youngins' his age,
just LOVES Thomas the Train.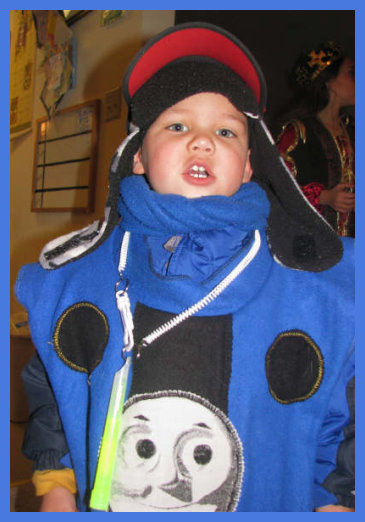 In Alaska, where Tristen and family live,
Trick-or-Treating can be a COLD job.
However..I think Tristens hat
actually adds to his costume! ‹
Bubby and Tristen's Mom, Olivia,
helped the boys with their costumes.

Dad, Wally, is in the Army
and is in Iraq during this Halloween.
Prayers go out to him and this family
as well as to all of the troops in harms way.
Thanks for the entries Olivia!!

~~~~~~~~~~~~~~~~~~~~~~~~


Contestant 13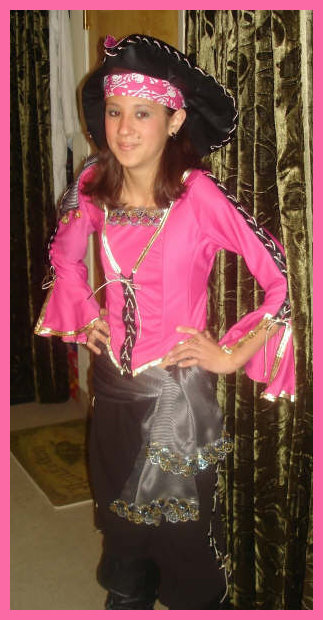 Here we have Jordan as a Piratess
a beautiful swashbuckler she makes too!
Jordan is Bubby's and Tristen's sister.
Here is Jordan as Prom Queen.
Check out THAT smile! ‹‹
Looks like she is HAPPY to be here eh?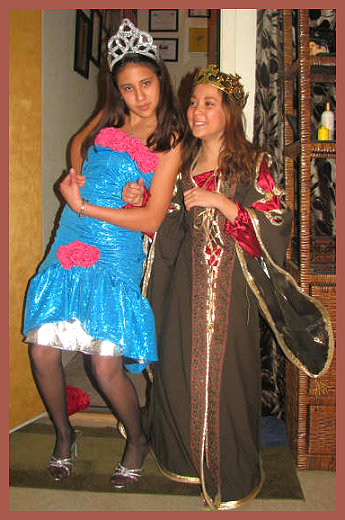 Jordan again as Prom Queen
This girl LOVES to clown around! ‹
Seen here with her sister, Khaleigh, also in Costume,
and who is also in this Contest...
somewhere below ‹

Thanks again for the entries Olivia! ‹
Jordan, You really DO look lovely!



~~~~~~~~~~~~~~~~~~~~~~~~


Contestant 14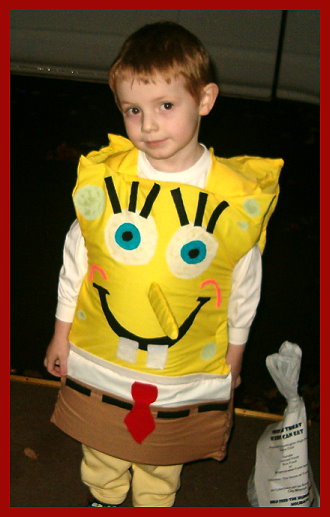 This is Benjamin in a very cool Sponge Bob Costume.
Here's Benjamin, Sponge Bob, again ...
seen with little brother, Aleck...
as Gary. (contestant 15...below‹)

~~~~~~~~~~~~~~~~~~~~~~~


Contestant 15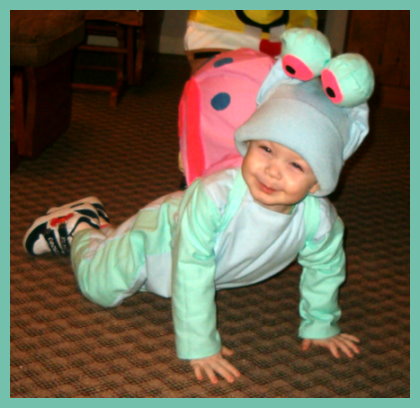 This is Aleck (Benjamin's(above) lil brother ‹)
He is in costume as Gary.


Many thanks to Amy,
Benjamin and Alecks Mom,
for 2 great Contest entries. ‹
~~~~~~~~~~~~~~~~~~~~
Contestant 16
Here is 4 yr. old Jacob as Batman.
As usual, Jacobs Dad, Bob,
went all out to make this homemade costume
WITH Props and Accessories,
One that will definately stand out in this competition ‹.
See Below...there is MORE to it!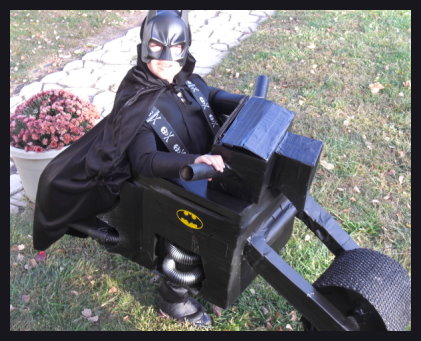 Batman rides a BAT-CYCLE!
A creation by Dad, Bob...
it has all of the bells, whistles & lights!
GREAT Homemade Costume eh?
Bob makes his creations mostly from
Cardboard Boxes, Tape, Paint and
LOTS of the main ingredient... "Imagination".
(Note the "bubble wrap" on rear wheel
to give a "Traction Tire" effect. ‹
~~~~~~~~~~~~~~~~~~~~~


Contestant 17
The Pilot of this beautiful Red Bi-Plane is 9 year old Josh.
Josh's Dad is also Bob( Batman/Batcycle creator,above)
Pretty AWESOME !
and how about a Side View:
Another Creation that comes equipped with moving parts and lights.
The Propeller even spins by "SUPER rubber band" method!
~~~~~~~~~~~~~~~~


Contestant 18
This is Christine in a Costume created by her hubby Bob.
(Yes, the very creative "Bob" from previous 2 costumes ‹)
Bob has named this Boat/Costume "The Deadliest Catch"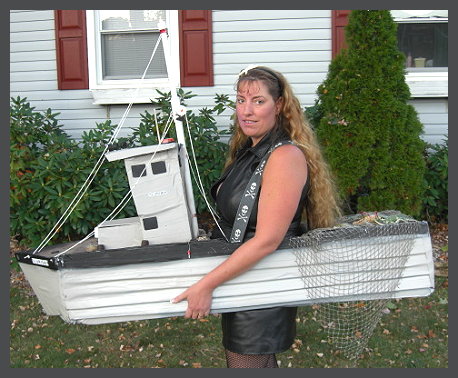 a Side View of the Boat and Christine too.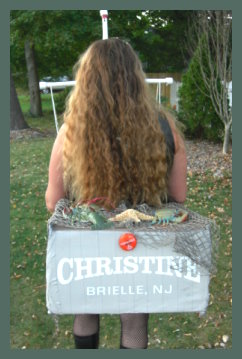 This is the rear of the Boat named "Christine.
and sitting on the rear(of the boat ‹)
is the Deadliest Catch (below).
(OR..could it be that CHRISTINE is the Deadliest Catch??!!
after all..it IS Halloween! ‹ EGADS! )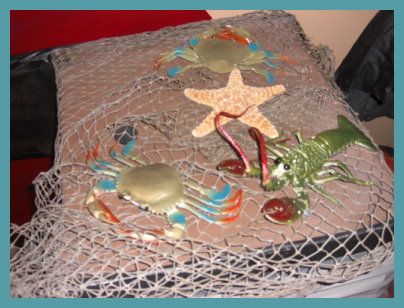 I'd like to Thank Bob once again for sharing his fantastic Costume Creations with us. AND I'd like to let you all know that I WILL be posting these Costumes , as well as some from the years past, COMPLETE with MORE "in-the-making" pictures AND instructions by the man himself, Bob..in my "Homemade Costumes" pages. I will post them in Mid November when this years contest comes to a close. (You will have plenty of time to prepare for NEXT Halloween! ‹)
FYI ~~Master Costume Creator Bob left this message
(below) for anyone interested.
~~If anyone ever needed help or advice (on projects of this type)...
they can contact me at ~~> bob_mac72@yahoo.com.
~~~~~~~~~~~~~~~~~~~~~~~~~~~


Contestant 19
This is Justin who is dressed as Yoshi.
Yoshi is carrying Mario as strapped to his back.
A really great Costume by our return contestant Mrs. J...
who has proven she is still as skilled as ever in her Costume making.
(if you need MORE proof just look below! ‹)
~~~~~~~~~~~~~~~~~~~~~


Contestant 20
Jacque is a Witch and she is carrying a frog
(Frog tongue is a Party-Blower..
the kind that uncoils when you blow on it ‹)
in a big pot!
Guess we know what will be served for dinner....
Frog Stew anyone?
GOOD ONE Mrs J.!
~~~~~~~~~~~~~~~~~~~~~~


Contestant 21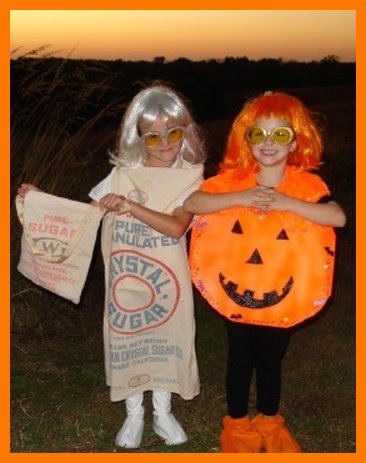 Here we have a bag of Sugar...and a Cookie.
Sugar & Cookie = Sugar Cookie
Mrs.J's daughter ,Jes, is the "Sugar" of the pair.
(Just as sweet as she can BE I'm sure! ‹)

Mrs J. Thank you for returning to the Costume Contest again this year.
I was anxiously awaiting what great costumes you would produce.
I am NOT disappointed! ‹

More of Mrs.J's costumes can be found in the "Homemade" section and I shall post the ones that are here now in the Homemade pages once this contest is over. Mrs. J is great about providing info and hints on how to make her costurmes also! ‹
Thanks again Mrs J!

~~~~~~~~~~~~~~~~~~~~~~


Contestant 22
This is 6 yr. old Ethan.
Ethan loves "StarWars"(who doesn't? ‹)
So his Dad, Daniel, made him into a Snowtrooper!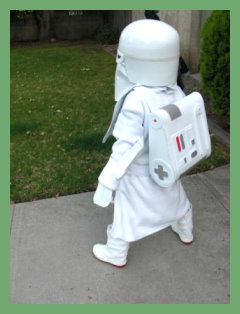 Thank you Ethan and Daniel!
Fantastic Job Dad!

~~~~~~~~~~~~~~~~~~


Contestant 23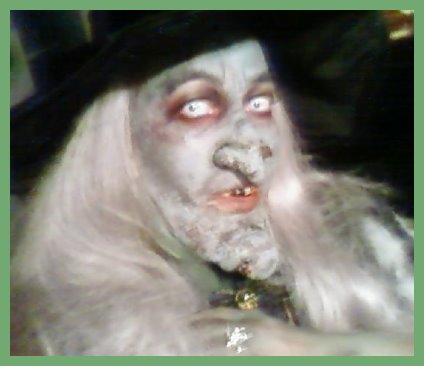 Here's a very interesting and SCARY entry
sent in by self-taught Make-up tech Brenna.
Brenna dresses up each year to honor her father
(now deceased (he passed on Halloween no less ‹) )
Brenna's Dad would dress-up on Halloween night
and go around the neighborhood spooking the trick-or-treaters.
(all in good fun I'm sure ‹)
Now that Brenna has picked up the gauntlet
she does it with a flare for SCARY Make-up
as seen above.
Thanks for the scary face Brenna and Good Luck to you!
~~~~~~~~~~~~~~~~~~~~~~~~~~
Contestant 24


This is 9 yr. old David M.
and he looks to me to be a GRINCH!
Very cute/cool costume..
Gotta love that face. ‹
My thanks to young David and to the sender ‹

~~~~~~~~~~~~~~~~~~~~


Contestant 25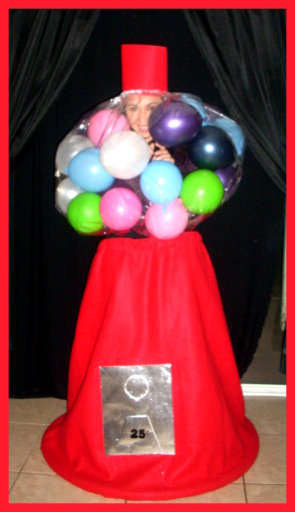 This contestants name is Xanny
And I believe this is a GUMBALL Machine.
I THINK I see a XannyBall for sale in there
with the GumBalls.
Thanks for the Entry Xanny.
Very original idea!
~~~~~~~~~~~~~~~~~~~~~~~


Contestant 26
Madison (above) tells me that this costume
was made mainly with things
that were found around the house.
Total MONEY spent: approx $9.00
WOW! and it's a very...
shall I say?? "realistic"?? Costume!??
REALLY COOL Madison!
Thanks for the entry!
~~~~~~~~~~~~~~~~~~~~~~~~


Contestant 27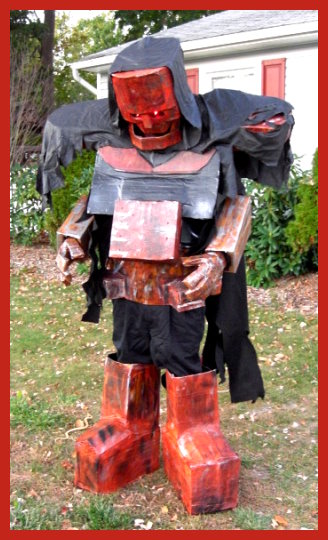 Here's Rusty Ole Robot Bob!
YEP! The wearer/creator of THIS Costume
also has a few other family members
in Costume above.(16,17,18)
Bob is getting to be (or maybe always HAS been!?)
a real Costume Creating Pro!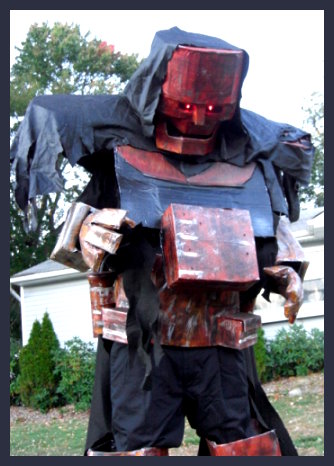 This poor ole Rusty Hunk has sure seen better days..
HOWEVER! I am told that he has
functional lights front and rear....
AND for the sake of convenience
2 drinking cups with tubes running to mouth
JUST IN CASE
ole Rusty has a sudden thirst to quench ‹.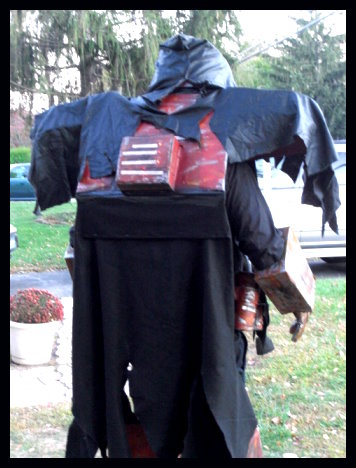 and here's what a Rusty Ole Robot looks like from behind.
Thanks again Bob!
I'd love to watch you dance in THAT outfit!!!! ‹
~~~~~~~~~~~~~~~
Contestant 28
This little guy hardly needs introduction~~~
At a mere 5 years old young Chandler makes a fine
ELVIS!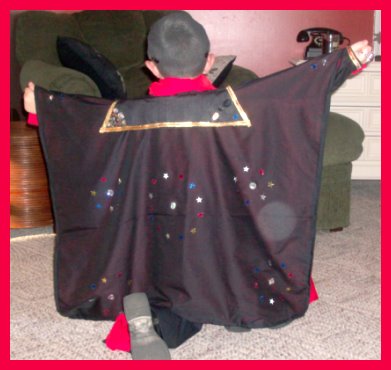 Someone put a LOT of work into this Costume.

Thank you for the entry
and best of luck in the Contest!


~~~~~~~~~~~~~~~~~
Contestant 29
I have very little info except to say that
this GREAT Costume was sent to me by Cirin.
If I am correct in my Addams Family Trivia
I believe this would be "Cousin "It"" ?
Thanks for the entry Cirin!
~~~~~~~~~~~~~~~~~~

Contestants 30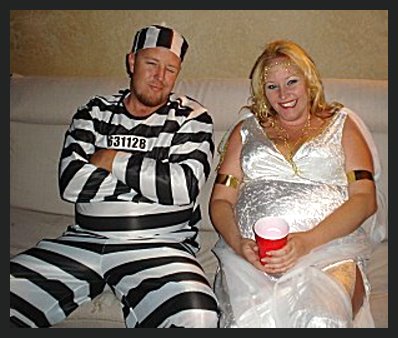 Here we have a Halloween Party Picture
of James and Jamie.
Lookin Good you two!
Thanks for entering the Contest
and Best of Luck!
~~~~~~~~~~~~~~~~~~~~~~


Contestants 31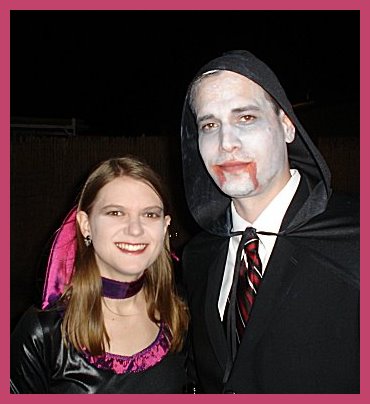 And what's a Halloween Costume Contest without...
Children of the Night
Here are Jen and Bill
having a wonderfully wicked
and possibly "delicious" night out.
Thanks Jen and Bill for the Entry
You both look fantastic!
~~~~~~~~~~~~~~~~~~~~


Contestant 32
This beautiful little Ladybug is Ava Lee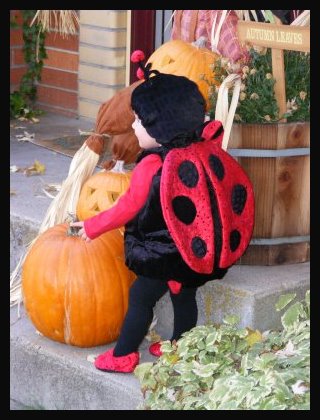 Ava Lee's Mom, Jenny, made the Costume
and we can see she put lots of love into it.
Dad and Husband, Sam..
fondly tells me that he thinks
Jenny did an AWESOME job on the Costume
and that Ava Lee IS their little Ladybug. ‹
Thanks to Sam for sending in this entry.
Ava Lee is an awesome Ladybug.
~~~~~~~~~~~~~~~
Contestant 33

This is 10 yr. old Victoria
as Barbie in a box.
Victoria came up with this idea
one warm afternoon at the park
in her home in S.Dakota

Thanks to Victoria and her Mom Sheri
for joining me again this year ‹

~~~~~~~~~~~~~~~~~~


Contestant 34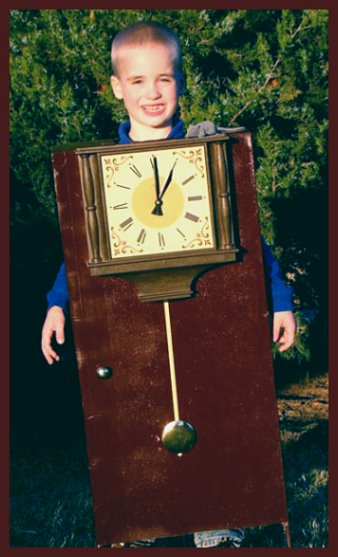 Here is Landon age 6
He is the Clock of
Hickory Dickory Dock fame.
Notice the Mouse on top as the Clock strikes ONE.
If memory serves (and that's not true often ‹)
"The clock strikes one and down he runs."
Is the verse.

Landon's sister is the "Barbie" posted above.
Thanks to Landon, and Mom Sheri, for the entry.

~~~~~~~~~~~~~~~~
Contestant 35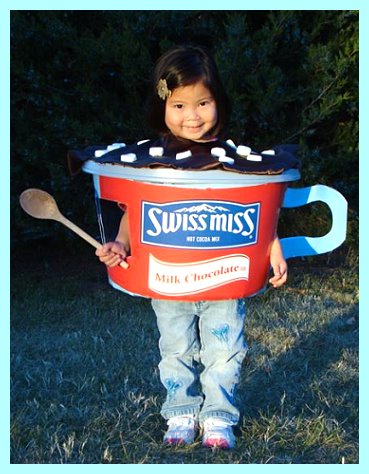 This beautiful little girl is Mei Lin and she is 3 yrs.old.
She is joining this Contest as a
Cup of Swiss Miss Cocoa ...
with REAL Marshmallows!
This is Mei Lin's first Halloween
because it is her first year in the United States.
She was adopted from China last summer .
Mei Lin is EXCITED about Halloween
and all of the Goodies to be had for
Trick or Treat in S. Dakota.‹

Thank you Sheri
(also Mom to last 2 contestants, above.)
Not only for the entry...
but also for sharing a bit of Mei Lins story.
It is a wonderful thing you and your family have done
for Mei Lin and I wish you all the BEST of life. ‹
Great Kids and...
COOL COSTUMES TOO! ‹


~~~~~~~~~~~~~~~~~~~~~

Contestant 36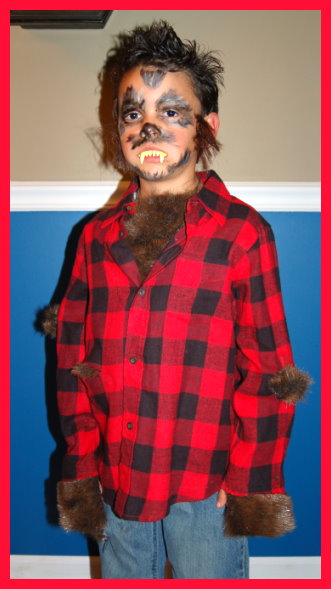 Here we have a Werewolf!
When in human form he is Marcus, age 6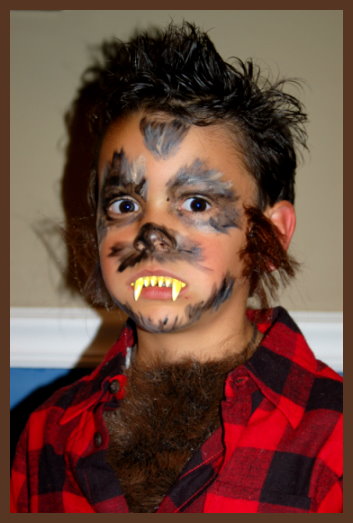 YIKES he has some FIERCE FANGS!
Thank you Mom, Mindy, for the entry.
Mindy says :
<>visit my website for all your
scrapbooking and stamping needs:
www.missmindy.myctmh.com
~~~~~~~~~~~~~~~~~

Contestant 37
Here is 3 yr. old Aiden
as a newly-hatched Chick.
Another great Homemade Costume idea
that could double for EASTER also!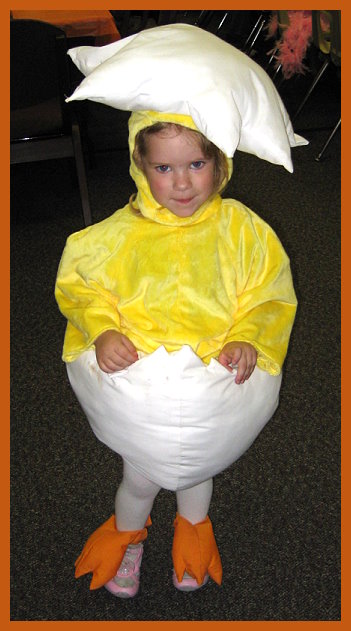 I don't mean to wag my own tail-feathers
HOWEVER!
Mom tells me that my "Easter Egg" pattern
was used (and then of course modified) to get
the basics of the project going.
Enough BRAGGING though, ‹
Aiden is an adorable lil Chicky.
Thanks for the entry Mom
AND Thanks for sending in the "modifications" instructions.
After the contest I will have them posted
on my "Homemade Costumes" Page.

~~~~~~~~~~~~~~~~~~


Contestant 38
Here is Allister, Aiden's(above "chick")big sister.
Allister is a Phoenix!
A Fantastic Legendary Bird she is too.
It was a bit difficult to fit her wing-span in .
It is why SHE is so small.
The wings are SO long,in fact,
that Allister grips long dowels in each hand
to get the full spread of them.
For convenience sake though,
she can simply let go of the dowels
and slide her hands out of the slits
that are about half way up the wing
and have her hands free for other things.
REALLY great Costumes!
Thank you again to the Mom of Aiden and Allister.


~~~~~~~~~~~~~~~~~~

Contestant 39
awwwww..TOO CUTE!!!!! ‹
This is 6 month old Liam in his Sock Monkey outfit
that was hand knitted just for him.
The little Babes just steal my heart
In Costume...or not.

Thanks for the entry
to the proud parents of Liam.

~~~~~~~~~~~~~

Contestant 40
I have only ONE "Pet" Costume Entry thus far.
SO! I will post lil Jasmine
The UNDERDOG
here with the rest of the Costumers
Until and/or Unless I get more pets
before judging time.
Hope not to offend anyone ‹.

Thank you for the Entry to Jasmines owner/parent.

~~~~~~~~~~~~~~~~~~~~


Contestant 41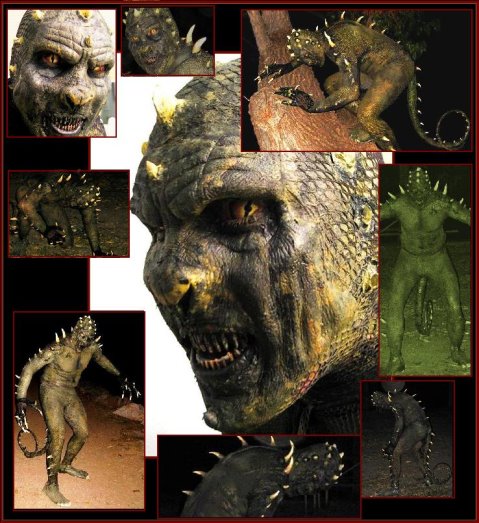 Austin...the Reptileman!
I know what some of you may be thinking
"Professional FX Job".
(I thought the same thing at first)
But then Austin sent me some photos
of the "Making of Reptileman"
There is no denying
Austin is just a Super Deluxe Costume Creator ‹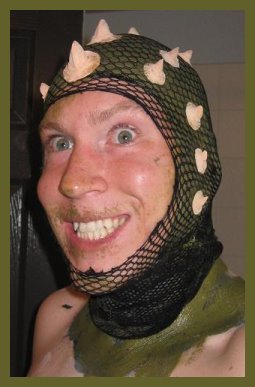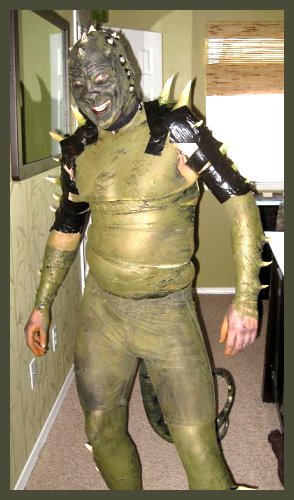 Here is Austin looking a bit geekie in the beginning headgear.
He made each "horn" out of clay.
As you can see (I hope)
some of the horns had to be Duct-Taped
to Austin before the rest of the suit was created.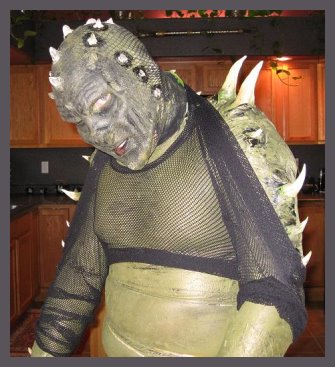 Austin getting into the "netting"
that helped him achieve that "scaley" look.
Austin kindly sent me some instructions and helpful tips
on the making of this superb costume.
After Nov.15th you will find these instructions
in my "Homemade Costumes" pages.
Austin is not only a great Costume designer,
his daily JOB is as one of our many sons
who are in the Armed Forces.
Austin THANKS for your entry.
(and especially Thanks for your patience ‹)
I know I'm not the only one here
who appreciates your service to our country..
So MANY "Thank Yous" for that also.
~~~~~~~~~~~~~~~~~~~~~~~~~
Contestant 42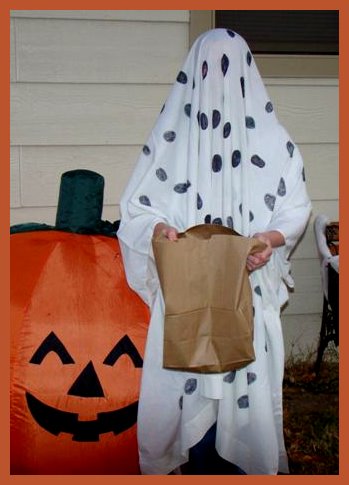 This is 13 year old Nolan.
He is dressed-up as Charlie Brown,
Trick-or-Treating, as he did in the TV Movie
The Great Pumpkin Charlie Brown.
This for a Halloween event at his Middle School.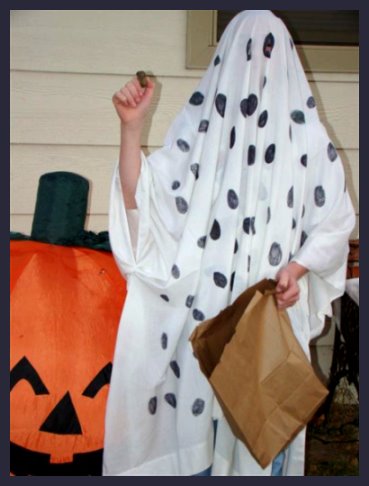 Charlies "Ghost" Costume sheet had several holes all over it.
To finish the Costume,
Nolan is equipped with Trick-or-Treat Bag,
Carrying not candy..but Rocks! ‹
Thanks to Nolan's Mom Sheri (again)
This S. Dakota Family, amongst others,
has been a great inspiration
in getting this costume contest going.
MUCH appreciation for your continued interest
and show of support Sheri. ‹

~~~~~~~~~~~~~~~~~

Contestant 43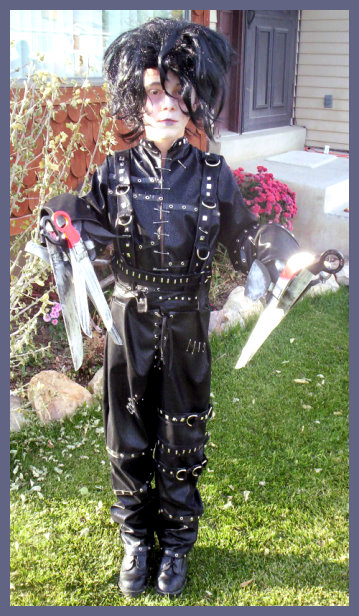 Wow! This is Tyler as Edward Scissorhands.
It is obvious thatLOTS of work went into the detail
of this Homemade Costume.
The Hair and Make-up is done very accurately
to match the Johnny Depp character.
I am told that only the"Hands" were a purchase.
They were found on the "Internet" of all places. ‹
Many Thanks to Mom, Sheri
for the creation of this Costume
and the one just below.
Sheri and family live in Utah
and they joined me the first year
of this Costume Contest.

~~~~~~~~~~~~~~~~

Contestant 44
This is Kori as a Geisha
Her Kimono is Handmade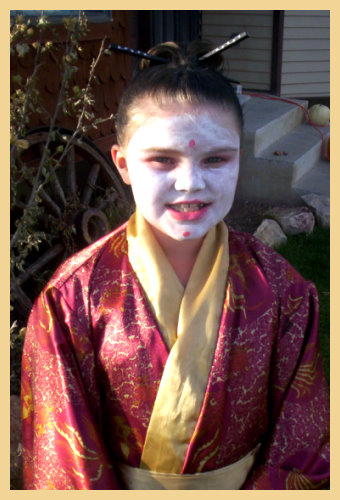 Kori is wearing the traditional
white-face make-up of the Geishas.
Thanks again Sheri.
You are an AWESOME
Costume Maker! ‹
~~~~~~~~~~~~~~~~~

Contestant 45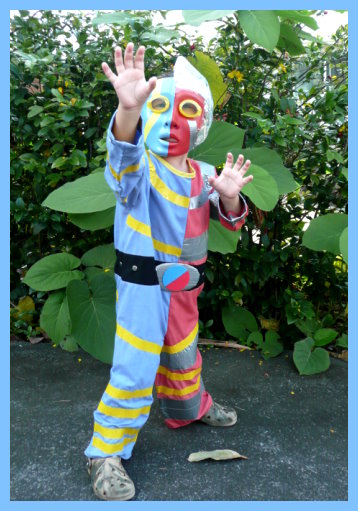 Here's an entry coming to us all the way from Hawaii!
This young man is 3 yearold AJ
AJ is wearing a Homemade Costume
that cost only about $10.00 to make.
The Costume is of "Kikaida"
an Android Superhero created in Japan.
It played in Hawaii about 35 years ago.
AJ.s Mom, Sabrina, says that her son loves to do
all of the stances and action moves that
SuperHero Kikaida does.
Aloha Sabrina
Thank you for the entry
and the story that goes with it! ‹


~~~~~~~~~~~~~~~~~~~~

Contestants 46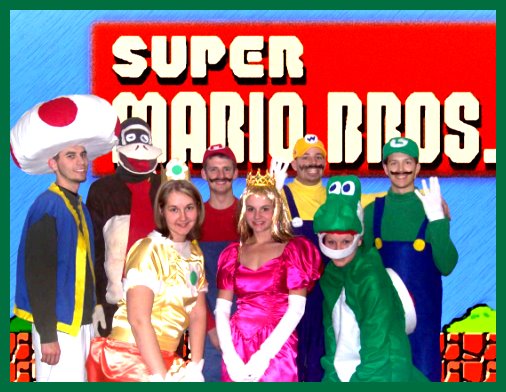 Here's a great GROUP of a Contestant from Pa.
Even I remember The Mario Brothers!
Although they are entered as one Contestant
Below (next 8) you can get a good look at each Costume.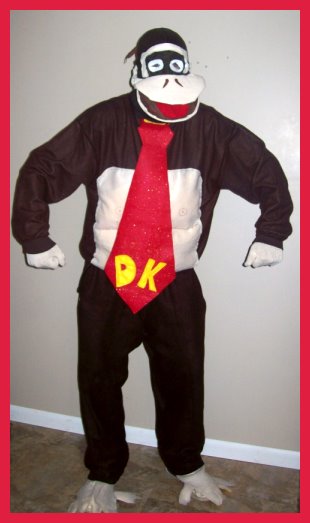 Donkey Kong = Steve


Daisy = Alicia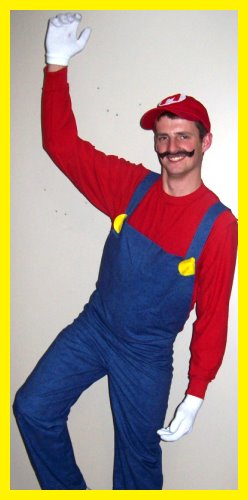 Mario = Damien
Peach = Kelly
Luigi = Nick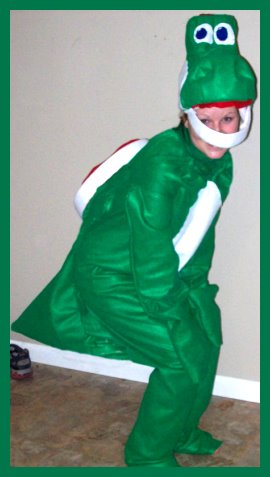 Yoshi = Melissa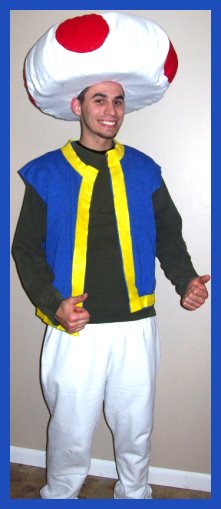 Toadstool = Nathan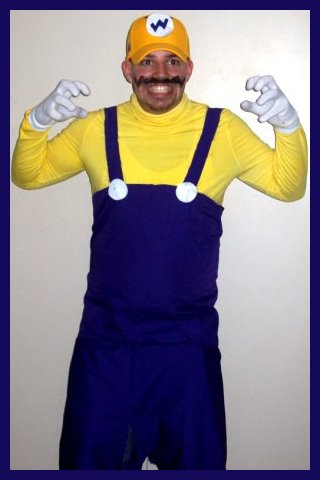 Wario = Mike

Contestants 46

WOW! Well Done you guys! (and girls!)
Thanks for the entry!
~~~~~~~~~~~~~~~~~~~~~


Contestant 47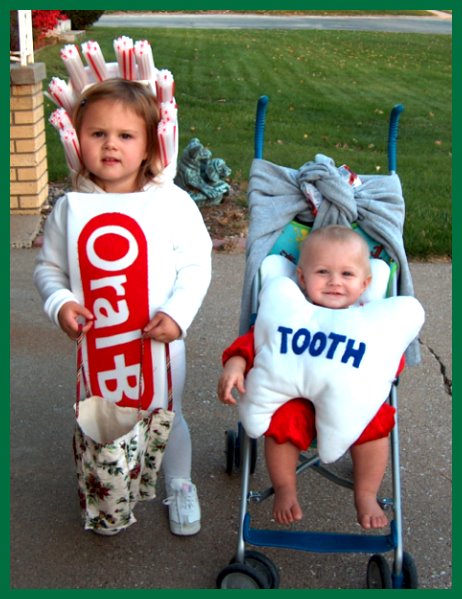 Our Contestant here is Kalli, dressed as an Oral-B Toothbrush
Her little brother Kai is just tagging along
a lost baby-tooth perhaps? <yukyuk>‹
Thanks to Mom, Brittney

for this very creative costume
from IA
~~~~~~~~~~~~~~~~~~~~

Contestant 48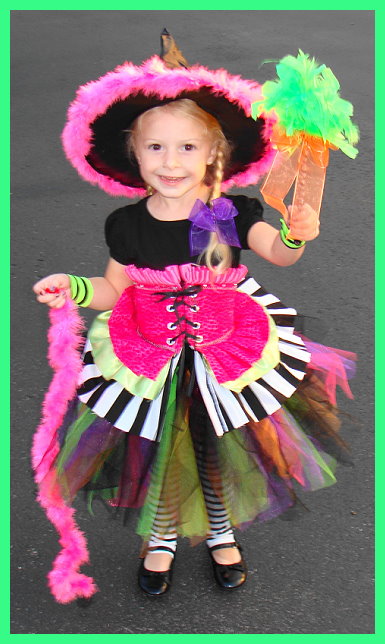 This Groovy Witch is 3 year old Mila
Mom, LaKrisha, made this fantastic little outfit
out of bits and pieces
and I am HAPPY to say that she sent
along some nicely detailed instructions.
(that we will share later ‹)
This Groovy Witch and her family
are from Florida.
THANKS for the entry!!!!
~~~~~~~~~~~~~~

Contestant 49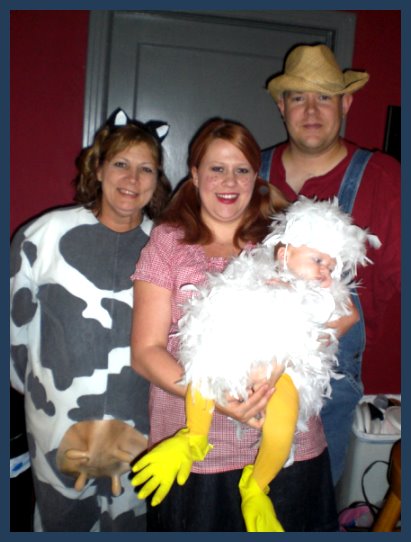 A family entry called "Farm Life".
Shayna and her husband Casey are Farmers
Shaynas Mom, Sue, is a Cow
The little Chick is daughter Casey Marilyn
I just realized what made the Chicks feet! HA!
But I think this lil chick is ready for a nap!
Thanks a lot for the entry Shayna
Farmers really are Americas
Bread and Butter.
(my humble opinion of course ‹)
~~~~~~~~~~~~~~~~~~~~~~~


Contestant 50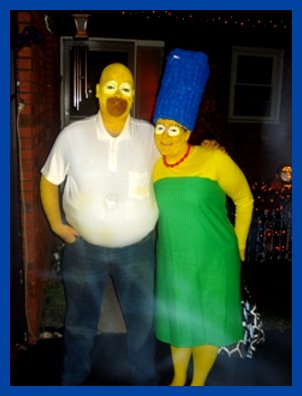 Entering as the Simpsons we have
Victoria as Marge Simpson
&
Nathan as Homer Simpson
Thank you Nathan and Victoria for your entry!
REALLY cool Costumes!!

~~~~~~~~~~~~~~~

Contestant 51
This is a neat costume.
Axel as
Aladdin on his Magic Carpet.
A firm Carpet allows for the illusion
that when Axel stands up the carpet is floating.
This is Axel Below also.
This young man must have been in a flying mood.
Here he is, a soldier sailing down in his Parachute.
Mom was a bit worried about the stiff competition this year.
I say" Mom you have nothing to fear...these Costumes are as good as any,
and maybe even better than some.
But I hope we are all here mainly to have fun.... and give the kids a chance
to see themselves on line....and to be proud to be here. ‹
~~~~~~~~~~~~~~~~~~~~~~~

Contestant 52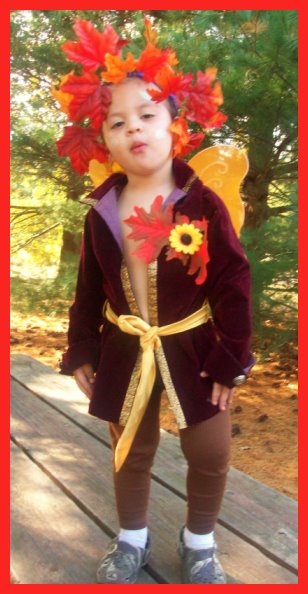 This is 2 yr. old Fairy King, Armani
Here is Armani at a closer view
Looking nothing if not REGAL
Some people were just born to be "King" ‹
Thanks to Mom, Gore,
for coming back again this year
and showing some great costumes

~~~~~~~~~~~~~~~
Contestant 53
EGADS! I gotta say...These kinda freaked me OUT!!!! ‹
(in a good ole' scary Halloween way. ‹)
A Zombie Wedding!
Priest presiding over the service will be
David Jr. (deceased of course)
and the Bride, Osiris (deceased also)
and the Groom, David (dead as a doornail I'd say)
a closer look at David senior and David junior.
Job-well-done fellas ‹
REALLY fun Costumes David!
Thank you for joining my
Costume Contest again this year

Here is another way to use that wedding dress
that's seen better days
This must be Osiris,
just couldn't keep her in her coffin.
She wanted to show you how easy it is to
go from Walking Dead to Vampire!
Basically just ADD TEETH!
~~~~~~~~~~~~~~~~~~~~

Contestant 54
Miss Jenna Jade is this pretty little Witch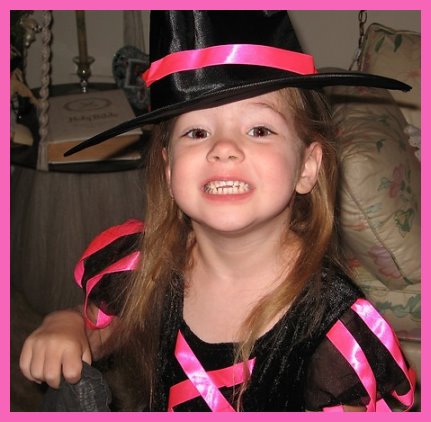 She's just a DOLL...what else is to be said?
You will see Jenna Jade's parents,
Eric and Stephanie
coming up as the next 2 contestants.
~~~~~~~~~~~~~~~~~~~

Contestant 55

This is Eric (Jenna Jades' Daddy) as The Joker!
Thanks for being with us this year Eric!
~~~~~~~~~~~~~~~~~~~~~~

Contestant 56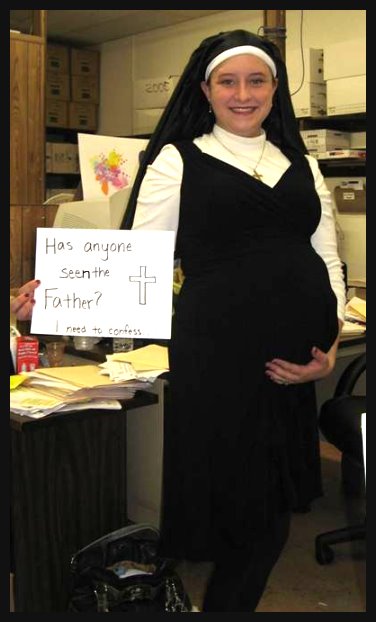 This is my friend Stephanie
(Mama to Jenna Jade and Wife to Eric (both above))
She dresses as a" Nun" but guess what?
Stephanie is due to have a little bundle around Christmas time.
Her costume thus becoming "pg Nun"
(Steph and Erics baby will be named "Lexie Noelle".
(Cool huh?)
Stephanie, Thanks to you and yours
for being here again this year!
Great Costumes as usual! ‹
~~~~~~~~~~~~~~~~~~~


Contestant 57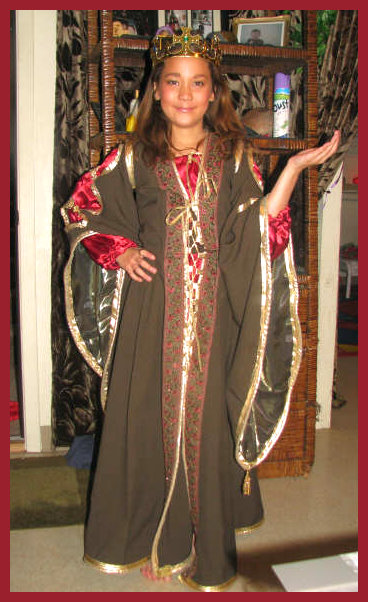 This regal costume is worn by Khaleigh
She looks like royalty to ME!
Beautiful robes and crown
Here's Khaleigh with her sister Jordan.
She is also sister to Bubby and Tristen. ‹
(all contestants from somewhere above ‹)
You BOTH look LOVELY!!!

Many thanks to Mom, Olivia
for the entries, by her, in this contest.

~~~~~~~~~~~~~~~~~~


Contestant 58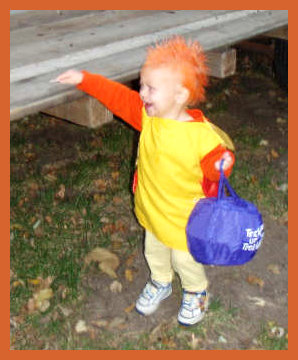 This is 18 month old Jacob as a Fish!
His Mom Tricia says the costume is totally Homemade.
Without even a PATTERN!
The fishes tail wags each time Jacob takes a step,
I was sent a short video to attest to this fact
but I am sorry to say that I can't get it to go on my site.
You'll just have to take my word for it I suppose ‹
The wag is VERY cute!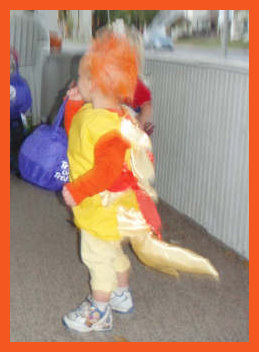 although a tad blurry
this pic shows the tail better.
Tricia was happy to say that she was able to
wash all of the ORANGE hair color out
of Jacobs whitish locks. ‹
Great Job Tricia and thanks!

~~~~~~~~~~~~~~
Contestant 59
Here is Joseph as a Fisherman.
He just happens to be Jacob's
(the fish above) brother.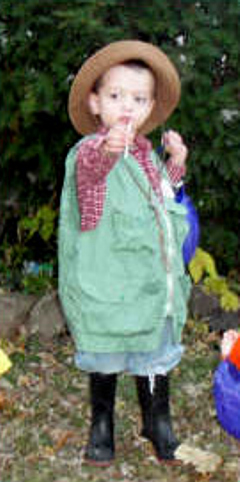 That could make for a
good fish story!
Thank you Tricia for entering
your great looking kids in the Contest!
~~~~~~~~~~~~~~~~~~~~~
Contestant 60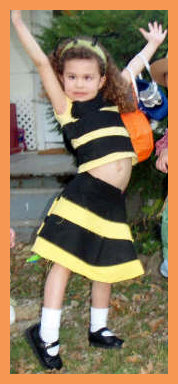 This pretty little bee is 4 year old Alex.
Thanks to her Aunt Tricia
for sending in the entry.
~~~~~~~~~~~~~~~~~~~

Contestant 61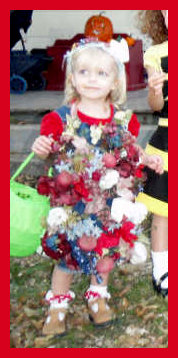 And this little sweetie is 2 year old Sam
(contestant 60's sister)
as a Flower Garden.
Thanks again for the entries Tricia
You are a great Aunt
and I bet you handle a Hot Glue Gun
just like you are from the old west!
(har har..hmmmmm...)


~~~~~~~~~~~~~~~~~


Contestant 62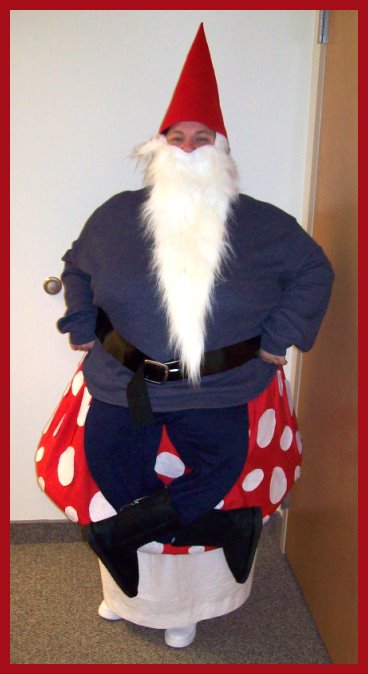 This is Cheryl's Homemade
Gnome on a Toadstool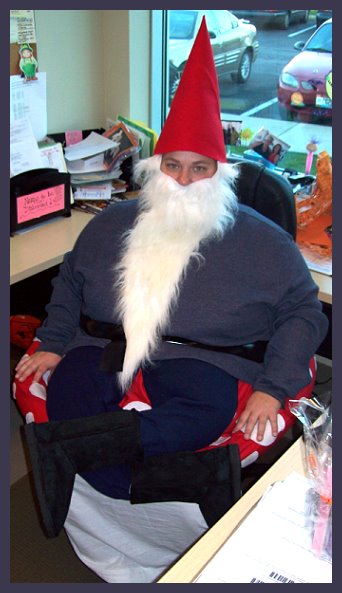 Me thinx the Toadstool needed a sit-down break! ‹
Cheryl sent a GREAT set of instructions on
how she created this fantastic costume.
(which I will have posted on my
"Homemade" Pages after the 15th of Nov.)
(~sorry if I'm getting redundant with that line. ‹)
THANKS Cheryl!
for sharing your beautiful costume
and all of your hard work too! ‹
~~~~~~~~~~~~~~~~~~~~~

(concerning Contestant 63 and 64)
as I said above (first "dog" entry)
since I have very few "pet" entries this year
I am not going to have a seperate contest for PETS.
I will just put them in the mix, with the humans,
and let the Judges sort them out ‹
Contestant 63
This cute Yorkshire Terrier is 5 yr. old Emylu
She's all dressed up for Trick-or-Treats as you can see!
Thank you Gore,
for entering your sweet pup.
Gore has a few Human entries also. ‹
~~~~~~~~~~~~~~~~~~~~~~~


Contestant 64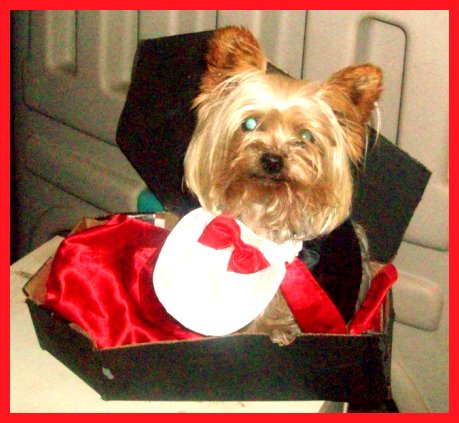 And here we have a tiny Teacup Yorkie, Damian.
His owner says thathe now sleeps all nights
in this new bed/coffin created out of a Cereal Box.
Thanks for the Entry David R.
David has a "wedding" photo
amongst the "Humans" above.
~~~~~~~~~~~~~~~

Contestant 65
This young man is Colby.
His costume is
A Hunter in an Outhouse.
(looks about right to ME! ‹)
The door pulls closed with a bungie cord,
and there are lots of "bathroom" accessories.
This is really an original idea I think.
Right down to what you CAN'T see,
A sign on the outside of the door
which reads "Occupied".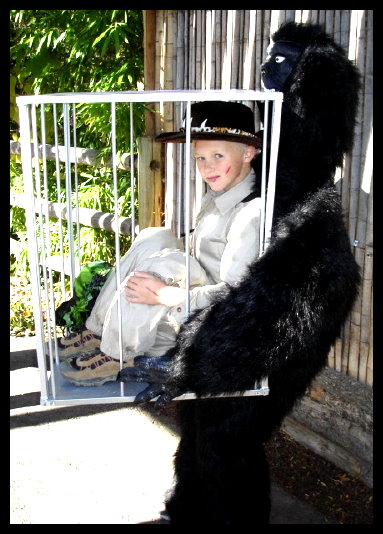 Here is Colby again in a Costume
and I quote Colby's Mom, Melissa, here..
"that shows how the capture of a Gorilla
went terribly wrong". ‹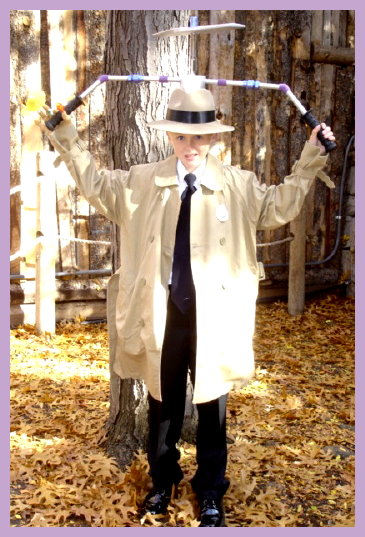 Here is Colby one more time as Inspector Gadget!
From what I am told by the Costumes Creator,
(Colbys Mom, Melissa)
the helicoptor blades actually spin (by motor)
ALSO, Inspector Gadget has a "Hand"
with different items coming out of each finger..
Such as a toothbrush, mini umbrella, and
a flame made from tissue paper.
Great Costumes Melissa
and HOMEMADE too!
Thanks very much for your entries.

~~~~~~~~~~~~~~~~~

Contestant 66
This lovely creature is Megan
She is dressed as none-other-than an
OOMPA LOOMPA!
(of Willy Wonka and the Chocolate Factory Fame)
(but then, you all knew that..right? ‹)
Melissa, Megan's(and Colby's(above))Mom,
took great pains at perfecting this Costume
as the movie is a favorite of hers.
The Human-turned-Blueberry is a great touch.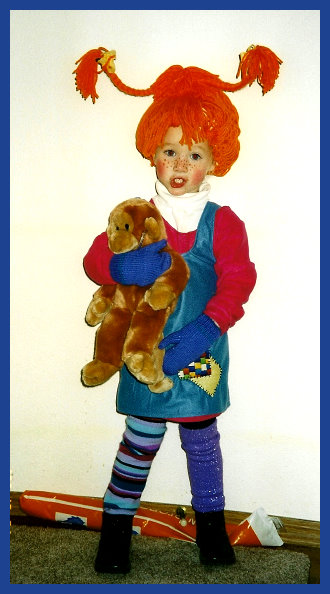 Here is Megan as Pippi Longstocking.
In fact, she is one of the CUTEST Pippi's I think I've seen.
Mom makes the statement that she thinks her
"Homemade" Pippie turned out much better than
a "store-bought" Pippie Costume would have been.
I AGREE Whole Heartedly Melissa!
Just Darling!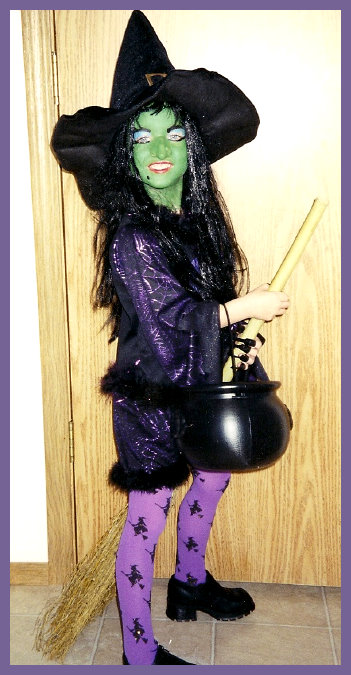 Then we come to Megan once more,
as a Wicked Ole Witch!
(Hard to believe she is the same sweetheart
who was just Pippi Longstocking ‹)
The Witches Dress was store-bought
(Oh for SHAME!!!! ‹ ‹)
HOWEVER! Mom, Melissa did her magic
and fancied this outfit up with home style accessories
till it may as well have been a great down- home job.
They had so much fun with the make-up
that no-one even recognized Megan under
all of that WICKNESS!

Thank you Mom, Melissa,
and Colby and Megan, for sharing
these fantastic Costumes with us.
Good luck in the Contest.

I WILL have instructions
for how Melissa made the last 6 Costumes
once this contest is over and I can get
the Info Posted in my Homemade Costumes Pages.

~~~~~~~~~~~~~~~~~
Contestant 67
This Contestant comes as a Mom and Daughter team.
Mom, Flower, is the dark half as a chilling Vampiress
Daughter, Keilani, is from the lighter side, as an
adorable Lavender Fairy.
I think that between the two
they balance each other out nicely.
Thanks to Flower and Keilani
for entering these great Costumes
in my Contest. ‹
~~~~~~~~~~~~~~~~~~~

Contestant 68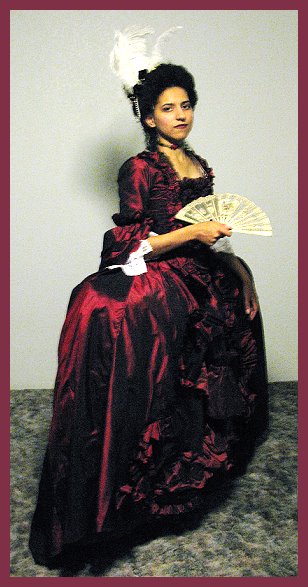 This is Monica, age 17
in an 18th century French court dress.
"Robe a la Francaise"
This is a Homemade" costume
Monica says that the gown has so many layers,
(10), each requiring it's own special attention,
that it took a year to complete.
The gown features long pleats in the back,
a very ingenious application that,
through some lacing within the lining,
made it a "size fits all" kind of gown.
Thus, a woman gaining or losing weight
was no problem..simply adjust the lacings.
(WOW! We could sure use more
of this kind of consideration in PRESENT day! eh ladies? ‹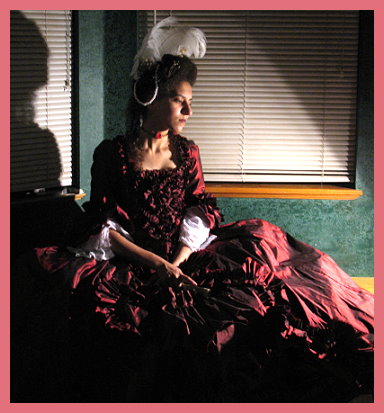 Each layer is made using period correct fabric-
the gown is pure silk taffeta,
and the under layers are starched linens.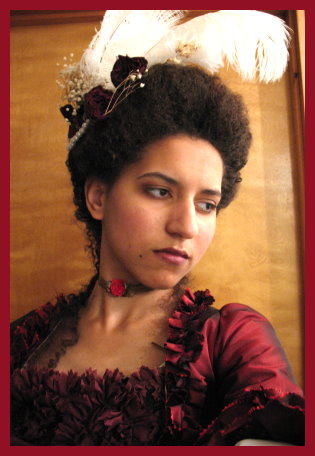 In Monica's words :
"This is a "homemade" costume,
one which is a little complex in structure,
but overall isn't complicated in sewing technique."
Monica Dear, I think you have SKILLS! ‹

Thank you for your Entry Monica
BEAUTIFUL Gown!
If you aren't a professional seemstress..
..you sure should be .

~~~~~~~~~~~~~~
anyone else?


Contest closes for entries on November 15th at Midnight.

As the Contest comes to a close (for THIS year)...
............

<>.................... I want to personally thank ALL of the Contestants and their Helpers (seamstresses, builders, crafters, Moms, Dads, and ETC.!) for sharing , not only the Costumes, but for taking the extra time to type out instructions, however detailed (you made the EFFORT), so that in future years if somebody would like to build or sew what they see you Costumed as...the general idea will be available to them. THAT is a wonderful thing I think ‹. So Thank You ....
.....and Thanks for showing up ‹