Fun with Snapchat Costume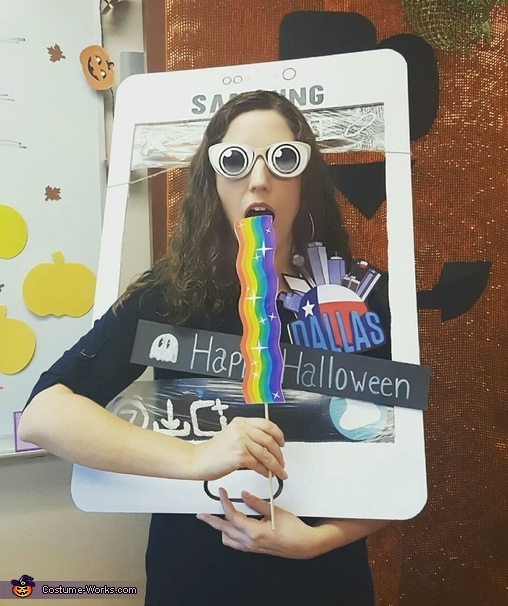 Fun with Snapchat Costume
More views:
(click to enlarge)
A word from Natalie, the 'Fun with Snapchat' costume creator:
I saw instructions on a blog for making a Snapchat photo booth (for parties), when I thought that could be a fun, interactive costume idea. At my company, we have a Halloween costume contest, and one of the categories is "performance," which basically means you do some sort of quick 5-minute presentation. I wanted to create a costume where I could pretend to be filming a Snapchat.

First, I took a piece of white foam board and created a frame to look like my Samsung Galaxy phone. Then I took a clear plastic trash bag and cut two long strips to put at the top and bottom of the frame where I could draw the icons you would see onscreen after you've filmed your Snapchat. Next, I printed out images to make various Snapchat lenses (the dog, the rainbow "vomit," etc.). Lastly, I created a "Happy Halloween" text bar on black construction paper (what you would type on your Snapchat) and a geofilter for my city.