Frozen Marshmallow Costume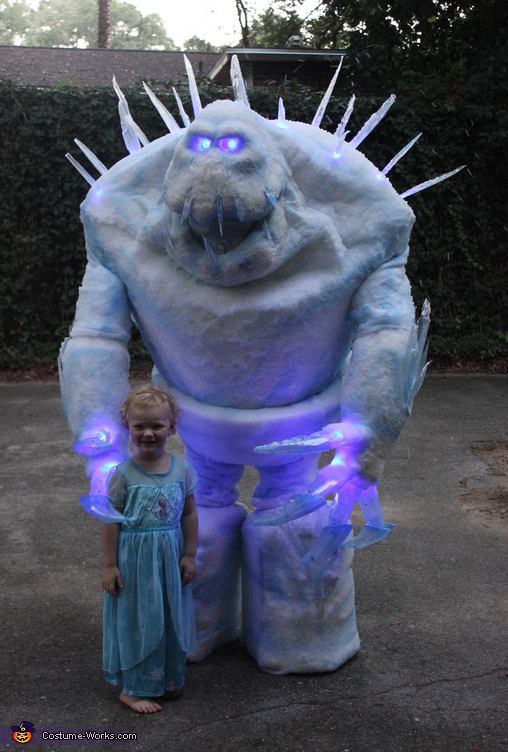 Frozen Marshmallow Costume
More views:
(click to enlarge)
A word from Michael, the 'Frozen Marshmallow' costume creator:
This year I decided not to be the dad that just stands on the sidewalk watching while my girls have fun. Since my three girls and their mommy chose to be either Elsa or Anna from the Disney movie Frozen, I thought it would be a good idea for me to be their guardian, "Marshmallow." After looking for a costume and having no luck, the girls were excited to help daddy design and build the snow monster.
For this project we used cardboard to come up with the basic frame and shape. Then we used paper mâché to cover the frame followed by spray foam and quilt batting. The head is constructed using a hard hat covered with spray foam, mesh screen to look out of the mouth, springs and a chin strap so that the jaw moves as I talk. The arms are made of 4" PVC pipes that my hands slide into where I can control the movement of the fingers with strings, bungee cords and rings. The fingers are vacuum molded plastic, as well as the teeth and spikes. We finally added LED lights to give the eyes, icicle fingers and spikes the desired glow. I also added a fan with a dual purpose. With the use of tubing and a homemade bubble solution, the fan helps blow "snow" from the monster's back. The fan also helps to keep the inside of the costume somewhat ventilated and cool. The costume cost me about $60.00. I did however used a lot of things around the house.
The reaction that I have received so far has been great. "WOW," "That's amazing," "Did you really make that," are just a few of the responses I've heard! People also wonder how long it took me to make it, which was about 3 months off and on (when I wasn't taking care of my children and working my full-time job). I have also had several people inquire as to whether I plan to make visits to children's birthday parties since Frozen is so popular.
This project was fun and exciting! I enjoyed having my three little girls (and wife) help. It was a bit of a challenge to make some of their ideas come to life, but I did not want to disappoint them. Therefore, we ended up with something much greater than I expected. I cannot wait to see what they will dream up next!