Frozen Jack Dawson Costume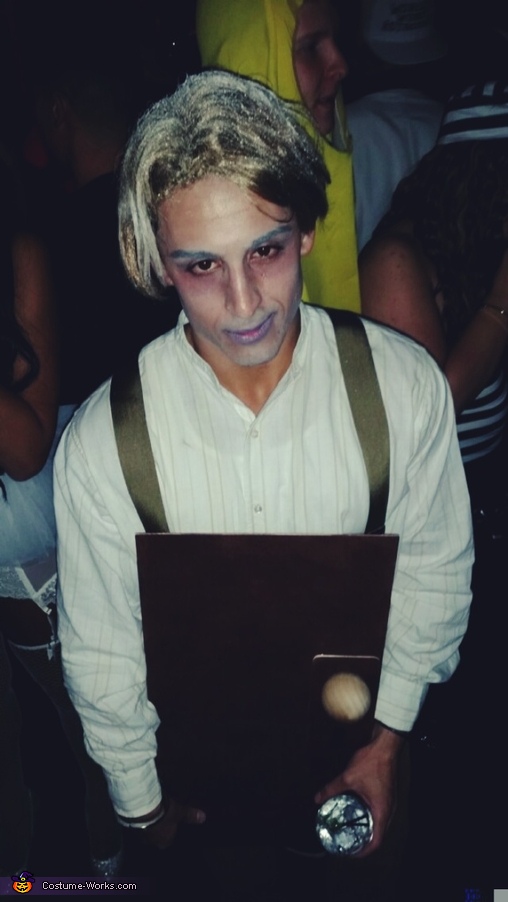 Frozen Jack Dawson (Leonardo DiCaprio) from Titanic
More views:
(click to enlarge)
A word from John, the 'Frozen Jack Dawson from Titanic' costume creator:
My name is John, I'm 27 years old and live in New Jersey. I love Halloween and i'm really into fashion, music and entertainment. I like to think out of the box when it comes to halloween because there are to many generic costumes out there. I never in my life have had a costume that someone else has had ( well at least at the spots that i go to) Everyone of my costumes are homemade and are literally planned months in adavnced (yes i'm crazy lol)

The Idea came from the movie the Titanic. I didn't want to be the orginal Jack Dawson i wanted to spice it up so i decided to be the frozen version.

This costume was all made and bought 100 percent by me.
1) Clothes- were vintage pieces from 1920 both the pants and winston shirt that i found on ebay. The shirt was so old that it smelt, stains and holes on it was even missing buttons.( i washed and sewed buttons on it). It really gave it a vintage look. I also bought a pair of 1980's Trafalgar suspenders to mimic the look.

2) Wig- I couldn't find a wig that looked exactly like Jacks hair so i had to buy a grunge rock Kurt Cobain wig in which i cut to make it look like his hair. I then bought a can of spray snow and used hairspray to give it that snowy frozen cold look

3) Makeup- I used all white makeup and blush to make myself flushed out. I then used maron and blue around the eyes and lips to look like frostbit and frozen. I used the can of snow spray for the eyebrows.

4) Accessories- DOOR- I bought a piece of plywood from an art store and a door hinge and a round wood knob. I spray painted and used hot glue gun to apply.

Handcuffs- I bought a pair and broke apart so they would be on each hand.

Blue eye contacts- I bought blue eye contacts and i couldn't get them on my eyes lol so i wasted 30 bucks on them wahhhhhhhh

Thanks so much for the chance. I put a lot of time and have got a lot of feed back on this costume. Check out my instagram page at johncjohnnydo for past halloween costumes that i have been.