Frozen Family Costume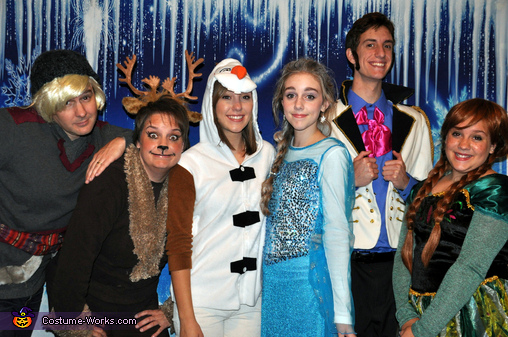 FROZEN fanatics!
More views:
(click to enlarge)
A word from Heidi, the 'Frozen Family' costume creator:
FROZEN FAMILY FUN!!!! Our inspiration was the Disney hit movie "FROZEN"!

Halloween is my favorite holiday because we get to dress up as a family. I love the gathering process and take it as my personal challenge to do it as inexpensively as possible. It's really a fun family experience and makes for great scrapbooking later!

My creative process involves thrift stores, craft shops and online shopping for those hard to find items. After attempting my own handmade versions of
ELSA (Sarah 14), ANNA (Amy 12) AND OLAF (Becca 17) I found better ones from Alliexpress.com for cheap, each was under $30! I also purchased Anna's wig from there for $13 and it was a great quality. We sprayed Elsa's hair white and added some snowflake earrings and rings I purchased at Claire's during an after Christmas sale.
HANZ (Curtis 18) sideburns are dollar store mustaches cut to size and then we sprayed his hair red. I scored white jacket for free at a church clothing swap. I purchased black fabric and gold trim and buttons and had a friend sew it for me, instead of paying her I swapped out work and cleaned her house while she sewed.
KRISTOFF (Wes/Dad) wore a Tinkerbell wig and threw a grey knit beanie on top of it. The rest of his costume was easy, two grey shirts from a thrift shop then trimmed out with burgundy fabric and grey faux fur and a sash I already had.
SVEN (Heidi/Mom) the reindeer and side kick of Christoff was really fun with antlers purchased on ebay for $13. I found a faux fur coat on Craigslist locally for $30. I wore it some of the time but it was so hot I also used a cooler variation that included a brown shirt and leggings from Walmart and some soft fur given to me from a friend. For the make up I used lots of bronzer browns and golds and went heavy on the eye make up. The reindeer nose and lips really brought it to life.

It was a blast being part of this super popular costume theme as we counted 13 Elsa's trick or treating and an assortment of other Frozen characters. We picked up a snowflake backdrop from ebay for $12 and had the best time taking pictures and making memories.