Fred and Wilma in the New Millinium Costume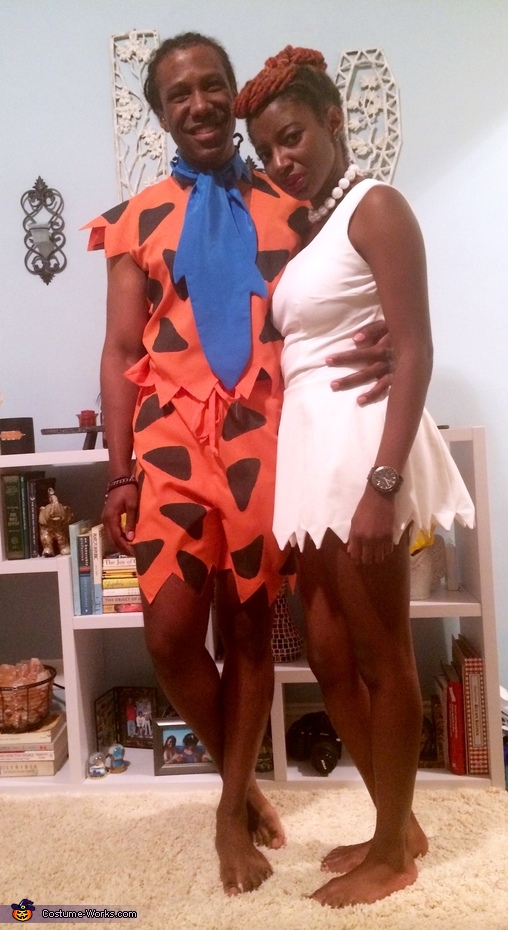 Fred & Wilma!
More views:
(click to enlarge)
A word from Syreeta, the 'Fred and Wilma' costume creator:
For as long as I can remember, Iíve always loved to dress up for Halloween. I donít see that ever changing.I thought Iíd recap my process from last year!

My friend Jonathan and I initially had the idea to be Tarzan and Jane, which then shifted into Fred and Wilma from The Flintstones. Of course, the fashion designer in me not only wanted to recreate this look, but modernize it.

My costume was a bit more in depth, so I started there. I made it out of a stretch woven (some poly blend, I suppose). The top was draped and patterned the bottom. Iím not much for short skirts, so I decided to turn this one into a skort/romper! Also... I just love rompers!

Now... enough about me for a second. Itís Fredís (Jonathanís) turn!

I did a very basic shirt and shorts pattern for create the base for his tank and shorts. I made sure that I accounted for the fringe length. Once cut and stitched together I set Jonathan up with some black fabric paint and newspaper. I was even nice enough to make a template for his spots! (Such a good friend I am, but I still had to put him to work.)

For the tie, I sketched out a quick pattern of Fredís tie shape and cut 2. Slapped those bad boys together, turned them right side out, and slip-stitched the hole!

Just to note: I used an zipper in the side of my romper, and some strung beads for my necklace (from Michaelís). Also, my hair just happened to be this color already. Haha.

I think thatís about it! The response for this one was great. It was super recognizable and fun.