Foxy from Five Nightts at Freddy's Costume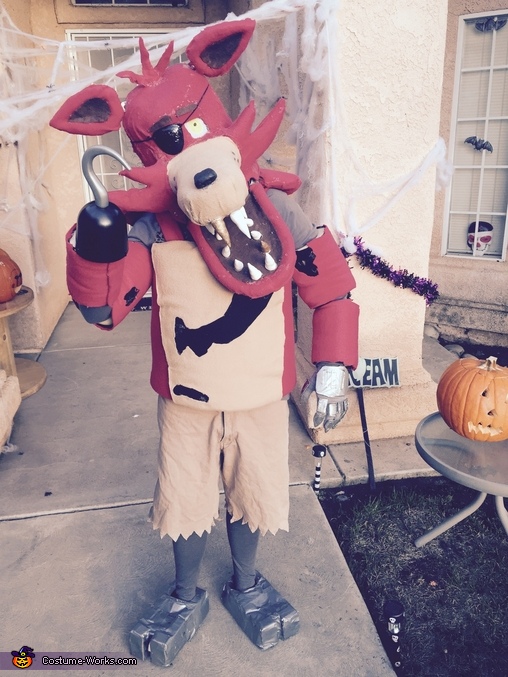 Hi. I'm Foxy!
More views:
(click to enlarge)
A word from Xochitl, the 'Foxy from Five Nightts at Freddy's' costume creator:
I am wearing the costume. My dad refused to pay $300 for this mask so I decided to try and make it myself. I looked up some u-tube videos some time in May and studied them. This mask is heavy duty. It started off as a plastic flower pot, foam to the top and wrapped in duct tape. Car sponge used for upper jaw and wrapped completely with duct tape. Whiskers made of foam board wrapped in duct tape. The lower jaw is a piece of rubber garden hose on foam board wrapped with duct tape. Everything sealed with duct tape then contact cement applied to glue felt. The larger wrinkles were sewn by hand and tacked down. The teeth are made of clay that was baked in oven as well as the nose. The gold teeth are painted with nail polish. A special material was used glued inside behind the eye holes so I could see. The yellow on the eyes is from using a yellow highlighter marker. I put the lower jaw on by drilling holes and using screws. Used a piece of cheap metal to attach ears. Ears made of foam board covered with foam and masking tape, then felt glued. I wore gray long sleeve shirt with gray leggings. The costume made with foam and felt attached with Velcro. The shoes are Kleenex boxes covered with duct tape. The glove is a 99 cent glove. I cut cardboard and glued on top of fingers with glue gun and also used puff paint. The eyepatch cost $1.50 at party city. I have had more compliments on this than I ever dreamed of.