Fortune Tellers Costume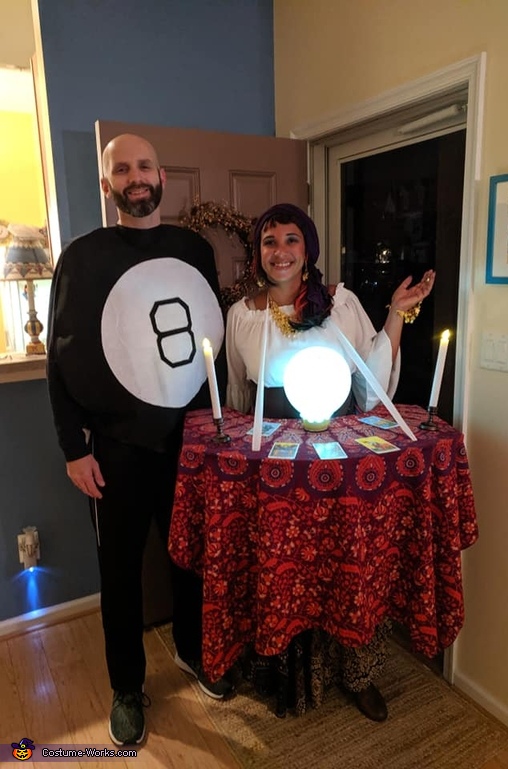 Couple of Fortune Tellers
More views:
(click to enlarge)
A word from Shawn, the 'Fortune Tellers' costume creator:
Each year I set out to think up the most original couple's costume concept. This year my inspiration came from our annual party theme, "Witches & Warlocks." In my search of all types of witches, I came across a gypsy witch aka fortune teller. From there my mind went away into idea land. The result was to have my husband, Josh, be a fortune teller of a different kind: A Magic 8 Ball. Did I mention we like to have interactive costumes??? He had a tote full of possible 8 ball answers and I had a set of tarot cards on me and a table to display them.
My costume was easy to assemble, all the costume gold jewelry I could find, an off the shoulder white tunic, a chick head scarf, a corset belt and a boho skirt and voila the outfit is a go. The focal point of my costume was my fortune telling table. I constructed it with construction board and reinforced the bottom with thin wooden dowels. I affixed it by hot gluing it to a wide belt I had laying around and placing ribbon on the front ends and having it go behind my neck. This double support made it easy and hands free AND never made me feel weighted down. I was able to get through doorways; it held my drink and it was easy to get on and off for those bathroom breaks). To decorate the table, I used a tapestry and then hot glued battery-operated candles and a few tarot cards for display. The best part of the table was the crystal ball. I used a led battery-operated tap light, a green theater color gel and a white balloon to construct it. It was perfect, the color gel gave the ball a great glow. I had a set of tarot cards and had read up on a few of the cards to provide a comical, not necessarily accurate, read.
The awesome Magic 8 Ball required black clothing underneath. I purchased a soccer ball wearable costume and used fabric spray paint (serious business, I'd never used this stuff before now and it is AMAZING). I used a large piece of white felt, traced a large circle, cut it and hot glued it to the front of the black "ball." I had enlarged an image of the Magic 8 and then cut it with black felt and hot glued it. I did use a small amount of teddy bear fluff in the back of the ball as it was a flat backed original. I placed a piece of black Velcro in the center of the back. I also made and laminated (to last through the evening with spills and falls) 9 authentic magic 8 ball answers with Velcro on the back of each. With the left over felt, I made an easy pocket bag for all the triangles. When people would ask him yes/no questions throughout the night, he'd randomly grab one out of the bag and plop it on his back.
This costume was a labor of love and one of our favorite and most clever costumes yet.