Flying Dog Costume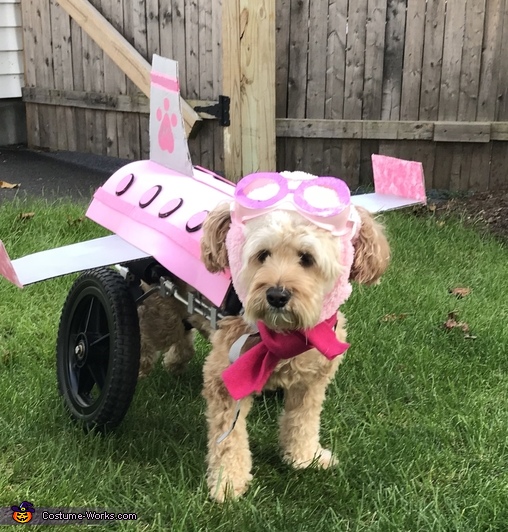 Amazing Maisy!
More views:
(click to enlarge)
A word from Mandy, the 'Flying Dog' costume creator:
Maisy is a 4 year old Cockapoo that became paralyzed this past winter after a disc in her back exploded. She has not let anything stop her since. She flies around in her wheels like they don't exist. I thought of making her cart into an airplane after watching Paw Patrol and seeing Skye the female dog who happens to also be a Cockapoo.

To make the costume I cut out the wings from cardboard and spray painted them silver and pink. I then cute the tail of the plane spray painted it and then painted the paw print on it. Next I took a piece of pink foam to make the fuselage. I hot glued floral wire to give it it's shape and then used more foam sheets to cut out the airplane windows. I glued the tail to the fuselage. Lastly, I took a pink baby aviator hat and cut ear holes in it. I then got safety goggles from the dollar store, spray painted them pink, and glued on sparkly pink paper circles to make the aviator goggles. The total cost was 15 dollars.