Five Nights at Freddy's Costume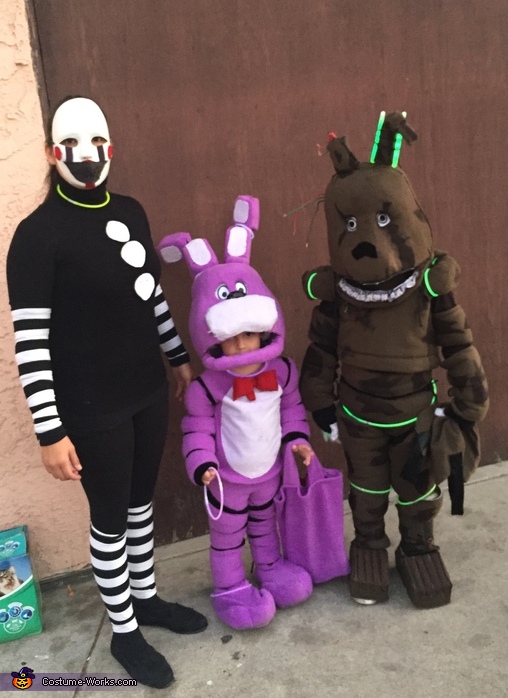 The Puppet Master, Bonnie, Springtrap
More views:
(click to enlarge)
A word from Kimberly, the 'Five Nights at Freddy's' costume creator:
Mom and two sons are dressed up as "The Puppet Master" ,"Springtrap", and "Bonnie" from the Five Night's of Freddy video game. To construct the mask I began molding the shape of the head with plush stuffing and foam fabric on a plastic bucket. Then I covered that with cement glue and then covered the whole thing with fleece fabric. For the ears I used the same prices the only difference was that I used wire to instert it into the bucket. The eyes and teeth I used pallon and drew the eyes or teeth. For Springtrap I used wire to the broken ear and on the side of the head. Literally it is wilre that I have laying around at home. As for the costumes I design and constructed everything my self. I also used fleece, plush stuffing, and thread. The Puppet Master mask was made with fabric clued on a plain white mask I already had. The rest of the costume was just a stripped fabric that sewed for the arms and the legs. The buttons were made out by pellon. We enjoyed being The Five Nights of Freddy's characters and we hope you enjoy it as well. Thank you.
From,
Kimberly Montoya
Devin Montoya 8yrs.
Valentino Montoya 3 yrs.