Fido Dido & Cool Spot Costume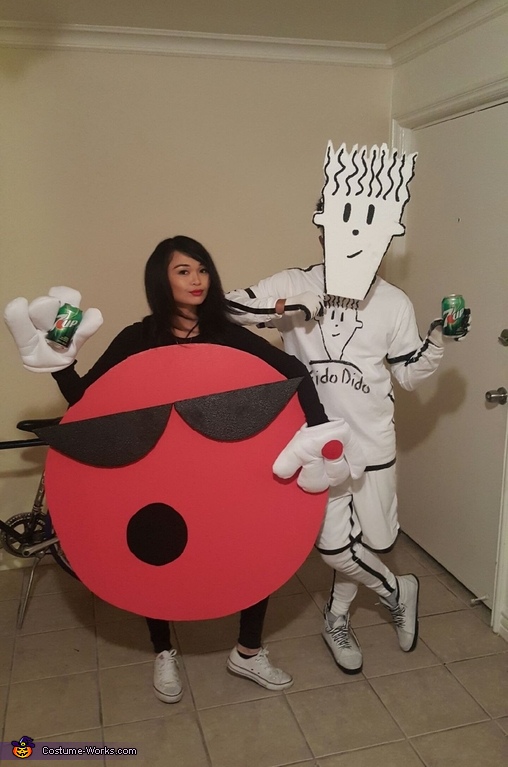 Fido Dido & Cool Spot Costume
More views:
(click to enlarge)
A word from Justin, the 'Fido Dido & Cool Spot' costume creator:
I'm a sucker for all things 90's. This was the golden age when every cool snack or cereal had a really cool mascot to go with it. Fido Dido was my all time favorite. From Fido Dido pencil toppers to notepads, I had it all. One of my first comic strip books was actually a Fido Dido book. The black and white simplicity of it all is what got me into illustration. It just oozed coolness. This laid back dude, his carefree attitude and unwillingness to conform reflected what I wanted to be, even though I was only 7 years old. 7-up quickly became my favorite drink. 1993 came around and I was given a Sega Genesis for Christmas. The video game that came with it was Cool Spot, the lovable red dot who was the other 7-up mascot. I played that game for hours, loving every minute of it. I guess 7-up's marketing did a great job because I was really digging their stuff.
Flash forward to 2015. Thirty years old, working a full time job and no time for childhood memories. My girlfriend, Nikki, and I decide to take a break from being adults and take a trip to Barcelona. As we are walking to our hotel, I briefly notice a black and white sketch on a can inside a vending machine in a colorful bodega. I stop in my tracks and take a closer look. Low and behold, its HIM!!! The skinny, long-forgotten, spiky haired degenerate was back, plastered on a 7-up can in all his glory! At that moment, nostalgia hit hard. I remembered it all. How much I loved being a kid. A smile crept on my face and my girlfriend noticed. She picked up the can and bought it. One year later, that can sits on my table in my art studio, unopened and on display to remind me to not get caught up with life and to "just relax," as one of his many sayings go.
It's 2 weeks before Halloween and I'm going through the struggle everyone does, what the hell am I going to be? Should I be a Demogorgan and she'll be Eleven? Should I go as Harambe and she'll go as a zoo keeper? No, too soon. Not original enough. As I'm sitting at my sketch table cycling through ideas, I blankly stare at the 7-up can sitting at my desk. BAM! Eureka!! There it is. I do a google search "Fido Dido costume" and nothing comes up. Looks like it has never been done before. This is perfect! Instantly, I remembered the tiny, lovable Cool Spot. I excitedly run over to Nikki with the news. Her reaction: "So you're Fido Dido and I'm a stupid giant red pimple."

This was a unique costume in that Fido Dido is 2-D. I had to come up with a way to turn my 3-D self into a drawing. I used black electrical tape to outline my all white outfit, including the shoes and laces. I used acrylic paint for the graphic on my shirt and on the styrofoam mask. It ended up only costing me less than $20.
Cool spot was just as simple. I cut and painted a huge red circle from cardboard and used excess styrofoam from my Fido Dido head for the sunglasses. I used old mickey mouse gloves and painted the red dots on it. The picture does not show the back but i painted the vintage 7-up logo on it. The final touch for both costumes was the iconic green 7-up can.

When's the last time you even saw Fido Dido? That is the reaction I got from everyone. Like they found a long lost friend. "Oh my god, I forgot about that guy and the red dot guy!" We went to two Halloween parties and posed for countless pictures. We actually won the costume contest at the 2nd party. People loved it for it's nostalgia and it sparked numerous conversations of old childhood memories from Home Alone's talkboy to trying to name all the McDonald characters (still don't remember the name of those pom-pom looking dudes). People congratulated us on being original and doing something they have never seen. The younger millennials didn't quite get it though.