Female Buzz Lightyear Costume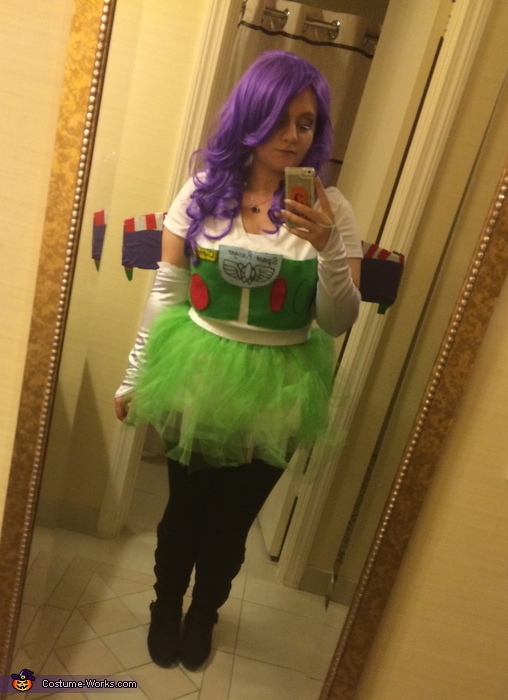 Full costume
More views:
(click to enlarge)
A word from Cristina, the 'Female Buzz Lightyear' costume creator:
My boyfriend and I wanted to do a couples costume, he wanted to be woody from Toy Story and I would be Buzz Lightyear. However, there aren't many (if any) female buzz costumes, and they are not plus sized. So I decided I wanted to make my own costume in my size so I could feel confident, comfortable, and accomplished in a costume I made myself. It is a more feminine, but also trendy take on a classic Buzz Lightyear outfit.

For the tutu I used green tulle and a shimmery elastic fabric bands, and white thread. I cut the tulle into strips of varying sizes, pinned, and sewed it into place on the band I had cut and measured to my waist size.
For the jetpack I used a card board box from a textbook as the center/backpack part, I painted the jetpack image on it myself. I used purple, white, and red duct tape on cardboard wings and hot glued them into the jetpack sides. I also painted small jets of card board and attached them to the outer wings.
For the shirt, I hand painted the design of the space suit on felt with puffy paint and fabric paint. I used a white V-neck tee shirt in my size and used a hot glue gun attach the pieces securely in place.

I got a lot of wonderful reactions from parents, kids, and general fans of the movie. One worker of anevent we went to stopped me and said " You rock" and many people complimented everything from the jetpack, to the complete look, even down to my matching nails (painted white with the space suit buttons on them). It felt amazing to get such reactions when my goal had just been to go out and have a nice time in my costume.

I think it'd be an honor if I were selected and it'd be a wonderful way to show that you can look and feel great on halloween even if stores don't carry many costumes in your size or don't have what you were looking for. And that through creativity and a little ingenuity any costume goal can be a reality.