Austin Powers Fat Bastard Costume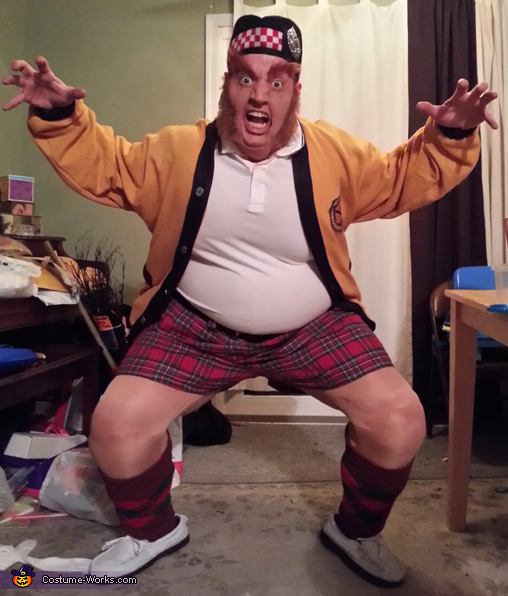 COME HERE... IM GONNA EAT YOU!
More views:
(click to enlarge)
A word from Jeremy, the 'Fat Bastard' costume creator:
This has to be my best costume to date... I always wanted to try and pull off a screen accurate Fat Bastard from Austin Powers... So this is my best effort... the outfit is completely home made...
The yellow sweater was made from a cheap yellow sweatshirt I got from Walmart then I cut it down the middle and added the black trim and buttons myself. I created the "FB" patch myself in illustrator and had it embroidered into a patch then sewed it on myself.
The shorts were originally Plus sized women pajama bottoms that I hemmed into shorts and added pockets and belt loops, I also ironed some fabric stiffener inside the shorts to stiffen them up a bit.
I got the white shirt and belt from my dad (who is a large man) I got a cheap fat suit from the Halloween store and cut it up and re-stuffed it using LOTS of stuffing and pillows, I also wore hockey shin/knee pads under the suit to make my leggs bigger.
I got the "fat wrap" face prosthetic online from some FX studio, I found the side burns online as well, the eyebrows were "werewolf" eyebrows, I got the glengary hat and socks from an online Scottish kilt store.
I made the label for the chicken bucket in Photoshop and printed it at work (I'm a graphic designer at a sign shop) and I made the chicken pieces out of aluminum foil and then spray painted them brown.
The shoes were originally bedroom slippers that I painted white. I also had a remote control "Fart Machine" hidden in my pocket so I could let one rip at will...
This costume was so much fun to wear and act the fool in!