Farmer in a John Deere Tractor Costume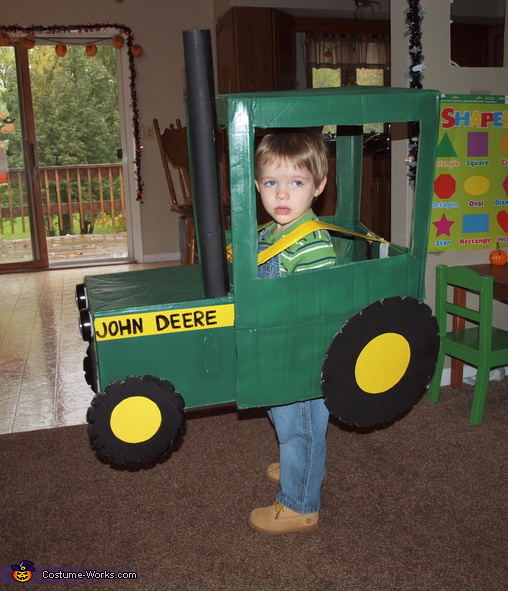 finished product-Happy Halloween!
More views:
(click to enlarge)
A word from Jackie, the 'Farmer in a John Deere Tractor' costume creator:
My 2 yr old son is wearing the costume. He is obsessed with tractors!! so when he said told me he wanted to be a tractor for Halloween I was not surprised!

Items needed:
-three boxes(two large and one med.)
-Green spray paint
-yellow duck tape
-black permanent marker
-black spray paint
-wrapping paper roll or mailing paper
-tape or glue/glue gun
-suspenders
-steering wheel(used from toy car kids outgrew)
-two, puck style push lights/batteries
-rectangle piece of cardboard peeled apart to show rippled inside for front grill of tractor.
-orange, yellow and red cardstock
-exacto knife

Assembly:
cut out large box for shape of cab with windows, use red/orange cardstock to make triangle for back of tractor spray paint large box green and med box green. spray paint smoke stack(wrapping paper roll)black. cut round hole in med box insert smoke stack, attach suspenders to lg. box, I wrapped mine in yellow duck tape. cut hole to insert steering wheel. attach puck lights to front of med box- ones I used had a sticky tab for adhesion. strip of yellow duck tape on both sides- write john deere in that area both sides. hot glue the med box to front of lg. box. use last large box to cut two big wheels and two smaller wheels. spray paint black both sides. hot glue lg wheels to lg box and sm. wheels to med box. Cut 4 circles out of yellow cardstock to put in middle of wheels. dressed son in over-all's and boots and long sleeve t-shirt. Trick-Or-Treat!