Family of Anti-Heroes Costume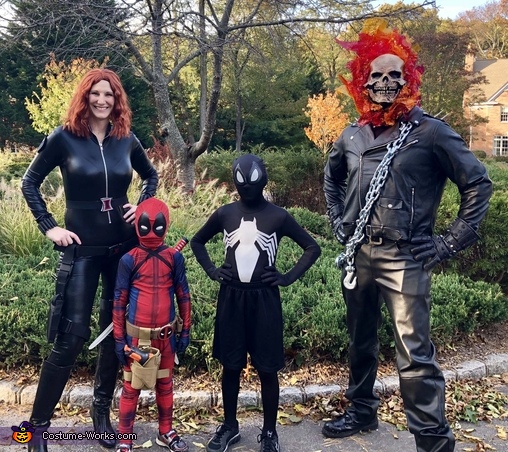 Family of Anti-Heroes!
More views:
(click to enlarge)
A word from Seth, the 'Family of Anti-Heroes' costume creator:
We do a family costume every year and make certain pieces of it ourselves. This year our boys wanted to be Deadpool and Venom, so mom and dad followed suit with marvel characters that are also considered 'anti-heroes,' and went as Black Widow and Ghost Rider. We made the 'Venom' costume starting with a black morphsuit, adding eyes and cut the spider shape from white PU leather and attached with epoxy. Added metal screw studs to ghost rider's leather jacket and gloves. Ghost Rider's mask started as a purchased skull mask, and added his flames using pieces of colored cellophane and mini led light strings (battery powered) attached with hot glue. Made Black Widow's belt and her bullet bracelets using real used shells attached to elastic and painted black.