Facebook Web Page Costume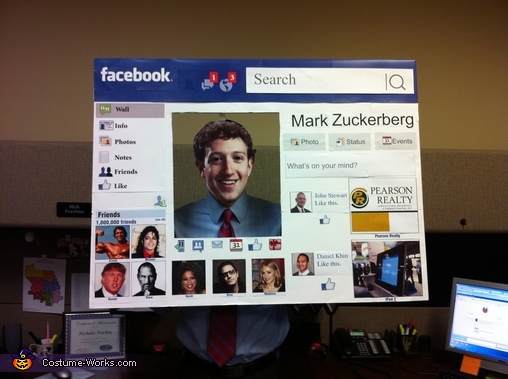 Facebook Page with Founder
More views:
(click to enlarge)
A word from Daniel, the 'Facebook Web Page' costume creator:
I created a Facebook Web Page costume for Halloween and it was a blast at parties. Had lots of people pose with it and glad I took the time to make it in DIY fashion.

It was created by taping (2)large poster boards together with heavy duty transparent tape for the landscape "webpage" effect. For the blue color on top rim, I looked up the Facebook blue and printed it with a laser printer on 8.5x11 paper. The Facebook logo was downloaded from Google and I used alot of double-sided tape to arrange the icons accordingly.

I am a graphic designer by trade, so a few of the items such as "Search bar", the Magnify glass, and multi-icon button below profile image, had to be redrawn in Adobe Illustrator, scaled and printed to fit just right.

Cost and time wise, I believe I spent $25 bucks in materials, about (4) hours to design (3) hours for assembly.

It was fun to make. Thank you for looking and hope you like it.