Evil Queen from Snow White Costume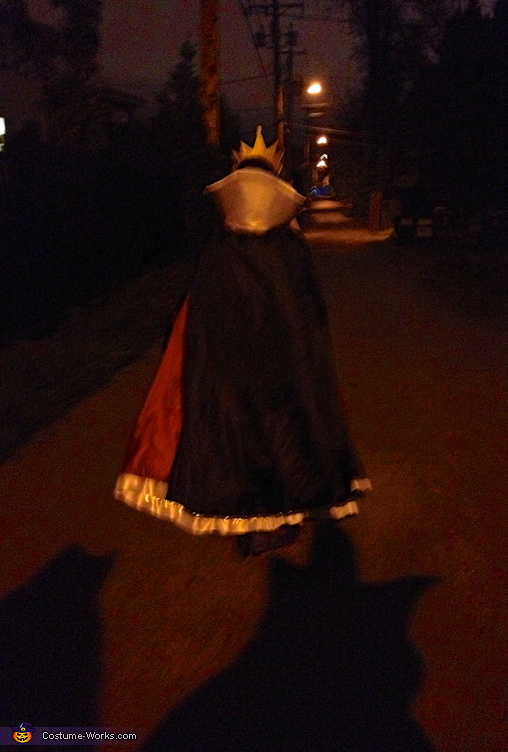 Evil Queen from Snow White
A word from Emily, the 'Evil Queen from Snow White' costume creator:
This year my group of friends were inspired by Disney & all decided to each dress up as one of the villains. We all ended up making our costumes - which was so much effort but they turned out so awesome. I was the evil queen from Snow White.

I used lots of satin fabric on clearance and just made the costume with trail & error - no pattern available. A long purple dress, with big flowy sleeves is needed - the red cord can be used to tighten it where needed... so just making one big long "tube" dress is ok. I just bought a piece of red rope from the fabric store & sewed red tassels to the end.
The black at the top is a triangle of fabric (only need to worry about the front since the cape covers everything)
All the trim on the dress was blanket trim bought from the craft store.

The cape is a modified Dracula cape I had lying around. The trim for that was done with white & gold ribbon.
The collar is made with craft foam covered in white fabric.

The necklace was found at Value Village - originally silver with lots of smash turquoise stones - I spray painted it gold & then painted the red & shimmery glaze on top.

The only part of this costume I purchased and didn't modify was the crown - could have probably made it with foam or cardboard but was happy to save a little bit of time there by purchasing it. It is Disney brand and came with the black cowl attached.

I think the makeup is what makes the costume! Evil eyebrows were key - and lots of over dramatic eye makeup too.