Evil Minion Kevin Costume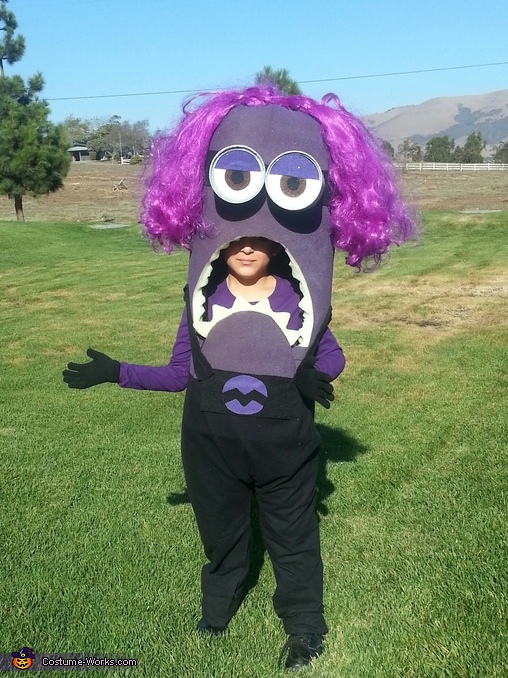 Evil Minion Kevin
More views:
(click to enlarge)
A word from Erica, the 'Evil Minion Kevin' costume creator:
I won a game in Las Vegas and received a purple minion from Despicable Me 2. I gave it to my son Nathaniel (8yrs old) who now is into everything minion. When it came time to start planning Halloween costumes, he said I want to be a minion. I began looking online at costumes and wasn't impressed. I showed him and asked if he had another idea in mind. He said yes, a purple minion instead. Again I went online and saw nothing. I tried Pintrest and found one. Then I saw others but for yellow minions. I read them all, brainstormed and still couldn't see how I could accomplish this. I searched once more and came upon a website called Craftaholic Anonymous "How to make minions costume tutorial". I used it as a guide to make "Kevin", and added my own ideas as I went along. I purchased majority of items at Jo-ann Fabrics and used COUPONS to save 40-50% off materials I needed.
Materials used: (w/coupons), twin size foam mattress $18.00
3yrds black felt $6.00
Foam squares to make eyes, 4 for a $1.00
Walmart (w/my 10% discount) 2cans purple spray paint $5.34
1 can of silver spray paint $.87
1 can of silver glitter spray paint $4.47
Glue sticks 30 pk. $2.67
7/8 wide Velco strip $1.74
Halloween city 2-purple long hair wigs (w/sister 30% discount) $18.18
Goggles are from oatmeal container already had. Purple shirt, black gloves and shoes already had.
I wrapped my son in the foam and marked the height for his costume and cut accordling. I followed the instructions on craftaholics on how to form dome, but once started didn't go so well so I adjusted it to make it work. Once domed shaped, took it outsided and sprayed it purple. Let it dry and aired out to next day. In the meantime, I worked on the goggles. Cut them out from oatmeal container. Shaped to fit face area. Measured holes for eyes. Sprayed goggles silver. Let dry. Sprayed with silver glitter for finishing touch. Cut pupil and iris from felt. Hot glued on to white poster board left over from an old project and inserted into each goggle opening.hot glued in place. I used the Craftaholic overall pattern to freehand our overalls. Didn't come out as planned so once again improvised pattern to make it work for us. Next day "Kevin" was dried, had my son try him on and marked holes for his arms and where I needed to cut for a mouth that would allow his face to show. Since we were not doing yellow minion, we would not have a smiling face, but a frown instead. I drew out a template, placed it on and adjusted so Nathans face showed. I took left over black felt and cut long strips to hotglue into the inside of costume because I noticed in other minion costumes, the inside foam is visible. I didn't like the way it looked. So I covered ours up. I used the scrap foam pieces that were cut to make the dome into teeth. Didn't have to shape them. They actually cut into teeth shape and fit excellent!. From the frown that was cut out, I used that to glue on the bottom to give the bottom lip with teeth showing effect. I hot glued velcro strip to the ends were mattress meet to keep it closed. I glued on overalls to minion. I left the material long on the bottom so the overalls were attached to costume and so my son could also wear. I measured him and hotglued to make pant legs. Last, I hot glued a wig to each side of the head, teased the hair, and we got Evil Minion Kevin!