Everything is Awesome Lego Movie Costume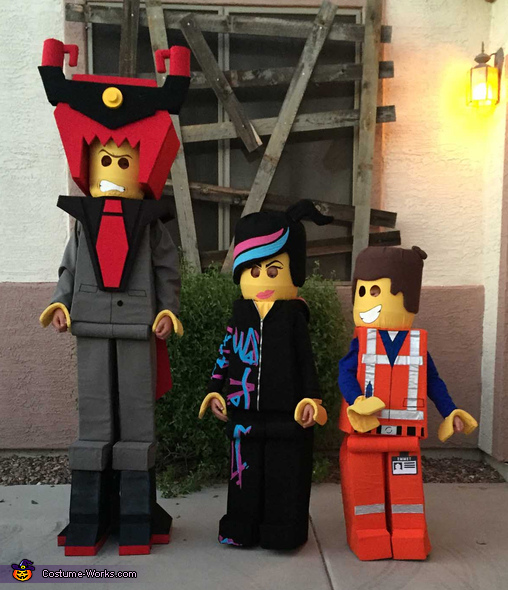 Everything is AWESOME when your part of a team!!!
More views:
(click to enlarge)
A word from Kami, the 'Everything is Awesome - Lego Movie' costume creator:
Lord Business: Ethan (9) Wyldestyle: Ellie (6) Emmet: Owen (4)
We love Lego's in our house, especially our 9 year old, and after seeing the Lego Movie he chose Lord Business right off the bat for his Halloween costume and the younger siblings followed suit pretty easily without too much convincing that it would be totally awesome to be part of a team! :) These are entirely, 100% handmade (I guess all except the pretzel jug for the heads!)
from my own "pattern" really just me shooting from the hip and coming up with what might work!

What I used:
1" foam covered in fabric either embroidered or painted depending on the character.
1/2" foam cover in fabric for the legs and hot glued zippers on the back side of the legs (4 zippers for each set of legs)
camping mat foam for the hands, Emmet & Wyldestyle hair, Lord Business' chest piece, and part of Lord Business' head piece the rest of the headpiece is Styrofoam. (all of these pieces got covered in fabric)
pretzel jugs with eyes and mouth openings cut out and covered in fabric then painted
Super stilts (as we named them) were wood spray painted and shoes epoxied on and straps just for good measure! (these were not worn for long as candy accumulation out won costume continuity) ;)
All that added with too many hours, sleepless nights and Dr. Peppers to count later the costumes came together and I couldn't be more pleased with them and how excited my kids were with them makes every bit of exhaustion and effort worth it!!!!