Enchanted Forest Costume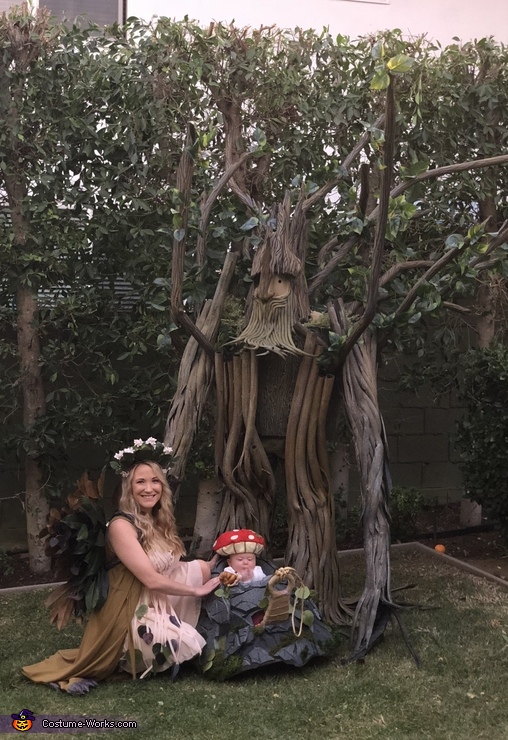 Enchanted Forest
More views:
(click to enlarge)
A word from Traci, the 'Enchanted Forest' costume creator:
My husband and I love creating our Halloween costume each year and seeing our vision come to life. This year was our sons first Halloween, he is 3 months old and we knew we wanted to do a family costume. We decided on the theme of enchanted forest. My husband was a tree, I was a forest fairy and my son was a little mushroom. This is the third costume my husband has made out of EVA foam and they get better and better and more intricate each year. He made this incredible whimsical tree character with no pattern and just ideas or how to construct it. He started by making a backpack like structure out of PVC pipe. He added pipe connecters so that he could attach each branch when they were completed. The tree trunk was made of EVA foam and the trick is to heat the foam with a hair dryer that way you can mold it. He used the a Dremel tool to carve the wood grain texture into the foam. The legs, arms and branches were all made from pipe installation foam noodles. A mixture of tan, brown, green and gray paint was applied to get the bark color and artificial leaves were attached with hot glue.

For my forest fairy I made wings using 4 wire hangers from the dry cleaners. I fastened then together with duct tape and added all of my artificial leaves with floral wire. I used backpack straps from an old backpack and attached to a foam base to make the wings wearable. For the crown, I cut styrofoam balls in slices and glued them to a headband so that I could get the height and attached all the leaves from there. I embellished a dress and duster with leaves to complete the look.

Our baby was the little mushroom! I found a pattern for a beret hat at Joann's and adjusted the size and removed the bill so that it would have the mushroom look we were going for. It was sewn from felt from the craft store and the finishing touch on the hat was the green leaf cut from wool felt. We found a baby doll wagon and the rock structure was built around it using EVA foam and then carved to have a rock appearance. We then spray painted it with a texturized stone spray paint and added moss, leaves and a few baby mushrooms if you look close. Our neighbor needle felted the cute little snail that is hanging out on the rock.

These costumes were a labor of love but we are so happy with how they turned out!