Emmet & Wyldstyle Couple Costume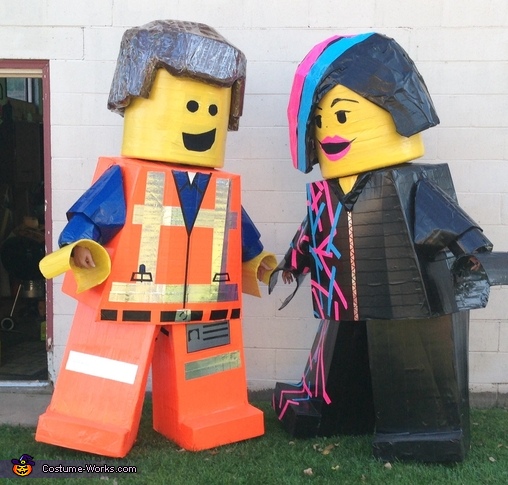 Legos in front of walk in garage door, notice how tall we are.
More views:
(click to enlarge)
A word from Jon, the 'Emmet & Wyldstyle' costume creator:
I'm dressed as Emmet and my girlfriend Sheryl Wyldstyle from the Lego movie. We had always wanted to create Lego costumes but had never taken the leap. Then this year after having seen the Lego movie decided to have a go at it.

We began forming the bodies and legs from cardboard boxes held together with duct tape. The arms are made from flexible metal ducting covered in cardboard. The head was made from 2" thick pink insulation foam. The foam was then cut into round slices hollowed out, layered, sanded, and finally covered in yellow duct tape. The eyes and mouth are open with transparent black fabrics hiding our faces. We used the mouths as our portholes to the outside world. Originally we planned on spray painting the costumes but quickly realized the paint wasn't going to provide a shiny plastic-like finish. That was when we decided to cover every bit of the body in colored duct tape. After many runs to the local hardware store for more tape, then going to the next town once our town tape supply was depleted we were finally complete. We even payed special attention to making the heads exactly like a real Lego head with the round nub on top. That way our heads are interchangeable as are our hair dews.