Electric Mayhem Band Costume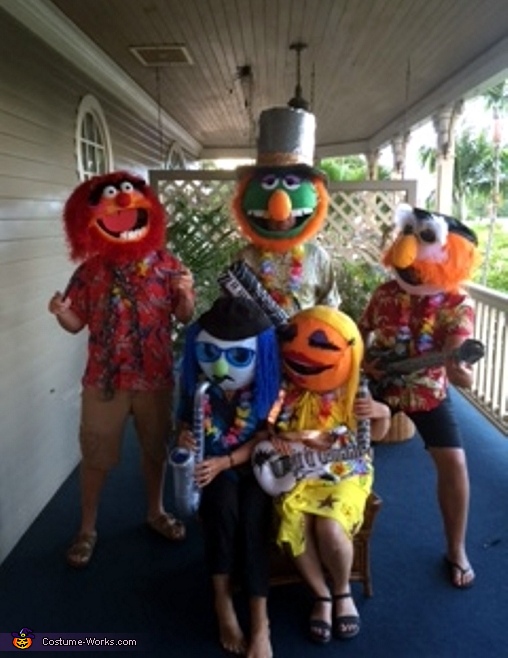 Daytime photo on Halloween before the festivities
More views:
(click to enlarge)
A word from Fara, the 'Electric Mayhem Band' costume creator:
My husband and I moved to Hawaii last summer and found costume options to be very limited here on Maui. Last year we made do with some items hastily thrown together from the thrift shop but I knew I wanted to do something special for 2015 Halloween, especially after seeing all of the creative costumes worn by people on Maui.
I wanted to try and include some of our friends in a group costume so I started researching online. All of the people involved are live music fans so I started looking into group costumes with a musical theme which led me to this idea. We had agreed we wanted to be dressed as a band but preferably one that was very colorful and stood out . I knew if the faces were recognizable, we could dress in Hawaiian shirt and wear Leis for our "Hawaiian tour". I found a post on Pinterest of the Electric Mayhem Muppet Band, just four members, that was really professional looking. I followed the instructions, with several modifications. We had 5 people in our group so we made one more band member than mentioned in the original post. Floyd Peppers was the totally new head but all of them had personal touches that made them more unique.
The paper mâché frame took the most time, created out of newspaper, flour and water. We did five layers for each head and allowed each layer to dry completely before applying the next. The next layer for each head was fleece cloth. All of the hair for Animal, Janis and Zoot was made from yarn. Animal's red hair is made from yarn typically used to make leis and lots of feathers are around his mouth and eyes. Everything is attached with hot glue or tape.
The noses are felt or fleece-covered styrofoam eggs, Animal's teeth and and Janis' lips are from air dry or no bake clay. We purchased the oversized sunglasses from a local novelty shop and the musical instruments are from Amazon online. Dr Teeth and Janis have teeth made from colored craft foam sheets. We purchased the flower leis from a local store.
I started the heads in late August because I knew they would take sometime and my friends helped after we returned from a long Labor Day weekend vacation.
I used lots of craft feathers on Janis for eyelashes. Dr. Teeth's hat is cardstock paper shaped and covered in fabric. Because we live on Maui, we thought the band should be dressed as the Electric Mayhem Band does a Hawaiian tour. Because most bands that tour here put on the Aloha/Hawaiian look. We all dressed in Aloha gear with matching leis to complete the look and make it totally unique to our location.
The reactions we got were, "Very cool, you should win something with those!", "Gotta love the muppets, especially the band." and "Wow! You should make costumes professionally!" My friends were all excited and those not in the band wanted to get involved by dressing as other muppets. We went to Lahaina to celebrate the holiday and entered the costume contest there, competition is usually very tight as this is the most popular Halloween party on Maui, so we weren't sure we'd win anything. We did not win! Lots of stiff Competition on Maui but we had a great time. We got stopped constantly to take pictures with strangers. It was so much fun!